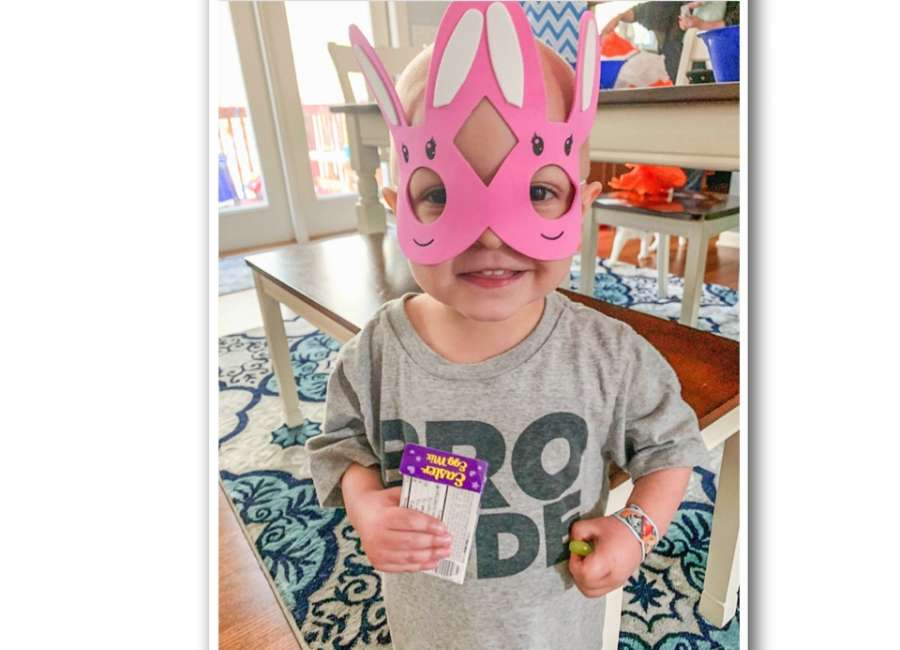 McKenna "Kenni" Shea Xydias is a normal, playful 2-year-old, but her life changed when she was diagnosed with ovarian cancer in February.

Michale Xydias, McKenna's father, said Kenni's stomach was bothering her, but after doctor visits and tests, he and Kenni's mother, Meagan, were told she was having gas issues and constipation.
Michael said Kenni has always been a fairly small child, but he and his wife knew something was wrong when Kenni's stomach began to get bigger, almost like that of a pregnant woman.
Kenni's parents decided to take her for an ultrasound at Scottish Rite in Atlanta in mid-February and found out Kenni may have ovarian cancer.
"Our hearts sank," Michael said. "The next day they confirmed it was cancer and the following Monday she had surgery."
According to the National Institute of Health, childhood ovarian cancer is extremely rare and accounts for less than 5 percent of all ovarian cancer cases. The most common type of ovarian cancer diagnosed in children and adolescents are germ cell tumors, which begin in the cells that give rise to sperm or eggs.
There are also cases of epithelial tumors, stromal tumors, and then other tumors – such as Burkitt lymphoma and small cell carcinoma of the ovary.  
The underlying cause of childhood ovarian cancer is often unknown. Certain inherited conditions, such as Ollier disease, Maffucci syndrome and Peutz-Jeghers syndrome are associated with an increased risk of developing childhood ovarian cancer.
Kelly Teed, board-certified genetic counselor at Piedmont Newnan Hospital said "most of the time, it is not inherited and the cause is often unknown."
Michael said doctors were able to remove a 14-centimeter mass from one of Kenni's ovaries, leaving her with only one ovary. He said they also removed part of her small intestine, some of her stomach lining and her appendix was also removed.
Michael said doctors told him and Meagan "there were too many tumors to count."
"The doctors really tried to put us at ease and told us it was a pretty routine surgery," Michael said.
Michael said Kenni has been a trooper throughout the entire situation and he and Meagan have tried to be as honest as possible with her and her two big brothers, Jackson, 6, and Cason, 4.
Of her four prescribed rounds of chemotherapy, two rounds have already been completed. Michael said if all goes well, the chemo treatments should be complete by the beginning of May.
"After surgery, she became her normal, goofy self," Michael said. "We warned her that her hair was going to come out. It started to bother her, but because of the type of chemo medicine she is on, it causes her head to become itchy, so she got excited about getting her haircut."
The family, which lives in Senoia, said support from family and friends has made the journey much easier. A GoFundMe page that was set up by a family friend has raised almost $47,000.
Michael is an eighth-grade teacher at Madras Middle School in Newnan. Meagan teaches fifth grade in Peachtree City. Meagan said she is taking a leave of absence, but plans to return before the end of the school year to say goodbye to her students.
Meagan said she and her family are not focused on asking why this has happened to their daughter, but more on what to do next to save Kenni's life.
"We have a lot of  love and support," Meagan said. "This is definitely not what we expected for our family or for our baby, but we're taking it all in. We're accepting that this is our new normal."
Both parents agreed their two sons lives have not been interrupted because of the help of family taking the boys to where they need to be and stepping in while they were at the hospital with Kenni.
"We've been able to focus on her," Meagan said. "It's great to know people are praying for her. People that we do know and people we don't know. Our village has been there from the very beginning.
"We've gotten so much help from Coweta and Fayette and I am so amazingly thankful we moved to this area and became part of the community."
Michael said Kenni is doing well, but had to get a blood transfusion last week, which he said is a side effect of the chemo.
Michael said Kenni has she become more comfortable with getting poked, which he says is "heartbreaking."
He said he and his family are hopeful about Kenni's outcome.
"The prognosis is very good," Michael said. "Doctors said after her fourth round of chemo, the cancer should be gone. We just have to keep doing her regular scans every few months. The community of other ovarian cancer patients have reached out to us and we've met other parents who have gone through this. Their kids were eight or nine when diagnosed, but now they're teenagers."
Michael said they are unsure about the unknown effects Kenni will have later down the road, but they will cross those bridges once they get there.
"She likes to color, play video games and roughhouse with her brothers," Michael said. "She likes to play outside and jump on trampoline. Anything a normal, goofy little kid would like to do."