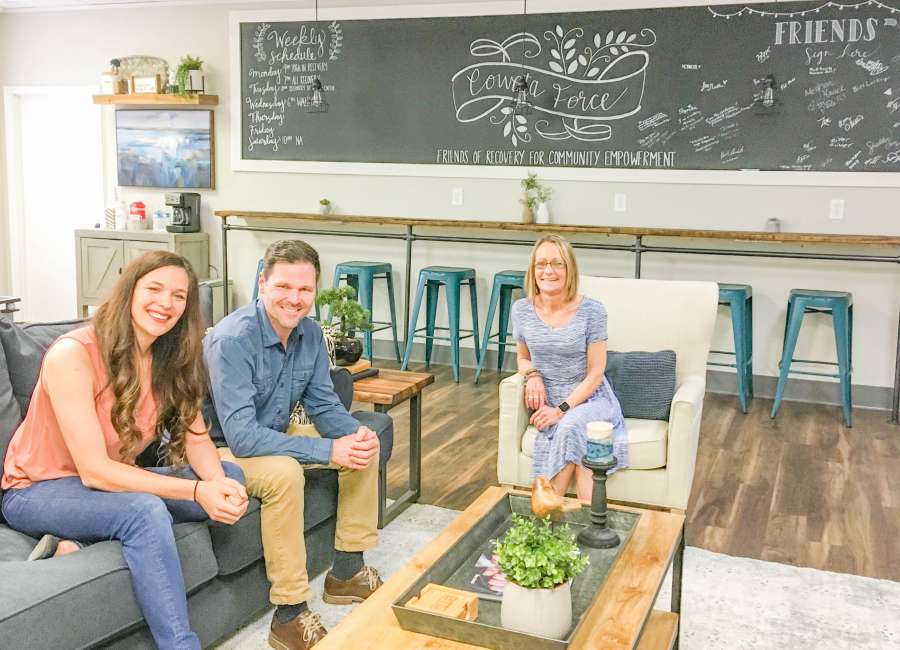 When people think of recovery from alcohol or drug addiction, those who haven't been through it themselves often think of a drug treatment facility or rehab. But that is only a tiny part of recovery.

Most people tend to think someone goes to rehab and gets cured. But that's not how it works.
"Recovery is bigger than not drinking and not taking drugs," said Hank Arnold, executive director of Coweta FORCE – Coweta's recovery community organization. "We are an organization trying to address the areas that aren't necessarily being addressed."
Coweta FORCE – Friends of Recovery for Community Empowerment – is located at 48 East Washington St. in downtown Newnan. It's open Monday through Friday from 8 a.m. to 5 p.m. and is a place people who are in recovery, seeking recovery or people who are family members or allies of those in recovery can go for activities, meetings, connection and information. It's also a safe place to simply hang out.
A grand opening and open house event will be held Saturday, April 20, from 2 to 4 p.m. There will be refreshments, door prizes, tours and a ribbon cutting at 2:30.
Arnold and Billie Jane Gossage are certified peer coaches, and they can sit down and talk to people in recovery, and follow up with them.
When it comes to supporting people in their recovery, "We want to help people explore their options – options that they may not even know they have," said Arnold.
People may be in treatment or an intensive program, but eventually that will end.  And then they have to go out and live life without using drugs or alcohol.
Sometimes, people who are in long-term recovery aren't visible, so many people don't realize addicts can recover and get better.
"A big piece of our mission is stigma reduction and that it is OK to be in recovery. It's fine, it's pretty awesome," Arnold said.
Not everybody can be free and open with others about their recovery, but when you're able to tell someone, it can be extraordinarily powerful, he said. And it can change people's perceptions.
As a peer coach, Gossage can share her experience with those in recovery, and help them see what they are doing right and what their next steps can be.
"We build on your strengths, not your weaknesses," she said.
Gossage feels like she offers a ray of hope to people. "I never felt like I had a choice until I came to recovery," she said. "Recovery is something I'm passionate about. I want everybody to know they can have a life like mine is today."
Coweta FORCE hosts a recovery-centered yoga class on Monday mornings, an "all recovery" meeting – with dinner and child care – on Monday evenings, a recovery reading and discussion meeting on Tuesday mornings and an NA meeting on Saturday mornings.
The organization is starting a "walking group" on Wednesdays at 6 p.m. and Deputy Director Shelley Arnold plans on starting a "couch to 5K" program within the walking group, which will cultimate in everyone running a 5K together.
Those meetings and programs are just the beginning. "We want to build more things into our schedule," Hank Arnold said. "We want to make sure they are meaningful things, and we want to engage the recovery community on what would better support them in their recovery, versus us coming in as the experts."
In addition to the events, meetings, and peer coaching, Coweta FORCE offers help with job searches for those in recovery, and has connections with staffing agencies that can help people with criminal records, Arnold said. They can also help with the record expungement and pardon process, put people in touch with resources for getting their GED, and even with putting together a budget.
Collaborative partnerships with other organizations are a major part Coweta FORCE's mission.
"We feel like our community has really good resources," Arnold said. "We're not trying to reinvent anything. We want to work in partnership with other organizations, not try to duplicate services that are already offered."
For more information, visit Cowetaforce.org, call 678-633-5688, follow the organization's page on Facebook, or just stop by 48 East Washington Street.