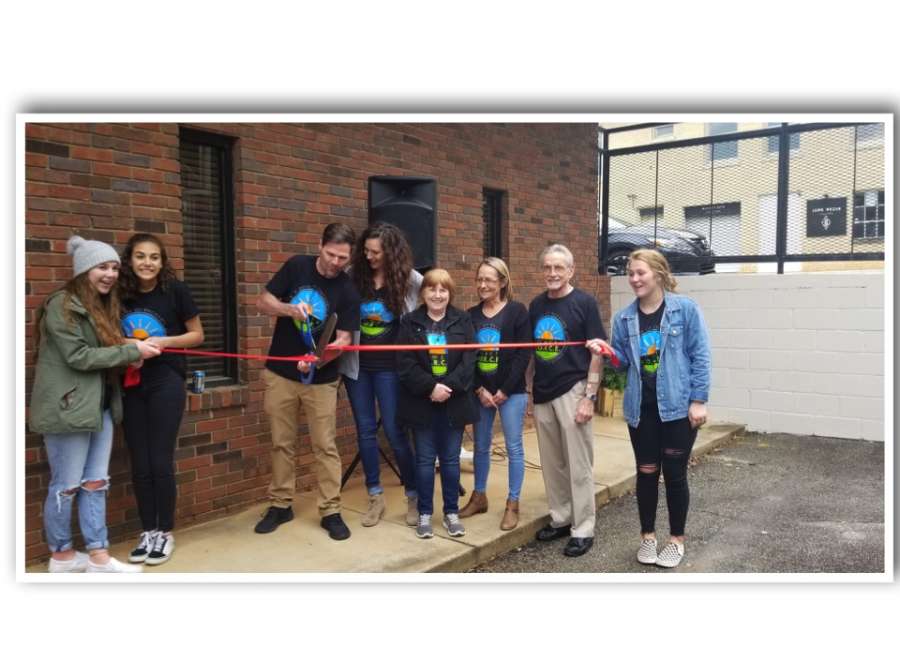 Coweta FORCE hosted its open house so the Coweta community could tour the new facility and learn about other resources for those in recovery or seeking recovery.

Located at 48 East Washington St. in downtown Newnan, Coweta FORCE is open Monday through Friday from 8 a.m. to 5 p.m. Family members or allies of those in recovery can go for activities, meetings, connection and information.
The nonprofit offers these services free of charge.
It's also a safe place people in recovery can just come and hang out, read, have coffee or play a little table tennis.
There were refreshments, door prizes, tours and a ribbon cutting to commemorate the grand opening.
Hank Arnold, executive director of Coweta FORCE –said he has been a recovering addict for nine years and he felt it was important for those in recovery to be in a place "that felt good."
Arnold became emotional when thanking his family, volunteers and the staff of the organization. Arnold's wife – Shelly – also helps him run the organization.
"Let's have a moment of silence for those who are in recovery and for those who are not here today," Arnold said. "I am excited for what this is going to do for this community. When we are in unity, we are able to make a difference."
Arnold said "he couldn't believe this was his life.
"If you told me I would be here five years ago, I wouldn't have believed it," Arnold said.
Arnold had a long list of people to thank, including the organization's partners, including businesses, individuals and other nonprofits.
Collaborative partnerships with other organizations are a major part Coweta FORCE's mission.
Coweta FORCE hosts a recovery-centered yoga class on Monday mornings, an "all recovery" meeting – with dinner and child care – on Monday evenings, a recovery reading and discussion meeting on Tuesday mornings and a Narcotics Anonymous meeting on Saturday mornings.
The organization is starting a "walking group" on Wednesdays at 6 p.m. where a group will hit the sidewalk for exercise and fellowship.
Deputy Director Shelly Arnold plans on starting a "couch to 5k" group within the walking group, who will spend several weeks getting into shape and then all run a 5K together.
FORCE stands for Friends of Recovery for Community Empowerment. The organization got its start three years ago as a fledgling recovery community organization, which held a recovery symposium and began hosting events. It opened in a temporary space last year.
In addition to the events, meetings, and peer coaching, Coweta FORCE also offers help with job searches for those in recovery, and help with the record expungement and pardon process for those who qualify.
They can put people in touch with resources for getting their GED and even help people with putting together a budget and working on their finances.
For more information, visit www.cowetaforce.org, call 678-633-5688, follow the organization's page on Facebook or just stop by 48 East Washington St.