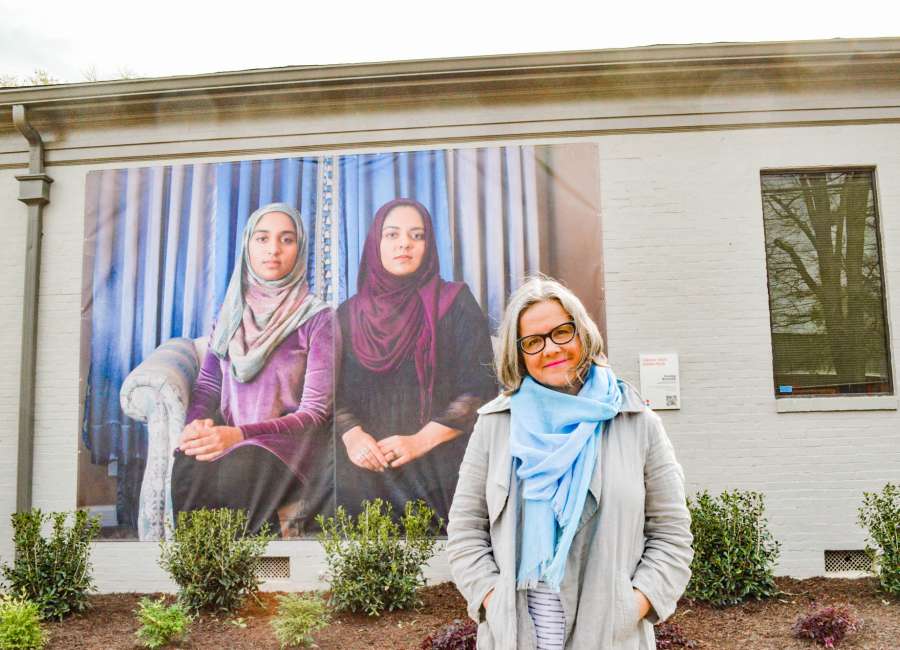 Seventeen billboard-size portraits of everyday people are now adorning multiple buildings downtown Newnan for "Seeing Newnan."
The portraits are the work of photographer Mary Beth Meehan, and are being sponsored by the University of West Georgia, along with the help of several donors.
Meehan, who first came to Newnan for the Artist in Residence program in 2016, has visited multiple times over the past three years to enmesh herself in the community and find the subjects for her photos.
Her first two portraits went up several months ago at the UWG Newnan campus, and more began to be installed on Saturday. The installation should finish today or Thursday, weather permitting.
Meehan and some of the people featured in the portraits will be at the Redneck Gourmet Friday during the Newnan Art Walk, starting at 6 p.m., and a public reception is scheduled for April 18 at the UWG Auditorium.
Newnan and Coweta County are a diverse community and the portraits reflect that, said Robert Hancock of the Newnan ArtRez program.
"Hopefully it will make people think – gosh, there are 40,000 people here in Newnan. I don't really know anybody, do I? We all know less than 1 percent," Hancock said.
He said the initial plan was to keep the pictures up for a year, though they might come down before Christmas decorations go up, depending on the public reaction.
"It's a beautiful program in that it puts everyday folks on the level of kind of a superstar – like Nike billboard size, but it's just your next door neighbor," said Chad Davidson, director of UWG's School of the Arts and a member of the Art Rez board.
It's the fourth such project for Meehan, who started with her hometown of Brockton, Mass.
"We're used to seeing a celebrity in an ad on that scale, we anticipate that," said Meehan, who is in town this week for the project's unveiling. "But to see an ordinary person who we might just pass by on the street and not really be curious about, or who we may even feel we know because of our own preconceptions… felt really kind of radical and interesting and jarring, and like it could grab people's attention about their neighbors."
Putting her art on the walls of downtown buildings also brings the art closer to the people, and to the subjects, without making people have to choose to go to a gallery or an art exhibition.
Meehan got the idea of the giant portraits when she and a friend were looking at a shuttered grocery store in their hometown, which had seen an economic decline because of mills leaving, and an influx of immigrants.
"I said, 'Look at those windows. They are perfect picture frames. What if we put pictures all over this empty supermarket in this urban core?'" Meehan said. She went to the mayor, who said the supermarket idea was a no-go, but he would love her idea on downtown buildings.
In her hometown, Meehan said some of the older residents, including members of her own family, blamed immigrants – instead of the industries that closed and moved away – for ruining their town. Yet they were the children and grandchildren of immigrants themselves.
With her first set of portraits, she wanted people to look at each other in a new way, "instead of just rolling along with our perceptions and thinking that we know who people are based on what we hear or the superficial or the preconceptions that get drummed into us," Meehan said.
Even after years of doing this type of work, she still finds her own preconceptions being challenged. Meehan recalled speaking to one man in Newnan, who had a beard and leather jacket and Confederate flag patches, and she found out he voted for Hilary Clinton for president.
"I've never had a situation with photography that my preconception is correct – so it makes me think things are much more complicated than our preconceptions let us believe," she said.
Everybody has preconceptions of things, Meehan said, and that's OK. "They're not something to feel guilty about," she said.
But, "Can we stop and notice people, interact with them and be willing to see beyond our preconceived notions and see if we might be wrong?" she asked.
People have also had preconceptions about her and her work. "There are people who haven't been so happy," she said, "saying things like, 'She's from the North, is she here to make us all look racist?'"
If she hadn't spent so much time getting to know her subjects, then perhaps their pictures could be taken out of context, Meehan said.
It's a privilege to be able to spend time with people, and for them to share so much about themselves with her, she said. "It allows for things to be deeper and hopefully more accurate and more authentic."
Meehan writes about her process and meeting each of her subjects in the blog that goes along with the project. Her blog entries will be rolled out slowly, however, since she wants the first part of the project to be about the portraits.
You can see all the portraits and the blog on her website, www.marybethmeehan.com .
The scannable QR codes on the plaques that go with each portrait will also take viewers to the website.
Davidson and one of the ArtRez patrons were in Providence, R.I., several years ago for an Artist in Residence conference. Meehan lives in Providence, and her portrait series was up during the conference.
"We were struck by the work," Davidson said. So they sought her out and asked if she might do a similar project in Newnan. "This was probably five or six years in the making," he said.
"We're super excited about seeing all of these photos go up," he said. "The project is very celebratory. I certainly hope there is kind of a reflection of what it means to be part of the community in Newnan," he said.