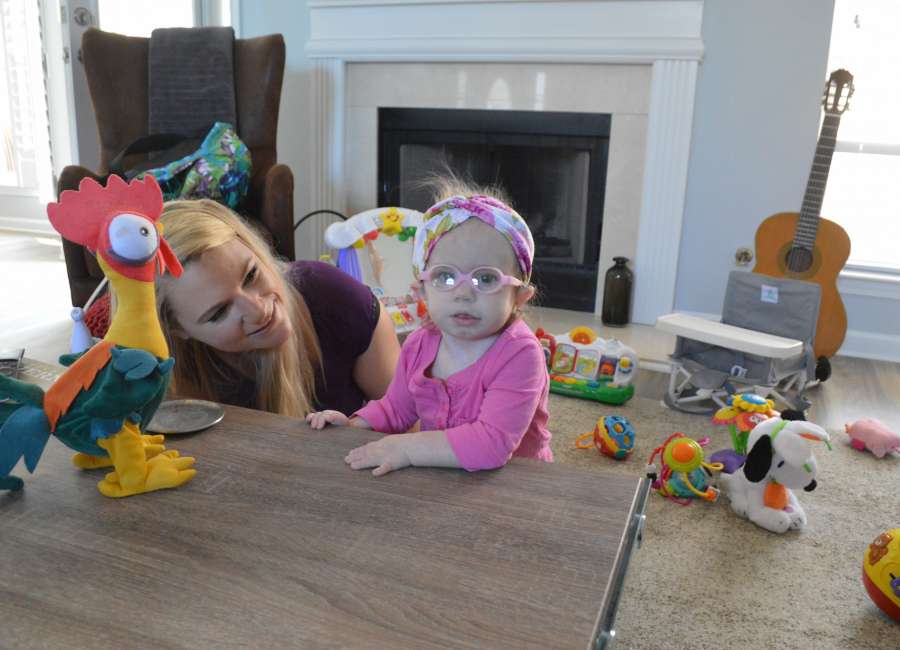 Three weeks after the birth of her daughter, Kimberly Minor was told that her infant had Trisomy 18. The woman at her pediatrician's office told her – over to phone – to "Google it."

What she found was something very scary. That her daughter was "incompatible with life."
Georgia Minor recently celebrated her second birthday.
Minor takes advocacy very seriously. March, the third month, is the month for awareness of trisomy disorders, and March 18 is National Trisomy 18 Awareness Day.
For a while, one of the first results on Google for Trisomy 18 was a story about Georgia in The Newnan Times-Herald, written when she was just a few months old.
"That's what I want people so see when they google it," Minor said. "That's one of the reasons why we fight to make sure we get Georgia's story out there," she said. "If I had Googled it and I had seen a kid like Georgia, I would have probably had a hell of a lot more hope than I did in the beginning," Minor said.
"That is what should pop up versus scary stories."
Georgia's first year was hard. But things have gotten easier. "Once we got past the first year, I was like – I don't want any other person to have to feel as awful as I did this first year," Minor said.
Now, "It's almost strange how normal it is, the way our lives are. It freaks me out sometimes," she said. "We used to go to therapies three times a week."
Though she's still small, Georgia is doing very well for a 2-year-old with Trisomy 18.
She can sit and stand with help, and tries to crawl. She loves playing with toys and watching "Mickey Mouse Clubhouse."
The Hot Dog Song is her favorite, and as it plays, she'll say "dog dog dog."
She's learned to sign some words, such as "milk" and her favorite – "all done."
"She'll be at therapy and whatever she is all done with, she taps. She'll tap the therapist – I'm all done with you," Minor said.
And she can say six words: Dada, dog, duck, go, get and good.
But not Mama. Not yet.
Minor said Georgia has "a lot of sass."
And she thinks that strong will and attitude are a big reason why Georgia has accomplished so much.
"I've seen her crawl before out of anger – almost every milestone she's ever hit was out of anger," Minor said. "She is so mean and has so much personality. She's like a Sour Patch kid," she said.
"Georgia is very aware that she can't walk or crawl or do stuff. And that makes her angry. Some kids are fine with lying on the floor all day. Georgia is not. Georgia wants to do stuff."
Minor said one of Georgia's therapists said she doesn't normally take kids that young, but she likes Georgia's personality.
"She says, 'Whatever I tell her to do, she does the exact opposite,'" Minor said.
Minor says Georgia's progress is thanks to a lot of therapy. There is speech therapy, physical therapy, vision therapy, aquatic therapy. She goes to a cardiologist, an audiologist, a nephrologist for her kidneys, a sleep doctor. She was recently released from the gastrointestinal doctor.
When Minor found out about an intensive physical therapy that could help Georgia learn to crawl and walk, her insurance wouldn't pay for it. The Facebook group Chatty Newnan Women raised the money so Georgia could get the therapy.
Children with Trisomy 18 often have heart problems, and Georgia is no exception. She was born with three heart defects. But one has healed completely, Minor said, and another is "starting to close up on its own." And that's with no surgeries.
Minor said she and and her husband, Patrick, have often had to fight for their daughter's treatment.
Because so many children with Trisomy 18 don't live more than a few months – or weeks – babies are often sent home on "comfort care," Minor said.
"Parents will carry the baby to term and then not have any medical interventions," Minor said. "You have no clue what the future might for that kid. We don't do something like that for somebody like my dad, who has cancer. When you get terminal cancer, they're not going to just let you die. Nobody does that," Minor said. "I don't understand why we do that with children."
"Parents take their kids home to die happily in their arms," she said. "I respect that everybody has a choice to do what they want. But I think a lot of parents make that choice because a medical professional has convinced them that their kid is not going to do well."
Through joining groups for parents with trisomy conditions and advocating for the children with the condition, Minor has met many other Trisomy 18 parents. One mom took her child home on hospice and comfort care. She was told her daughter would die within a few weeks.
"The baby didn't die. She's still alive. They didn't start therapies until she was a year old," Minor said.
"We lose the opportunity to see what they're going to be because efforts aren't exhausted, parents aren't given hope or the opportunity to see," Minor said.
"I think it's important that we try to get our stories out there. To see a 36-year-old with Trisomy 18 – that's huge compared to the, 'Oh, they have a few weeks to live,'" Minor said.
In Georgia's case, their first feeding therapist disagreed with Minor's decision to pump breast milk and feed it to Georgia in a bottle, instead of giving her a feeding tube.
"She told me I was killing Georgia by feeding her a bottle and she wasn't going to be any part of that," Minor said. "We fired them. We went against the advice to get a tube." The first pediatric GI doctor also recommended a tube. Georgia's pediatrician supported the family's decision to feed Georgia with a bottle. 
Now Georgia is eating yogurt and guacamole. She still takes a bottle, but she's starting to eat more solid food.
She'll even take a bite out of a muffin if she gets close to one. She'll spit it out, but she will take that bite. "She likes to eat," her mom said.
Trisomy 18 can have many variations. It can be full, with a complete third 18th chromosome in every cell, or mosaic, where the third chromosome is only in some cells. It can be partial, with the third chromosome being incomplete. In Georgia's case, she has a partial trisomy and a partial monosomy, meaning two of the three chromosomes are incomplete.
Some children born with Trisomy 18 do quite well, according to Minor. Rylee Howerton has partial mosaic Trisomy 18 and was named International United Miss New Jersey Preteen. She also plays football.
One family got tested after their child was born with Trisomy 18 and found that the father had it also – and he had never known, Minor said.
Now, Minor volunteers as the Southeast region coordinator for the Chromosome 18 Registry and Research Society and does volunteer social media and Trisomy Awareness Month work for SOFT: the Support Organization for Trisomy 18, 13 and Related Disorders.
She's also started a blog, "More Than 10 Percent: Surviving the First Year as a Trisomy Mama."
Minor has moms submit stories about their children, particularly about the first year. "I wanted that resource, if a mom does have that diagnosis – here are 25 kids who made it through their first year," she said.
You can follow Georgia's story on her Facebook page: Fierce Georgia On My Mind, A Trisomy 18 Story.