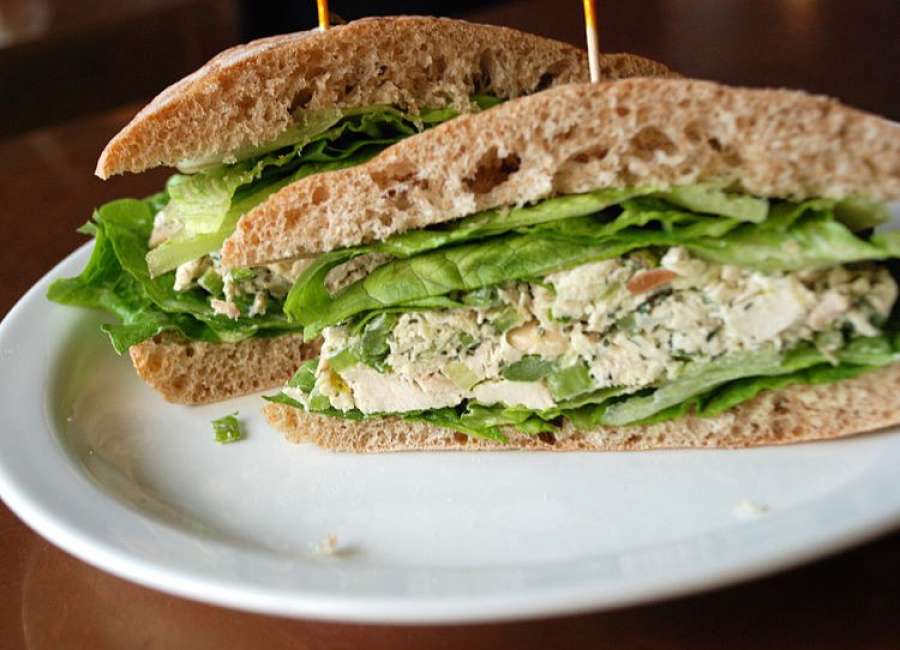 Here are some recipes to try at home inspired by the food served at the Senoia United Methodist Women's Group's Tea and Fashion Show.
Chicken Salad Sandwich
Ingredients:
4 split (2 whole) chicken breasts, bone-in, skin on
Good olive oil
Kosher salt and freshly ground black pepper
3/4 cup good mayonnaise, plus more for the bread
1 1/2 tablespoons chopped fresh tarragon leaves
1 cup small-diced celery (2 stalks)
8 to 10 slices health or seven-grain bread
1 package mesclun salad mix
Recipe:
Preheat the oven to 350F.
Place the chicken breasts, skin side up, on a sheet pan and rub them with olive oil. Sprinkle generously with salt and pepper. Roast for 35 to 40 minutes, until the chicken is cooked through. Set aside to cool.
When the chicken is cool, remove and discard the skin and bones and cut the chicken into 3/4-inch dice. Place the chicken in a bowl and add the mayonnaise, tarragon, celery, 2 teaspoons salt and 1 teaspoon pepper and toss well.
To assemble, spread a little mayonnaise on half the bread slices, top with the chicken salad and mesclun mix, and cover with the remaining slices of bread. Cut in half and serve.
(Recipe courtesy: foodnetwork.com)
Asian Chicken and Quinoa Salad
Ingredients:
1/2 cup quinoa
4 teaspoons vegetable oil
1 teaspoon grated ginger
3 scallions, whites and greens sliced
1 clove garlic, grated
1/4 cup fresh lemon juice (about 2 lemons)
2 1/2 tablespoons low-sodium soy sauce
2 teaspoons toasted sesame oil
1 1/2 cups shredded white meat rotisserie chicken, skin and bones removed (about 5 ounces)
1 1/2 cups shredded white meat rotisserie chicken, skin and bones removed (about 5 ounces)
1 1/2 cups finely shredded cabbage (such as napa, red, green or a combination)
1 cup thinly sliced (size of a matchstick) carrots (about 2 carrots)
1 cup sugar snap peas, sliced on the bias
1 teaspoon black sesame seeds
Recipe:
Cook the quinoa according to package directions, set aside to cool.
Heat the vegetable oil in a small saucepan over medium heat. When the oil is hot, add the ginger, scallions and garlic. Immediately turn off the heat and stir. Let cool slightly for a few minutes, then whisk in the lemon juice, soy sauce and sesame oil.
Put the cooked quinoa, chicken, cabbage, carrots and peas in a mixing bowl. Add the dressing and toss. Sprinkle with sesame seeds. Keep refrigerated in an air-tight container for up to 3 days.
(Recipe courtesy: foodnetwork.com)
Cucumber Tea Sandwiches
Ingredients:
1 stick (4 ounces) salted Irish butter, such as Kerrygold, at room temperature
2 tablespoons chopped fresh parsley
1 tablespoon chopped chives
1 tablespoon finely minced shallot
1 teaspoon lemon zest plus juice of 1/2 lemon
12 slices brioche bread (1/2-inch slices), crusts removed
24 thin lengthwise slices Persian cucumber (1/4-inch slices)
Kosher salt
3 to 4 small red radishes, thinly sliced into rounds
1 cup frisee, broken into small pieces
Recipe:
In a small bowl, mix together the butter, parsley, chives, shallots and lemon zest.
Lay the bread slices out on a clean work surface. Spread 2 teaspoons of the compound butter over each slice of bread. Trim the cucumber slices so that they are the length of the bread slices. Save the scraps for salads. Lay 4 pieces of cucumber across 1 slice of buttered bread – it is okay if the cucumbers overlap. Repeat on 5 more slices of bread. Season the top of the cucumbers lightly with salt. Next, add a single layer of radishes over the cucumbers, about 12 rounds per slice of bread.
Toss the frisee with the lemon juice and a pinch of salt. Divide the frisee evenly over the radishes. Top the frisee with the remaining 6 slices buttered bread. Cut each sandwich into thirds with a serrated knife to make small rectangles. Serve immediately.
(Recipe courtesy: foodnetwork.com)
Scones
Ingredients:
2 cups flour
4 teaspoons baking powder
3/4 teaspoon salt
1/3 cup sugar
4 tablespoons butter
2 tablespoons shortening
3/4 cup cream
1 egg
Handful dried currants or dried cranberries
Recipe:
Heat oven to 375F.
In a large mixing bowl, combine flour, baking powder, salt and sugar. Mix well. Cut in butter and shortening. In a separate bowl, combine cream with beaten egg. Then add to dry ingredients. Stir in fruit. Turn dough out onto a floured surface. Roll dough out and cut into biscuit size rounds. Bake for 15 minutes or until brown.
(Recipe courtesy: foodnetwork.com)