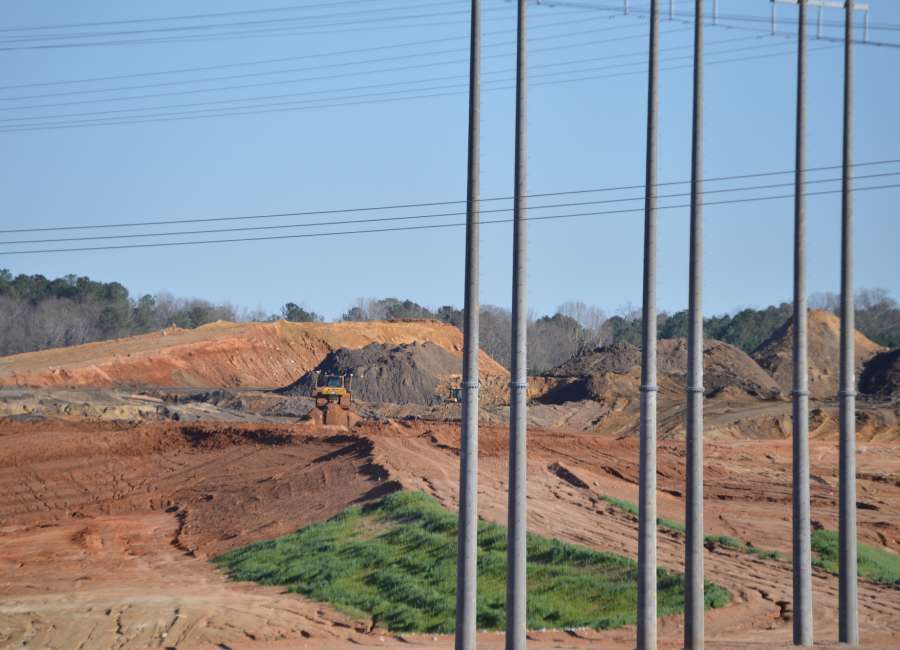 Beryllium levels in one groundwater monitoring well Plant Yates, which had remained fairly steady in 2016 and 2017, began to rise in 2018, as work continued to consolidate ash ponds into unlined landfills at the former coal-fired power plant, located along the Chattahoochee River in west Coweta.
A network of groundwater monitoring wells is regularly checked on the Plant Yates property, as part of compliance with federal and state rules for Coal Combustion Residuals, commonly known as CCRs, or coal ash.
Between March and September of 2018, the beryllium levels in Well 33S increased 33 percent. When the well was tested in June, the levels were down slightly from March.
On Feb. 12, Georgia Power filed with the Georgia Environmental Protection Division that an "assessment of corrective measures" was initiated.
All of the coal ash ponds at Plant Yates are being closed, and the ash is being removed from most of them. The ash from the ponds is being consolidated into two unlined landfills on the property. The R6 landfill is substantially complete and covered, while work on the second landfill, known as the "ash management area," is ongoing. It is located on the site of former ash ponds.
Well 33S is located between the R6 landfill and Ash Pond 2. Ash Pond 2 is the largest ash pond and still holds water. It is in the process of being "dewatered" and excavated. Most of the other wells that have shown contamination are in the area of the R6 landfill.
Beryllium is the only groundwater containment that has recorded a "statistically significant increase" under the groundwater monitoring program that began in 2017, under the requirements of the federal and state Coal Combustion Residual regulations.
The EPA reports that long-term exposure to beryllium in drinking water can cause damage to bones and lungs.
Boron and cobalt have also been found in unsafe levels in some Plant Yates monitoring wells, according to a 2018 report by Earth Justice. Boron doesn't currently have a "maximum containment level" under state or federal law, and is not regulated in drinking water. However, boron levels continue to be monitored and are evaluated to provide a "background" level for groundwater monitoring. The Earth Justice report lists a health threshold of 3 milligrams per liter for boron, and multiple wells significantly exceed that threshold, with some wells measuring boron levels from 14 to 20 milligrams per liter.
Cobalt levels were also found to exceed the federal standard of .006 milligrams per liter in three wells – Well 33S, with a level of 0.023 in September, Well 301 with a concentration of 0.0233 in June of 2017 (the last data located) and Well 21-L, an "up gradient" well that is intended to measure groundwater above the coal ash ponds and landfills, with a level of .01 in mid-2017. Levels in that well varied greatly, with cobalt levels so low as to not be accurately read in the lab in July and August 2016, then rising to level of 0.01, then dropping back to extremely low levels by April 2017.
Selenium was also recorded above safe groundwater levels at two wells. Those monitoring wells were abandoned because they were too close to the active excavation work, according to documents filed by Georgia Power.
The maximum containment level for selenium in groundwater is 0.05. The last report available from Well 32S showed levels of 0.0696, and the last report from Well 34L showed levels of 0.0773. Levels in that well had been as high as 0.0827. The last data reported from the two abandoned wells was from July 10, 2017.
Georgia Power submitted permit applications for CCR permits at its plants in November, which was the deadline for the state rule, according to Chad Hall, Solid Waste Permitting Unit Manager with the Georgia Environmental Protection Division.
Because so many permits were submitted at once, it will likely be several months before the Plant Yates applications are reviewed, according to Hall.
While the federal CCR rule requires that, moving forward, coal ash must be put into lined landfills, liners aren't required for sites that won't continue to receive coal ash. Plant Yates stopped burning coal in 2015, so no new coal ash will be produced.
Hall said federal and state rules allow "closure in place" within the existing waste footprint for CCR previously disposed in unlined landfills.
The EPD will review the R6 landfill application to allow it to complete closure in place, Hall said, and the ash management area permit application, to make sure both meet federal and state requirements.
Once draft permits are ready, there will be a public comment period, Hall said.
The sites will continue to monitored after the closure is complete.
"We're going to see what the closure of the sites does for groundwater quality," Hall said. "We're going to monitor groundwater around those sites until we have certainty that there are no groundwater impacts."
The EPD will review monitoring plans to "ensure that they are substantial and protective and that they also have a process for how they will begin to assess and evaluate any additional corrective actions should those monitoring results begin to show levels above our standards," said Chuck Mueller of the EPD, speaking at a recent joint meeting of the Georgia House and Senate Natural Resource and Environment committees.
If the plans aren't adequately protective, EPD will require upgrades or other methods of closure, Mueller told the committee members.