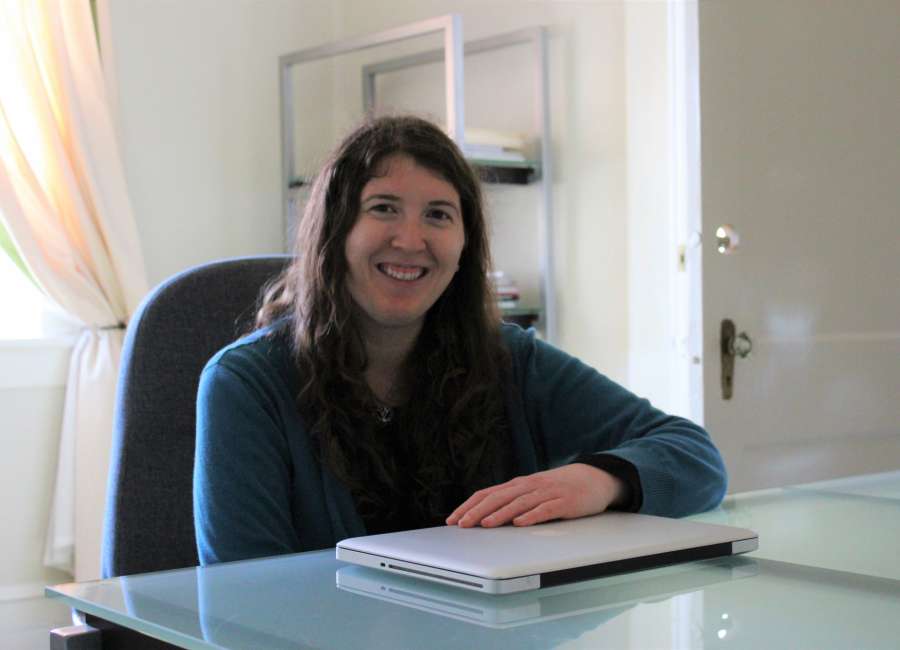 Lavinia Roberts, Newnan's most recent artist-in-residence, will be teaching a family puppetry workshop at the Carnegie Library during the Art Walk today from 6p.m.-8p.m.
Roberts said she will demonstrate paper sculpture techniques for elementary-aged children and their families.
"Its open for kindergarteners through fifth grade and their caregivers," she said. "We'll be making a puppet. Its a kind of folded paper head and then you create a paper body," she said.
Roberts is a playwright and a mask and puppet maker.
"I'm really interested in the ephemeral nature of theater and live performance and how community centered it is," she said. "And how playful and imaginative the worlds you create are."
Having never visited the southern part of the country and as a puppet and mask maker, Roberts's interest in the Newnan art residence program came from Atlanta and the Center for Puppetry Arts.
"I've been based in New York for a number of years and I've wanted to explore other communities and see what work was being created," she said. "I had never been to Georgia and I had never been to the south of the whole U.S. I was really interested in Atlanta. There's a world class puppetry center there."
Roberts said she was looking for an area near Atlanta which made Newnan appealing.
"This is perfect because its near Atlanta and its this beautiful small town and I can walk everywhere, so I appreciate that and I've had the opportunity to engage with different communities," Roberts said.
While in the area, Roberts also taught a collage workshop at Backstreet Arts and play analysis and artists workshops at the University of West Georgia.
Roberts said she wished every town had a community arts center like Backstreet Arts. "It's really an amazing space," she said.
Roberts said her interest in theater began in high school. She put on a play to help raise money for youth crisis shelters during the holidays.
"It was a great way to bring the community together under one space. There were more than 30 kids, and they were all from different churches, and they came to produce the play to support other kids," she said.
In college, Roberts acted but was frustrated with the limited roles available to women which prompted her start writing her own.
"You were either the girlfriend or the mother and you weren't an active participant," Roberts said. "Your character wasn't well developed. There were more stories I wanted to connect and engage with, and the realization that you have to tell your own stories made me interested in playwriting."
Her interest in masks and puppetry came from living in New York and taking a class with Ralph Lee, a mask maker and puppet designer.
"Writing is very cerebral, and it's hard on your body because your sitting for a long time," Roberts said. "There's something really great about visual art is that it is very physical and very present. It doesn't involve – in any capacity – a computer or a screen."
While Roberts designs puppets for her plays and does use them in some productions, not all of her plays feature or require them.
"I have plays that I write that don't involve any kind of puppetry at all," she said. "I have 40 plays published for the school and community theater markets and those are really intended for anyone with any background to pick up and produce."
Roberts said the process for designing a puppet begins with paper. She starts by drawing it and thinking about it she wants the puppet to move.
"I want to establish the puppet's character. So I kind of think of the skeletal structure of how the puppet is going to work. After that I start building," she said.
After her residence in Newnan, the playwright said she plans to do a residencies in Kansas City – where she was an exhibition in April – and New Orleans.
"It's such a gift for people to give you their mental space and and their time to be present, sitting in an audience. You want to make sure you're sharing with them a question, something important and something really thoughtful," Roberts said. "And I enjoy creating fantastical exciting worlds that an audience might not get to experience."