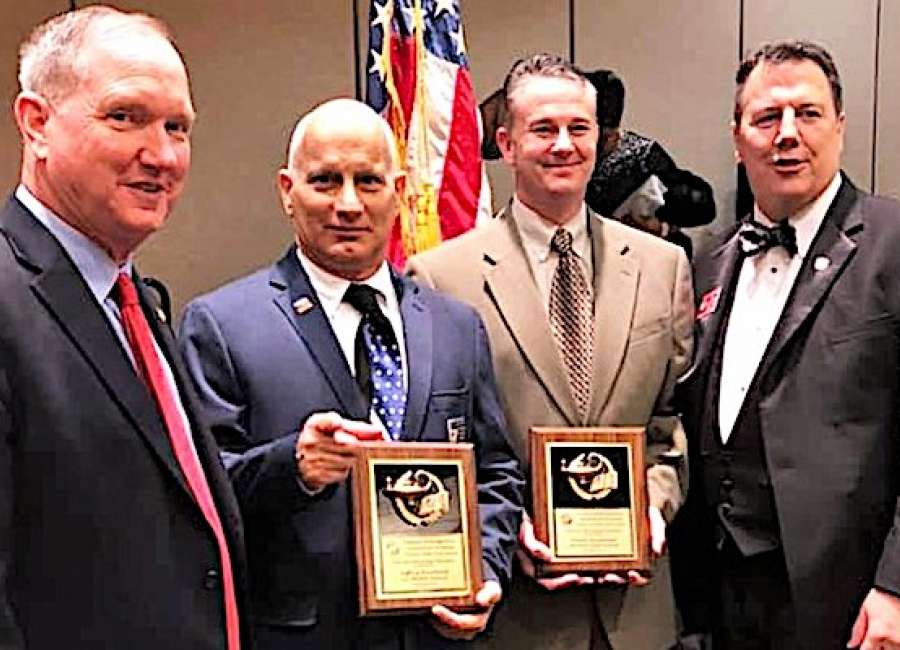 Two teachers in the Coweta County School System teachers have been named Veterans of Foreign Wars Teachers of the Year for the state of Georgia.

Frank Henderson of Newnan High School and Jeff Bouchard of Lee Middle School were nominated locally for the VFW's National Citizenship Education Teacher Award by fellow teachers. As state winners, they both serve as nominees to for national VFW Teachers of the Year honors.
Henderson, Bouchard and Jefferson Parkway Elementary School teacher Rebecca Watford were honored locally by VFW Post 2667, Newnan in December as the post's Teachers of the Year. Henderson and Bouchard won at the Georgia VFW 5th District level before moving to state consideration.
Henderson was recognized as the Georgia VFW Teacher of the Year at the high school level and Bouchard was recognized as the Georgia VFW Teacher of the Year at the middle school level at the VFW's state conference in Macon last month.
It is the second time Coweta County Schools have had two state VFW Teachers of the Year. In 2017, John Garner of Newnan High School and Samantha Clark of Arnall Middle School both won the honor.
The VFW award recognizes teachers at elementary, middle and high school levels each year for exemplary commitment to teaching American history, citizenship and patriotism to their students. Teachers whose curriculum focuses on citizenship education topics for at least half of the school day in a classroom environment can be nominated for the Smart/Maher VFW National Citizenship Education Teacher Award.
"It is my distinct honor to have two of the state winners from our post," said John Skinner, Commander of Newnan VFW Post 2667. "Both Frank and Jeff are fantastic role models for our schools."
Skinner noted that Bouchard, a retired veteran, is the local VFW post's Adjutant in addition to being a middle school teacher. Bouchard has nominated several of his school system peers for the honor in recent years.
"It was a real honor to have him nominated this past year and win all the way through state," Skinner said. "He seems to find a balance for both school and post responsibilities. As a retired military officer, it is a real pleasure working with Jeff.
"Frank is another outstanding representative," added Skinner. "He constantly challenges his students with respect to involvement in history and community. Both are strong nominees and we are excited to have them represent our post, school and community at the national level."
Bouchard teaches sixth-grade math and science at Lee Middle. He is a veteran teacher in Coweta County School System, having taught for seven years at Lee Middle School, four at Arnall, and several years as a substitute teacher before that. Bouchard is also a military veteran, serving for 23 years in the U.S. Army (1975-1998).
"It's a humbling experience, receiving that award before so many veterans from around the state, and alongside a fellow Coweta teacher," said Bouchard. "We need more recognition of teachers in general, and how we're impacting the future of our society."
Bouchard earned a Bachelor of Arts in Human Resource Administration from Saint Leo University, Saint Leo, Fla., and a Masters of Occupational Safety and Health from Columbia Southern University, Orange Beach, Ala.
He entered the U.S. Army in 1975 as a Private, E-1, serving as a Petroleum Laboratory Specialist. He completed Warrant Officer Entry and Rotary Wing Aviation Course in 1982 as an honor graduate. He served as a multi-engine turboprop and helicopter pilot, and as a Unit Instructor Pilot and Safety Manager for 17 years, recording more than 5,000 hours of accident- and incident-free flight hours.
Bouchard reached the rank of Chief Warrant Officer Four, Master Army Aviator before retiring from active duty in 1998. He became certified as a Junior ROTC Instructor after completing his undergraduate degree but had to put that on hold because of military deployments to the Middle East.
Bouchard worked at Duracell, Inc., from 1998-2008 as a supervisor, superintendent and in Learning and Development manager for the company. He also served as a substitute teacher in the Coweta County School System during that time, and attained his certified teacher certificate with system.
ROTC instructor Pete Merrill, who nominated Bouchard, said "Mr. Bouchard's math and science lessons not only include the required standards set forth by the state, but also focus on real-life situations and applications of such standards."
"Mr. Bouchard's curriculum would not be complete without lessons on Americanism and patriotism," Merrill said. "A day in the life of Mr. Bouchard's students begins with mini lessons on character education, where discussions center around professionalism, sportsmanship, teamwork, accountability and work ethic – all vital elements of being a well-rounded American."
Bouchard also coaches, is a volleyball and soccer referee, sponsors the school chess and academic bowl teams, is a member of Lee's School Improvements Leadership Team, and a member of both the school Multi-Cultural and Veterans Day Program committee. He was selected as the 2016 Lee Middle School Teacher of the Year.
Henderson is a Coweta native and 23-year educator who began his career in 1996 at Antioch High School in Nashville, Tenn., as an American history teacher. He moved to Coweta County Schools in 1998, teaching at Central Middle School and Smokey Road Middle School, before becoming a history teacher and coach at Newnan High School.
At Newnan High, Henderson teaches Advanced World History, AP European History and Advanced World War II History, a course he created in 2006. He was nominated by fellow history teacher John Garner.
"I am proud of this recognition," said Henderson. "I think it reflects as much or more on Steve Quesinberry and the social studies department here."
Henderson said he views teaching as a chance to serve other people, including students and his community overall, and an opportunity to connect people. Henderson said when he was a high school student, his teachers and coaches had a tremendous impact on him, and that he sees his position at Newnan High as a way to pay those opportunities back.
Henderson earned associate degrees in History and Chemistry from Auburn University, a bachelor's degree in History and Psychology from West Georgia College, a bachelor's degree in Education from Middle Tennessee State University, a master of education in Social Studies Curriculum from the University of West Georgia, and an education specialist degree in Curriculum and Instruction from Lincoln Memorial University.
Henderson is also a Newnan High alumnus. While a student at Newnan High School, he wrote a note to his U.S. History teacher and told her that one day he would return for her job. When he was hired, she handed him the same note, which she had laminated, and said she thought he would be back. The letter still hangs on his classroom wall.
"In the time since then, I have learned a very important lesson," said Henderson. "History is not about a list of events, dates or names, but, in fact, it is about the connections that all of those things share with each of us today."
Henderson has worked with others in the NHS social studies department to build up the department's annual veterans program over the last 20 years. Today it is the twice-annual Student-Vet Connect program, which typically hosts 75-100 veterans in the National Guard Armory. The program has exposed more than 10,000 students to the veterans' experience and service.
His department offers students advanced classes on the Vietnam War, taught by Quesinberry, and a World War II course, which he teaches. Both classes have actively incorporated first-hand accounts and engagements with veterans.
As a teacher, Henderson has hosted speakers such as Holocaust survivor Tosia Schneider, Asa Yamada, a survivor of the atomic bombings in Hiroshima, Dan Klein, who lived under Nazi occupation in France, and five Medal of Honor recipients at NHS.
Henderson participated in the WWII Honor Flight in 2008 where he hosted two WWII veterans at the memorials in Washington, D.C. In 2011 he was part of the commission that brought the travelling replica of the Vietnam Memorial to Newnan. He and the department have built up the NHS History Club as the largest such club in the United States for the last four years, and the department holds an annual 5K race that benefits local veteran causes.
Henderson has served as the NHS head varsity girls soccer coach since 2008, and he also has been head freshman football coach, assistant varsity girls and boys basketball coach, and assistant varsity boys soccer coach. He was selected as the Region Soccer Coach of the year in 2009, 2010, 2013, 2015, and 2016.
He was Teacher of the Year for Smokey Road Middle School in 2000 and 2002 and received the Coweta County Veterans Service Award in 2005, the Kiwanis Unsung Hero Award for Community Service 2016, and the VFW Local and Region Teacher of the Year in 2013.
Newnan's VFW Post 2667 sponsors a number of awards recognizing local students and teachers each year, including the Teacher of the Year program, a Patriot's Pen essay competition for middle schoolers, the Voice of Democracy video essay contest for high school students, and Junior ROTC and Scout of the Year awards.