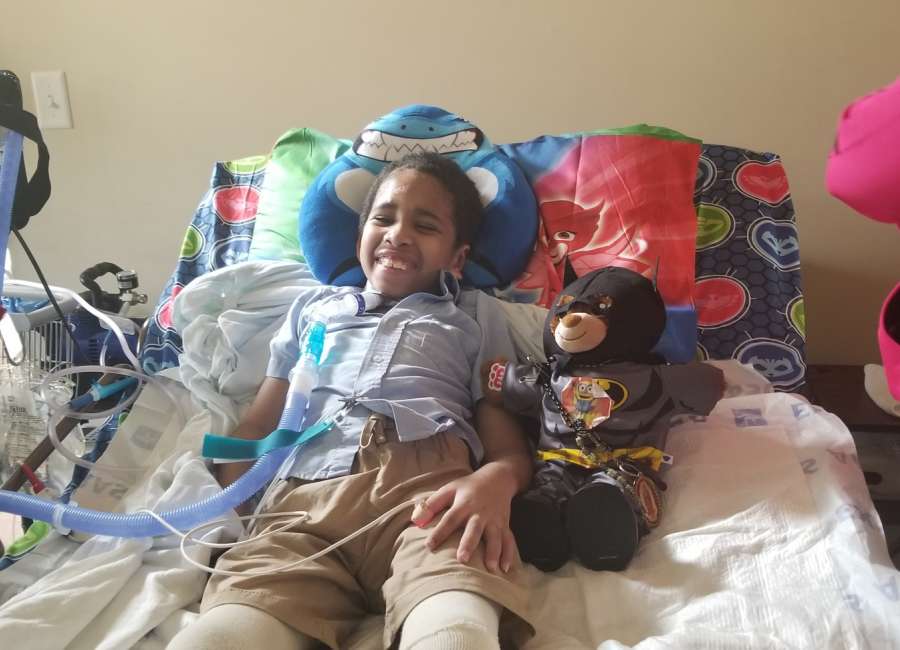 The Brown and Perez family welcomed home eight-year-old Dominick Perez – the Newnan boy who was severely injured in a car accident earlier this year - after two month hospital stay in Atlanta.
The accident left the young boy paralyzed.
Dominick and his mother, Ann Marie Brown,  were seriously injured in a three-car wreck on East Hwy. 16. The crash was on the afternoon Jan. 14 around 3:30 p.m., when the driver of a 2012 Jeep Wrangler traveling west on Ga. 16 near Elders Mill Road struck two cars stopped in traffic.
After the initial impact, the Honda in which Dominick was a passenger continued west across the eastbound lane off the south shoulder and came to rest in a private parking lot, according to a Georgia State Patrol spokesperson.
All three occupants of the Honda were transported to Atlanta Medical Center, including two children – ages 8 and 7.
Accompanied by his mother, Dominick was transported from Children's Healthcare of Atlanta by ambulance Tuesday afternoon, escorted by two Newnan police officers.  
A sign that read, "Welcome Home Dominick," was on the front of the family's Newnan home. His family and friends cheered him on while he was transported into the house, – Dominick greeting everyone with a smile.
Tom Brown, Dominick's father, said he is grateful that his son is still alive and able to return home and that he has a good outlook on life moving forward.
"I almost lost half of my family that day," Tom said. "They didn't think he was going to make it."
Tom said the entire family, including Dominick's sister, Nisa Brown, and her fiance, Jonathan Garcia, took turns looking after Domineck while he was in the hospital.
The home has been transformed to make Domineck comfortable, moving his bedroom downstairs complete with is own flat screen television and items from his favorite cartoon characters such as PJ Masks and Batman.
He was smiling at family members, even blowing kisses.
Nisa, who was performer at Walt Disney World in Orlando, Fla., said she moved home permanently one day before the accident.
"We're blessed to have our family," Nisa said. "We've gone through so much.
Same way my Dad put it, it's a blessing he's alive ."
Nisa said it was team effort caring for Domineck, and the family will continue the same routine.
"We've learned as much as we can so we can take care of him," Nisa said.
She said he will begin with 24-hour nurses, which will then digress to 16 hours and stop at 12 hours.
Dominick was a first-grade student at Coweta Charter Academy at the time of the accident. Tom said Dominick's speech is limited at this time, but homeschooling will begin in the next few weeks, with the possibility of eventually returning to school in a specialized class.
Ann Marie said he enjoys school, especially drawing.
"We're blessed," Ann Marie said. "I am smiling from ear to ear. I'm just overjoyed and glad to have him home."
The family also thanked all of Dominick's caretaker and nurses from the hospital for their support.
The accident is still under investigation by the Georgia State Patrol Specialized Collision Reconstruction Team.