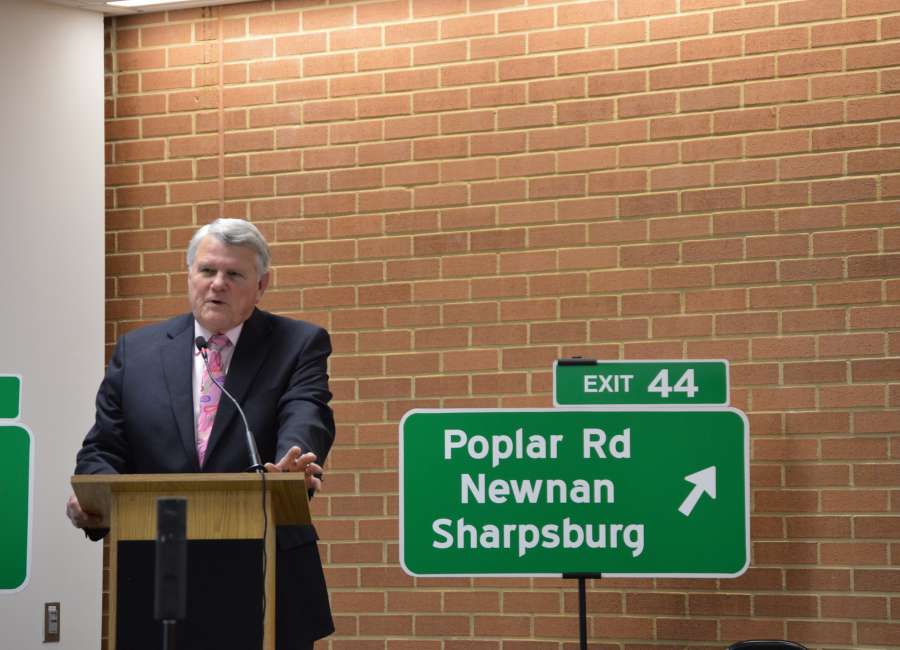 "It's really a remarkable day."
The opening of the new Exit 44, on Interstate 85 at Poplar Road, was celebrated Wednesday morning in a conference room of Piedmont Hospital.
New interchanges are a rare thing, and the one at Poplar is the first new one since I-85 was built through Coweta County.
"This is a one-in-a-lifetime happening," said Coweta County Commission Chairman Paul Poole, one of several speakers at Wednesday's event. "The citizens stood behind us and we all worked together," he said. "It took all of us for this to happen."
And it will have a dramatic impact on people's everyday lives, Poole said.
The interchange has been a long time coming. It was in 1996 that the Coweta County Board of Commissioners first began talking about putting the interchange at Poplar Road. But a new interchange has been discussed even longer than that.
"I can remember them talking about it when I was 20 years old – where are they going to put that exit?" said Poole. "There are a lot of people who are no longer with us who were instrumental in getting it started."
Though the project was in the talking and planning stages for many years, once things got moving, they really got moving.
"Less than three years ago we were out doing the groundbreaking, and today we're celebrating the opening," said Michael Presley, District 3 engineer for GDOT.
In 2004, the county commission voted to fund an "interchange justification report," which began in 2006 and was approved in 2008. In 2009, GDOT issued a "project identification number, which established funding mechanisms and  allowed the county to officially begin the project. In 2010, the county approved moving forward with preliminary engineering and design, and in 2015, once engineering and design was complete, the county began buying right-of-way. Some 50 acres were needed.
Though the interchange opened Wednesday, it's not quite done. Crews were still out Wednesday working, and new traffic lights at the Newnan Crossing Bypass and Newnan Crossing Boulevard aren't yet operational. The new light at the emergency entrance to Piedmont Newnan Hospital hasn't been turned on, either.
The traffic lights aren't fully interconnected yet, said Keenan Ford, District Construction Engineer for GDOT District 3, so it was decided not to turn them on yet. Pedestrian signals aren't operational yet either.
Ford said that signal work should be completed in about three weeks. Once the new signals are operational, all of the traffic lights between the bypass and Boulevard will be interconnected.
The sensor technology has the different lights communicating with each other, so that there won't be a lag between the lights. It's also designed so that traffic stopped at one light doesn't extend into adjacent intersections, according to Ford.
The paint striping on the roadway is also temporary. Permanent thermoplastic striping can't be put down until the top layer of asphalt has cured for at least 15 days, Ford said.
The traffic light work will likely be done at night, Ford said. If it has to be done during the day, it will be between 9 a.m. and 3 p.m. to avoid impacting rush hour traffic.
The new interchange is expected to reduce traffic congestion, and the impact on Bullsboro Drive is something local officials are eagerly anticipating.
"The interesting thing to watch is the impact it has on the traffic on Bullsboro, not only in the morning but afternoons," said Coweta Public Works Director Tod Handley.
Former GDOT District 3 Board Member Sam Wellborn, driven by County Administrator Michael Fouts, took the ceremonial first trip along northbound exit ramp.
But that wasn't the first time motorists had used the ramp.
Piedmont Newnan CEO Michael Robertson said that three mothers in labor had "come right up the ramp and dodged some barrels to get here."
"Now that it's officially open, it will make my job a whole lot easier," Robertson said.
He said he feels the opening of the interchange will be a catalyst for growth at the hospital. The hospital, which opened in 2012, is already out of space, and has added new beds and new services, he said.
He thinks more people will come to the hospital now that the interchange is open – and there may be a need for more ambulances.
"This is a very, very significant thing," said Wellborn. "You know what it is going to mean to your county. You're the ones that needed it. You're the ones that promoted it. You're the ones that wanted it.
"I've never seen a DOT project come together like this one did when everyone worked together … all coming together for the sole purpose of getting this thing done," Wellborn said. "It's a happy day for all of us."