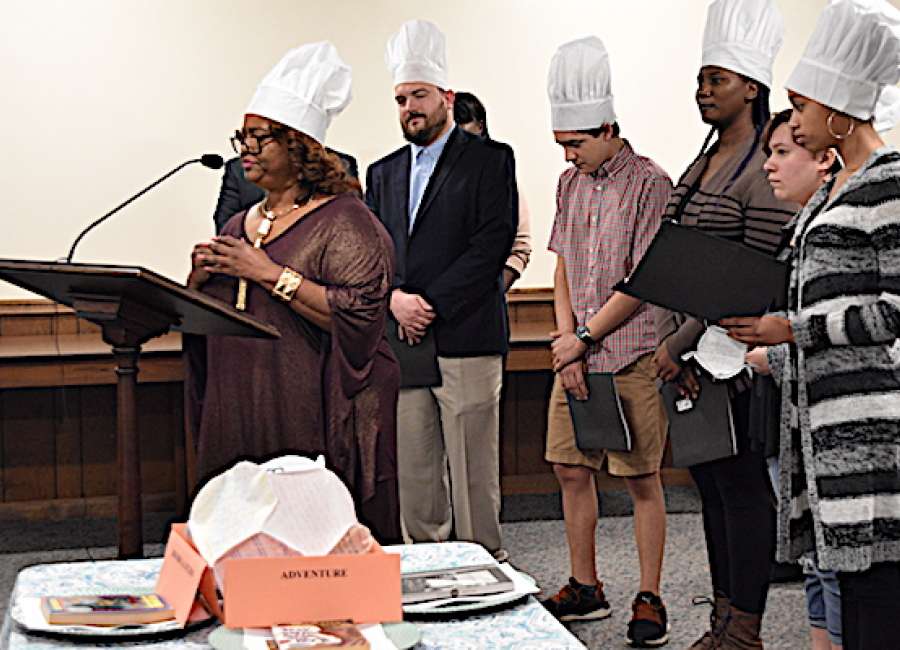 Arnall Middle School students recently developed their taste for literature during a unique restaurant-themed unit featuring a "book cafe."

Some of those students spoke about the experience to the Coweta County Board of Education during the board's January meeting. Deborah "Dee" Mack, an eighth-grade teacher at Arnall Middle School, led the presentation, joined by fellow teacher Bradley Skelton and students Kevin Kevin Gatts, Renee Leveridge, Emma Silva and Kennedy Toliver.
To encourage students' exposure to various writing genres and strengthen their ability to analyze and synthesize the written word, Mack said, she created the "Arnall Book Cafe." Set up like a restaurant, complete with tablecloths and music, the display allowed students to participate in "book tastings" to help them establish criteria for choosing books.
Each of the stations included tables with place settings of four books – historical fiction, young adult fiction, science fiction and adventure.
"As we continue to foster in our students a love for reading and writing, students were able to connect to real world experiences to make sense of the text," Mack said.
Students were given seven minutes at each station to analyze the front and back covers of each book and read the first few pages. From that, each students made predictions about the book's focus, allowing them to gauge their interest.
Each then gave the book one of five ratings: Not "just right" for me, probably not "just right" for me, maybe "just right" for me, probably "just right" for me, and "just right" for me. A "menu" allowed each student to select a book that most appealed to them in demonstrating their comprehension.
Mack said the goal was students to identify real life experiences as they connected with their "just right" books and demonstrated their comprehension by analyzing various details and illustrations.