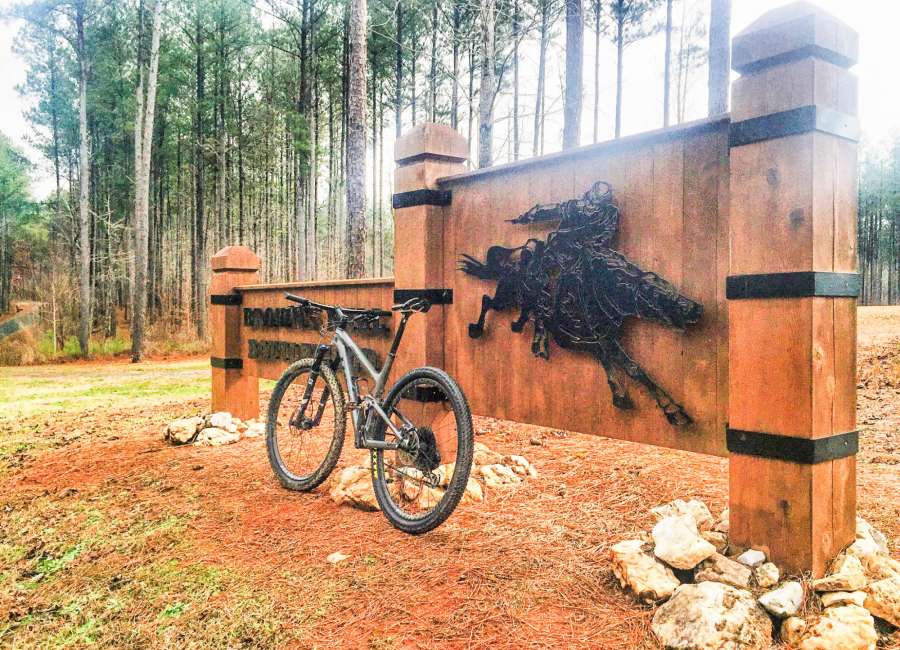 The first in a series of shared-use trails for mountain biking, hiking and trail running within the Brown's Mill Battlefield was unanimously approved by commissioners Tuesday.
Following October's approval of a memorandum of understanding between Coweta County and MTB Atlanta, the board approved the plan for 5-6 miles of shared-use trails for mountain biking at Brown's Mill, with the support of the Brown's Mill Battlefield Association.
This will be the first mountain bike trail system in Coweta County.
The idea was a grassroots effort between Friends of the Brown's Mill Battlefield, MTB Atlanta and Bike Coweta.
Brown's Mill Battlefield is a 200-acre, county-owned property on Millard Farmer Road that was the site of a cavalry battle during the Civil War.
The property has largely been developed by the Brown's Mill Battlefield Association, and the county and has a system of trails already in place for hiking and running.
Action on Phase 1 is expected to begin this month, when the group will begin flagging the proposed trail for the beginner loop.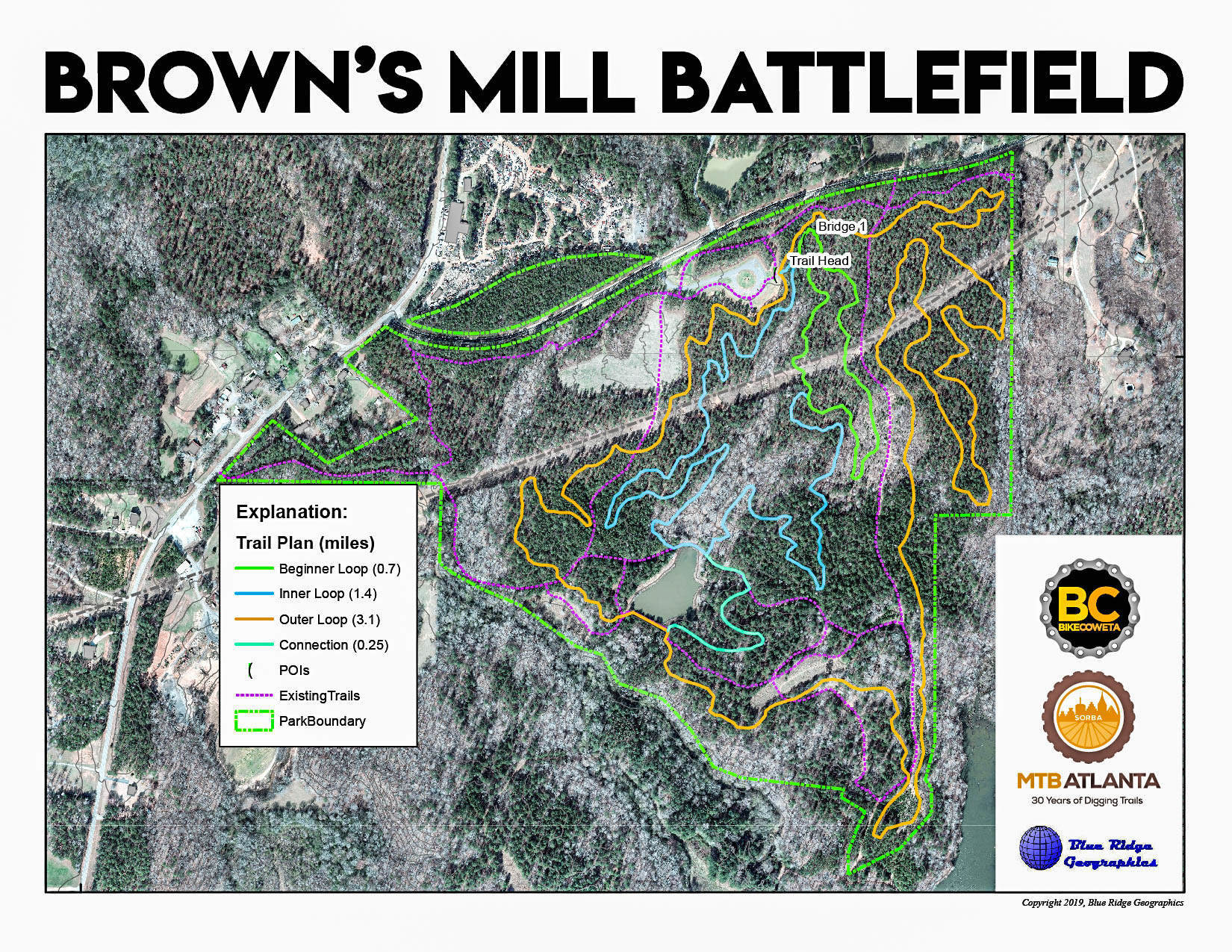 A proposed map shows the various trails for Brown's Mill Battlefield. This month, construction will begin on the 0.7 mile Beginner Loop trail
MTB Atlanta's vice president, Chris Doane, has spearheaded local advocacy efforts and also serves as chairman of the newly formed Bike Coweta, a local advocacy group working as an arm of the Coweta Community Foundation to promote all forms of cycling in Coweta County.
After meeting with Newnan Utilities, the city of Newnan and Coweta County, Bike Coweta identified Brown's Mill as an opportunity to build shared-use trails, according to Doane.
Based on its extensive history of creating shared-use trails in areas like Cochran Mill in South Fulton County, MTB Atlanta was brought in as a consultant for the Brown's Mill project.
The conceptual trail plan was conducted by Keith McFadden with Blue Ridge Geographics, who said the primary goal of the trail system is to accommodate all MTB trail users – as well as hikers and runners –with a fun trail experience while also providing just enough challenge to attract even the most seasoned rider.
Currently, there is no other trail system in the county for mountain biking except one beginner trail at Chattahoochee Bend State Park. That means local riders must drive some distance to mountain bike.
Doane said adding multi-use trails at Brown's Mill will help fill the need for biking trails that are largely non-existent in the Newnan area at this time.  
National Interscholastic Cycling Association (NICA) mountain-bike competition has been growing in popularity within Georgia middle and high schools.
The proposed development would provide a venue for the Coweta Composite NICA Team, which currently practices at Cochran Mill – more than 30 minutes away from downtown Newnan.
"It's kind of like having the Newnan football team traveling to LaGrange to practice because there's not a facility here," Doane said.
The proposed area at Brown's Mill is ideal for beginner to intermediate-level flowing contour trails and just large enough to accommodate two short loops – an inner loop and an outer loop – each connecting at the trailhead, with an additional connection near the lake.
In addition, the inner loop would contain a short loop designed specifically to be beginner/family friendly.
According to Doane, funding for the project would come through three sources – corporate sponsorships, private donations and grants. Cochran Mill was the recipient of 2 RTP grants, which helped create its extensive shared-use trail system.
Construction on the beginner loops at Brown's Mill is set to start this month. Funding for the construction will be provided by private donations at this point.
"Volunteer weekend work days will be scheduled by the end of March, which will become our 'miracle mile,'" Doane said.
Carolyn Turner, president of Brown's Mill Battlefield Association, said she's optimistic the new trails will keep bringing in new faces to explore the history of the battlefield.
"We're thrilled because they voted to put in a restroom at the battlefield, which is wonderful for us," Turner said.
While she says she remains cautiously optimistic about the use of mountain bike trails, Turner said compromise makes progress.
In the past, the battlefield was treated as sacred ground where even a picnic wasn't an option.Now, Turner said the approach is different.
While the association's  mission remains intact, families are encouraged to come walk the property, listen to nature and explore history. A recent land swap also booted the acreage from 68 to more than 200.
"As a former history teacher, you understand the importance of making history personal," she said. "You can't focus on dates and details, but the personal stories like George Cook's daughter, Mary, who was killed during the battle, or a soldier who won the Congressional Medal of Honor after being captured here. "
Turner said mountain biking is just another facet of bringing in more people to explore and appreciate the history of the battlefield – a revered place where several Union soldiers remain buried on the property.
"I'm so proud of it, and more people are coming every day to learn about it," Turner said.