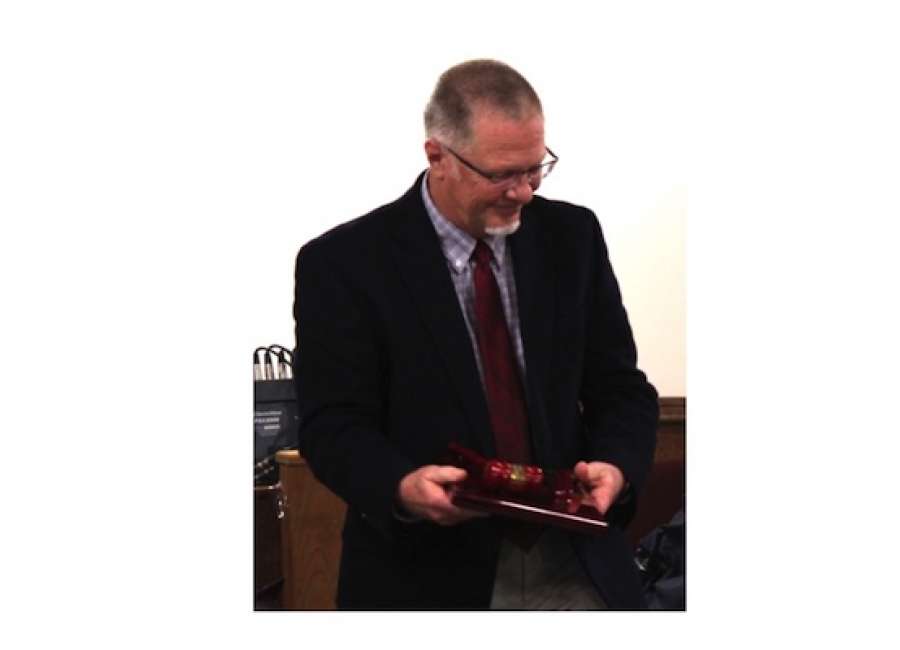 Members of the Coweta County Board of Education took a few moments Tuesday to demonstrate their appreciation to the board's former chairman.

Larry Robertson, who served as chairman from January 2017 to January 2019, was presented with a plaque-mounted gavel in appreciation of his service at the board's Tuesday meeting.
"Mr. Robertson, we appreciate your leadership, hard work and dedication," said Superintendent Steve Barker as he presented the plaque to Robertson, who handed over the chairmanship to Amy Dees last month.
Robertson said he is thankful for the opportunity to serve the residents of Coweta County, and he thanked Barker and his fellow board members as well.
"I appreciate all the hard work that you do in ensuring the success of our school system," he said.
Other board business on Tuesday included choosing representatives for a meeting this summer.
Each year, the school board elects a delegate and an alternate to represent Coweta County at the Georgia School Boards Association (GSBA) Summer Conference. Board members unanimously accepted Winston Dowdell's nomination of Beth Barnett as the delegate and Frank Farmer as the alternate for the June meeting.
Board members also approved a Sick Leave Bank committee consisting of Jason Olvey, director of technology, Werz-Central Office; Andy Clark, principal, White Oak Elementary; Toni Vinson, counselor, Welch Elementary School; Amy Addison, teacher, Evans Middle School; Susie Bott, administrative assistant, Werz Operations Center; Charlotte Hollins, registrar, East Coweta Middle School; and Allison Hurston, teacher, Newnan High School.
The committee will oversee a school system program allowing employees to contribute accumulated sick leave to a "bank" for use by any contributing employee on approved extended leave who has exhausted his or her own sick leave and vacation time. Eligible employees can withdraw up to 60 additional days of sick leave through the program.
Barker also announced Tuesday that the board again will be seeking to be recognized as a GSBA Exemplary Board. That status is the highest offered by the GSBA and honors the best practices in school governance and leadership.
Last year the Coweta County Board of Education was one of just 35 out of the 180 school boards in Georgia to meet the requirements for the distinction, which Coweta has earned each year since the recognition was created in 2016.