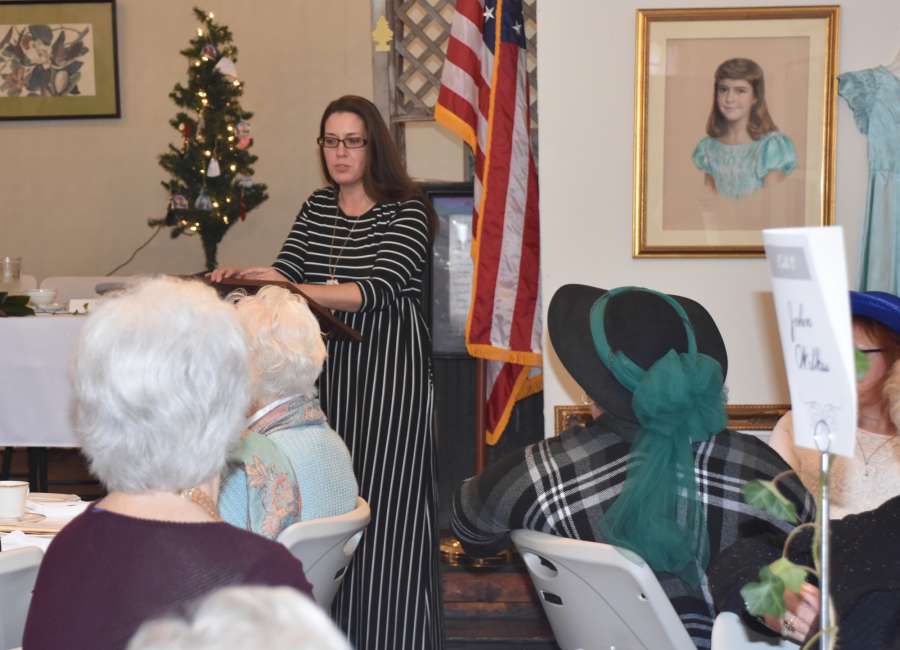 Jennifer Hillyer, a member at Allen-Lee Memorial United Methodist Church, planned the Alicia Rhett Tribute Tea, which was a fundraiser for the church's building fund.

Hillyer made many of the dishes served at the tea, with assistance from Angela McRae and Lynn Skinner.


Here are recipes for Skinner's pimiento cheese and Hillyer's sand tart cookies.
Pimiento Cheese
16-oz block extra sharp cheddar cheese
8-oz package cream cheese, softened and chunked
1/2 cup mayonnaise
4-oz jar diced pimientos, drained
2 Tbsp Vidalia onion, finely minced
1/4 tsp salt (optional)
Use food processor fitted with grating blade to grate cheddar cheese. Place grated cheddar cheese in a bowl to change food processor blade to the knife blade. Put all ingredients in food processor and pulse until finely mixed. Pour pimiento cheese into an airtight container and refrigerate for several hours to allow flavors to combine. Great served cold or warm, in sandwiches or as a dip with crackers or veggies.
Sand Tart Cookies
1 cup butter, softened
1 cup powdered sugar, plus more for dusting
2 tsp vanilla extract
2 cups all-purpose flour, sifted
½ tsp salt
1 cup pecans, chopped well
Preheat oven to 350 degrees, and line pan with parchment.
Cream together the butter and sugar until light and fluffy. Add the vanilla and mix. Then add the flour and salt, mixing until almost combined. Stir in the pecans with spatula. Finish mixing the dough with spatula, and do not over mix.
Use hands to make 2-tsp balls and roll each ball into a short log shape and place on pan. Roll one pan at a time.
Bake for 15 minutes or until edges are light brown. Allow the cookies to cool on parchment. Then dust with powdered sugar. Store in airtight container.