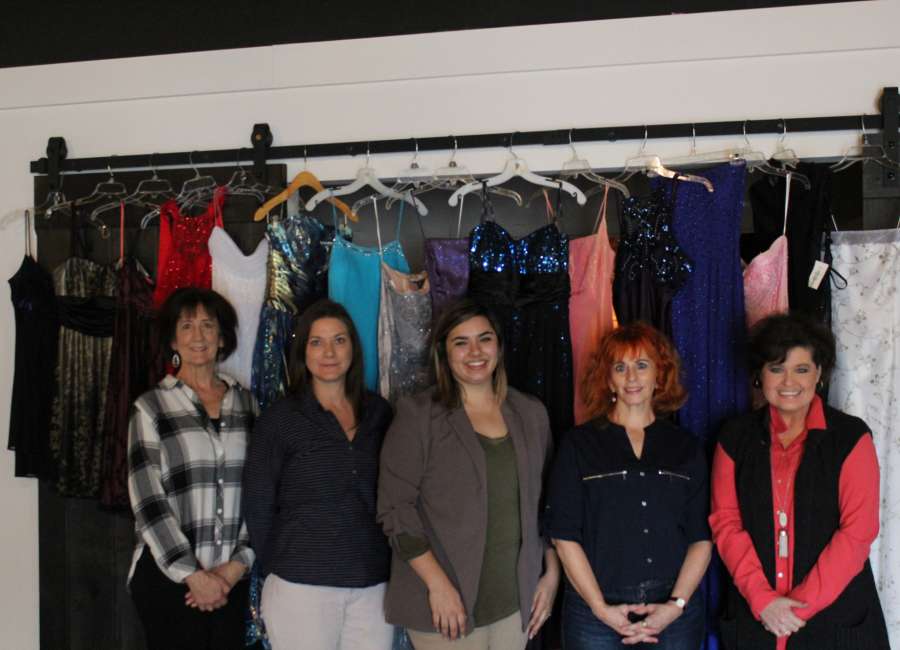 More than 500 free prom dresses will be given away by Newnan City Church as a part of its Grace & Gowns event from Feb. 25-Mar. 2.
The event is aimed at girls who would not be able to obtain a dress otherwise.
Appointments to pick out a dress can be made online on a first-come, first-served basis. Each appointment is 45 minutes long.
Karin DeGroot, a member of the church, said the dresses range from extra-small to extra-large sizes, and there are more than 500 available.
"It didn't look like that many until we started to count," DeGroot said.
The project began at Landmark Christian School in 2007, but this year the school was unable to store the dresses at the school because of renovations.
"Landmark wanted it to continue but in someone else's hands," said Beth Ellison, a member of the church and LCC employee. "They had a strong desire that it would continue as a ministry."
"We don't know any other agency that was going to pick it up," DeGroot said.
Ellison said she didn't know if anyone else planned on  taking on the project either.
"I said 'I think we will,'" she said.
NCC used a moving truck to transport the dresses to DeGroot's home, where they  have been stored since September, she said.
"I did a gross measurement, and it probably fills a space of 350-400 square feet," DeGroot said. "It's kind of wall-to-wall. The dresses are all hanging on racks, so at least they're not tumbling on the floor."
The church's goal is to make the event feel like a memorable "prom boutique," said Candi Roteman, a member of the church.
"We want it to be crazy," Ellison said.
According to DeGroot, the church will be decorated like a formal dressing area.
During Grace & Gowns fittings, one space in NCC's building will be converted into dressing rooms for the girls, while a second section of the church will be turned into a modeling area for the girls to receive feedback from friends and family on the dresses.
Panera Bread will donate food for the event, said Ellison.
Each girl attending will receive a gift bag  that includes a devotion book and a gift card donated by Chick-Fil-A.
"No one knows who's coming," Ellison said. "It's confidential."
Members of NCC will be available to help with dress selections and any other assistance that the girls might need.
Roteman said she will be at G&G to "nip and tuck" and make small adjustments to the dresses.
"Every girl should feel feel beautiful going to prom," she said.
Shoes, jewelry and other accessories will also be available at the event, said DeGroot.
"Our folks have a vast array of talents they are contributing," Ellison said.
Members of NCC have spread the word of Grace & Gowns by getting in touch with other local organizations.
"I've been working with foster groups to make sure they know there's someone trying to support them," said Catherine Rodriguez, a member of the church.
According to Ellison, members of the church have also spoken with school counselors so the students who will benefit the most from G&G will learn about it.
Derrick Teagle, co-director of Empowered 4 Life, said the kids in his organization helped spread the word of the event too.
NCC's pastor reached out to Teagle in December. Teagle told the pastor that his organization would help spread the word about G&G.
Empowered For Life has a radio component to the organization that they will use to promote the event.
"We knew that if we use our girls as resources to spread the word then the word would get out. And we could use our radio broadcast so we can bless more girls," Teagle said.
According to Teagle, members of EFL's step team modeled in some of the dresses and used those pictures on social media to promote G&G.
"We would love to see 400 girls," Ellison said. "There are girls who would love to have the experience of going to prom. We as a church see this as a tool through which we can serve our community."
Appointments for dresses can be made at www.nccforme.org .