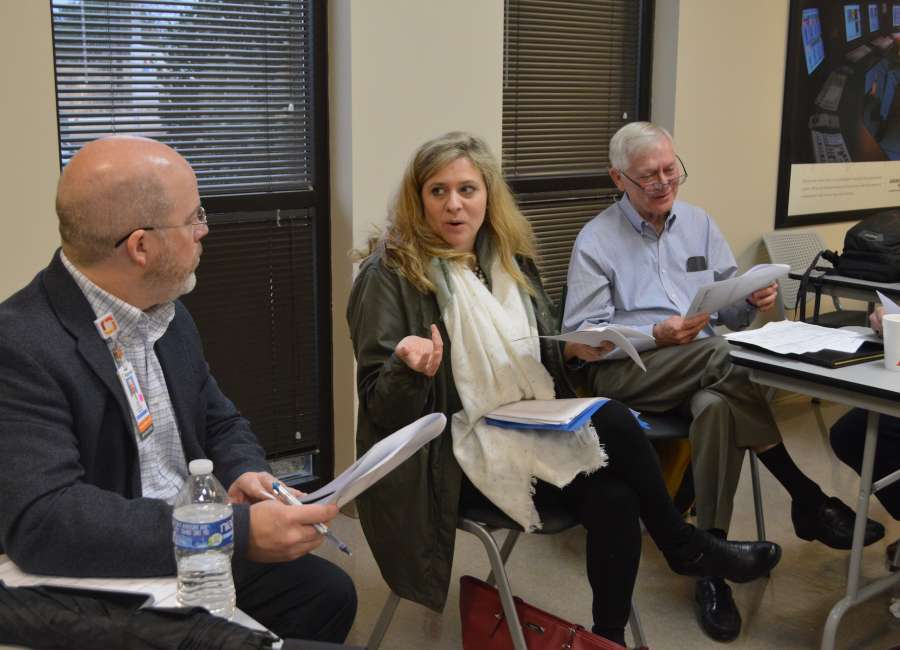 A survey sent out to local doctors and dentists to get information on how they prescribe opioid pain medications has had a very low response rate, and the group working on guidelines for opioid prescribers needs more respondents.
Only 67 of Coweta County's 800 prescribers took the survey online, with another 12 completing a paper version, said David Copelan, head of pharmacy for Piedmont Newnan Hospital and a member of the Coweta Substance Abuse Prevention Coalition's (CSAP) prescriber guidelines team.
Of those responding, 10 were dentists, and four were orthopedic doctors. Orthopedists tends to be a significant prescriber of opioids for acute pain, according to Copelan.
Melinda Hoifus is working to correlate the data and break it down by speciality and other categories to see if different types of doctors have different needs.
Information about the Coweta surveys primarily was mailed out to prescribers, and the prescriber guidelines team discussed purchasing an email list containing email addresses for most prescribers in Coweta as a way to get more survey responses.
The group wants more input from prescribers, and they don't want to wait to begin taking action based on the information they have received, Copelan said.
Only 17 of those taking the survey said they give patients written material about the dangers of opioids, including the risk of overdose and dependency.
Most, but not all, prescribers say they are checking the state's Prescription Drug Monitoring Program database before prescribing. Checking the PDMP has been the law since July 1. Doctors are required to consult the database when writing a prescription for more than three days' worth of schedule II narcotics or more than 10 days' worth for a patient who has had outpatient surgery. Prescriptions for some patients, such as those with cancer or on hospice care, are exempt. But Copelan said he's not sure that's happening.
"I don't think there is 100 percent compliance with the PDMP," he said. "There's no enforcement that I know of."
Under state law, doctors also are required to complete a short, one-time continuing education course on the dangers of opioids before renewing their medical licenses.
Lori Murphy of the Medical Association of Georgia Foundation said the American College of Physicians offers a free online continuing education course on opioids.
"That is what most of the doctors take," she said. "It's updated every year, and I highly recommend that. They can take it whenever they want." Prescribers don't have to be a member of ACP to take the class, she said.
Copelan said the team needs to look at what kinds of education are needed, ando whether the continuing education courses meet those needs.
When prescribers were asked their opinions on the best way to get education, online continuing education got the most votes. Live events, journal articles and brochures also received a significant number of votes on the survey, which gave prescribers the choice to select multiple options.
Vicki Kaiser of Piedmont Newnan said when the group met with its advisory clinical council, the doctors "were hungry for tools."
The surveys provide a significant amount of information on how doctors handle issues.
Approximately 73 percent of those surveyed said they follow opioid prescribing guidelines, and 77 percent said they check the PDMP. Sixty-one percent said they talk to patients about the risk of addiction, but only 25 percent said they give patients written material.
When asked what they would do when they suspect a patient's potential misuse or abuse of opioids, more than 65 percent said they refer that patient to pain management. Nearly 40 percent said they would recommend a taper, and 32 percent said they would refer the patient to addiction counseling. Several others said they stop prescribing to that patient, and a few said they contact law enforcement.
Because so few doctors give out information to their patients, the team discussed putting together informational pamphlets that can be handed out. The pamphlets also can inform patients about the need to safely dispose of unused opioids and options for safe disposal.
Tami Morris of AV Pride, the agency that received the grant to create CSAP, said the Centers for Disease Control has a pamphlet on opioid use. However, "it's gotten kind of a mixed reaction. It doesn't look like they've updated it," she said.
Based on the reviews she's seen of the pamphlet, Morris said she doesn't recommend using it.
Murphy said the Medical Association of Georgia Foundation has a leaflet to educate patients, with a list of locations where drugs could be dropped off on the back. The foundation was working with some chain pharmacies, which were putting the leaflets in customer bags or stapling them onto prescription information.
Copelan said he would like to have information about local drop boxes and local places patients can get "Dispose RX" – a product that can be mixed with pills for disposal – included in the written materials, if possible.
Patients already have paperwork to take with them when they leave their doctors' offices. "Why can't this be part of it?" he said.
If you are a prescriber who hasn't taken the survey, contact Copelan at David.Copelan@piedmont.org to get the survey link.