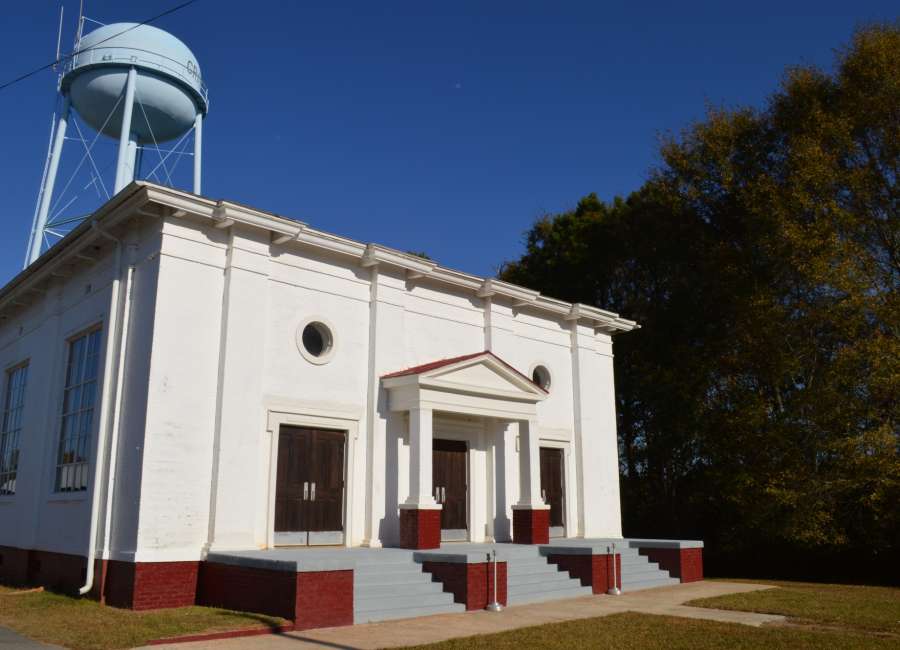 Grantville has received a matching $32,190 Historic Structures Planning Grant for the restoration of the Sara O'Kelley Municipal Auditorium, but restoration has been put on hold until the city addresses alleged asbestos contamination at the building.

Th council recently tabled a contract for Lord Aeck Sargent, a full-service architectural and design firm, to restore the auditorium.
In September, Lord Aeck Sargent was approved to develop plans restore both Grantville's  freight depot and the auditorium.
Councilman Jim Sells said asbestos was found in the building years ago. Sells also mentioned the lack of bathrooms at the building.
Because of its fiber strength and heat resistance, asbestos has been used in a variety of building construction materials for insulation and as a fire retardant. Asbestos has also been used in a wide range of manufactured goods, mostly in building materials (roofing shingles, ceiling and floor tiles, paper products, and asbestos cement products), friction products (automobile clutch, brake, and transmission parts), heat-resistant fabrics, packaging, gaskets and coatings, according to the Environmental Protection Agency website.
Exposure to asbestos increases your risk of developing lung disease, according to the EPA.
Sells said the mill in the city was also still vacant because of asbestos.
"Mold is minor compared to lead paint and asbestos," Sells said.
He suggested the city hire an outside agency to determine the costs to remove asbestos.
City Manager Al Grieshaber said the planning grant is to evaluate the restoration of  the building.
"They have already done a laser stamp of the building, it may turn out, as council member Sells pointed out, that it may be to the point where they can do nothing with the building," Grieshaber said.
Grieshaber said the grant was a planning grant "to see where we are with that building."
He said the the process would work similarly when the city had allegations at mold at city hall by putting out requests for proposals to hire an outside agency to address the problem.
"We are going to be publishing a request for proposals and bids  for the investigation and removal or remediation of the hazardous material (lead paint and asbestos) in the auditorium," Grieshaber said.
He said the council would like to see the responses to the RFP/bids before the restoration of the auditorium is undertaken.
The auditorium was named in honor of the late Mrs. Sara Holle O'Kelly in 2006 to commemorate her contribution to the community as an educator.
The grant was awarded by the Fox Theatre Institute, a division of Atlanta's Fox Theatre Inc. It is the first grant the institute has awarded to Grantville.
The Fox Theatre Institute is a outreach program offering historic preservation expertise, consultation and education to performing arts venues in Georgia and the region.