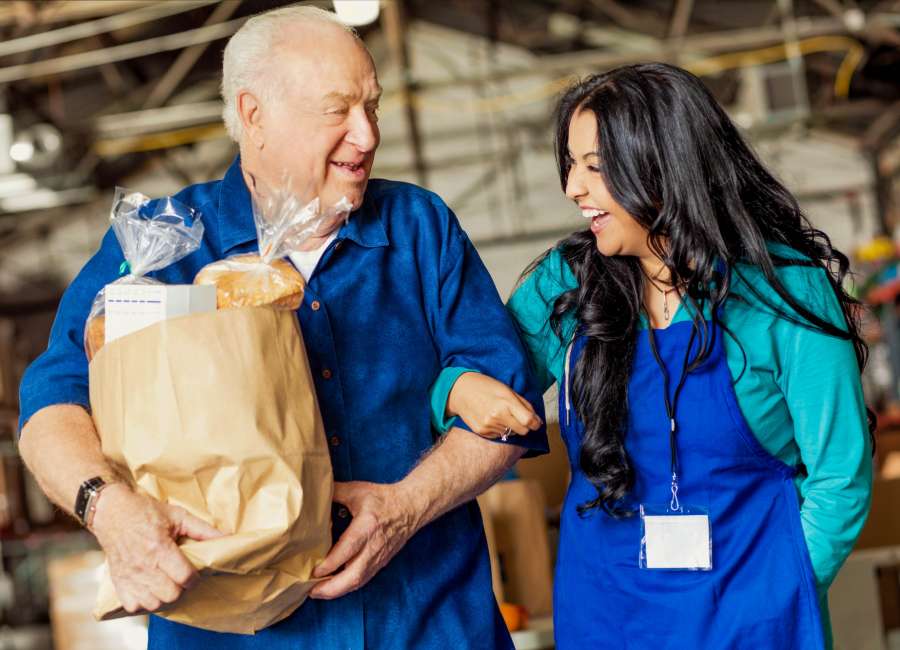 Food insecurity – a lack of consistent access to a minimum amount of nutrition to sustain a healthy and active life –  is a huge issue for many older Americans, according a report by Feeding America, a nationwide organization with more than 200 food banks.

According to the organization's survey, one in 12 people age 60 or older are "food insecure" –  that's about five million older Americans. In 2017, the U.S. government estimated that almost 12 percent of all U.S. households were food insecure at least some time during the year.
Feeding America found that seniors who struggle with hunger are more likely to experience depression, asthma and other chronic health conditions.
Luckily, there is help in the Coweta community to help seniors combat hunger and the scarcity of food.
In addition to social and educational programs, the Tommy Thompson Senior Center in Newnan provides meals for participating seniors, both in-house and in residents' homes.
Senior Nutrition Programs are part of the continuum of care designed to support independent living of older adults, according to Amy Epperson, senior director.
In a previous Newnan Times-Herald interview, Epperson said the center has a Congregate and Home-Delivered Meals Program, which comply with the current dietary guidelines for Americans. The meals provide a minimum of 33⅓ percent of the current daily dietary reference intakes, as established by the Food and Nutrition Board of the National Research Council of the National Academy of Sciences, which is published by the secretaries of the Department of Health and Human Services and U.S. Department of Agriculture.
Congregate Meals Programs
The Congregate Meals Program provides lunch every day for a suggested donation of $2, but Epperson said any amount is appreciated if the senior is able to donate.
"We never turn anyone away if they can't donate and it's not a requirement," she said. "It's a great way to not only get a good meal, but to meet other seniors and participate in different activities as well."
Participants must be 60 years of age or older to receive a meal.
"The balanced meal and social contact provide a positive motivation for self-care for seniors who often eat poorly on their own and can become lonely and depressed in isolation," Epperson said. "The nutrition program is more than just a meal. It also nourishes the person as a whole."
Home-delivered meals
The center also has a home-delivery meal service for individuals who have more health problems than congregate participants or are not able to make it to the center. The center director said many of the homebound recipients may have short or long-term health problems. Recipients must reside in Coweta.
"This program can provide nutritional support through the delivery of one meal per day and, in some cases, liquid nutritional supplements," she said. "The meals are delivered by a team of dedicated volunteers who deliver much more than a meal. Quite often, our volunteers provide the only social contact a homebound senior may receive. Each visit ensures the well-being of the recipient so they can continue to live independently in their own home."
Epperson said the service can be temporary. Meals for both programs are prepared at the Heard County Senior Center and are delivered hot to the Tommy Thompson Center.
Epperson said more volunteers are needed for the home-delivery program.
"The more volunteers we have, the more area we can cover and we can serve more people," Epperson said. "Volunteers usually have between and five and 10 deliveries, depending on their route. Meals are usually ready to be picked up between 10:30 and 11:00 a.m. and routes can take take about an hour."
Epperson said the schedule and number of deliveries is decided by the volunteer. There are no minimum requirements. Businesses may also volunteer to deliver meals.
For more information or to volunteer, contact the center at 770-683-8600.
Meals on Wheels
Meals on Wheels of Coweta delivers meals to qualified homebound senior citizens. Depending on location, seniors may receive weekday delivery of hot meals, or a weekly delivery of frozen meals. For more information call Meals on Wheels of Coweta at 678-423-1700.
Other findings from Feeding America research include:
Sixty-three percent of older adult households served by the Feeding America network "are forced to choose between food and medical care."
For clients whose households include an adult age 50 or over, there is significantly higher prevalence of diabetes and high blood pressure, "conditions that can be mitigated by healthy food options."
Food sources in Coweta:
One Roof Outreach/The Coweta Community Food Pantry, 255 Temple Ave., Newnan, 770-683-7705,