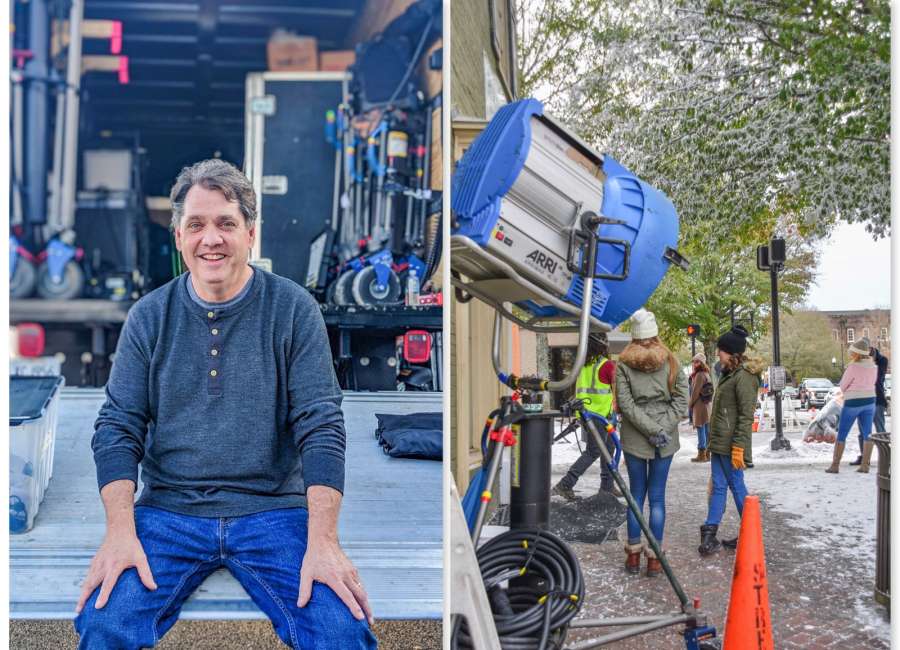 Newnan's moratorium on filming projects has some downtown business owners concerned they might miss out on movie magic.

"My fear is that now we're going to be known as a town that doesn't want filming here," said Kenya Brantley, owner of Greenhouse Mercantile. "We're burning bridges I'm not sure we'll be able to repair."
Click here for the accompanying podcast to this story
In January, the Newnan City Council voted to temporarily suspend filming projects until city staff can reassess the way it processes requests from production companies. Mayor Keith Brady said at the time that while Newnan is a film-friendly town, the city has an obligation to act in the best interests of its residents and businesses.
"We're just trying to add shape and form to what we do," Brady said.
City officials – who also temporarily stopped issuing building permits until Newnan's zoning ordinance can be overhauled – say they hope to have an updated policy in place by April, at which time the moratorium would be lifted.
Two productions – HBO's "Brooklyn" TV series and the film "Jumanji 2" – have required days-long street closures and detours for vehicles and pedestrians already this year.
Assistant Newnan City Manager Hasco Craver said the increased use of public streets and sidewalks has caused a disruption of everyday commerce downtown. Jeweler Jeff Morgan said Valentine's Day is a high-sales period for him, and he lost 90 percent of his income on the days "Jumanji 2" filming blocked parking in front of his store.
But other business owners, including Brantley, say parking has long been a problem in downtown Newnan.
"Please stop acting like this just started with a movie," she said. "Let's start to address that issue. It didn't start with movies, and it didn't start with restaurants."
In fact, the most recent filming projects have improved otherwise sluggish sales for Greenhouse Mercantile, according to Brantley.
"Business has been great for us since filming started," she said, citing sales of props and a few high-end items. "January would have been very slow for me if I had not had business from the production company. It affects different businesses in different ways."
Prop purchases have boosted business at Full Circle Toys as well, according to owner Richard Mix, who echoed Brantley's concerns about Newnan's reputation for being film-friendly.
"We have to be careful not to let minor inconveniences cause us not to look at the big picture," Mix said. "If we don't protect and nurture and grow and embrace it, we will lose out."
Mix said the perception that everything that takes place downtown is good for every business downtown is mistaken.
"We don't do business when there are certain events downtown," he said. "But the film industry is good for everybody if you look at it as a big, long-term issue."
Mix – a former film industry insider and advocate who was executive producer of several film projects in the '90s and 2000s – said that while Coweta and Fayette counties currently are at the epicenter of the estimated $10 billion Georgia film industry, other hot-spots in the state are ready for their share.
"Everybody thinks we're competing against Hollywood, but we're really competing against places like Gwinnett County, Cobb County, Dekalb County and Savannah," Mix said. "Other people have woken up in the past few years, and you're seeing more and more hungering for a piece of that pie."
Mix said he'd like to see downtown business owners embrace the industry – especially with Georgia now listed as the No. 1-filming location in the world – but that he applauds Newnan for putting rules into place.
"(Production companies) need to abide by rules just like any other industry that comes here," he said. "I just hope those decisions are made quickly and the people who make them look at the positive."
Part of that positive is tourism potential, according to Mix, who related the story of a customer from Italy who stopped in during the holidays. The man specifically wanted to visit Newnan because it was the filming location of a 1979 children's comedy distributed overseas.
"He came to Newnan only because his favorite childhood movie was 'The Sheriff and the Satellite Kid,'" Mix said. "It's kind of funny that this guy came here and spent money because of one small film I never even heard of."
Artist David Boyd Jr. said his business is similar to Morgan's in that what's available at The Boyd Gallery is "not an everyday purchase."
"Our day-to-day business is not like everybody else's," he said. "We have a product we sell, but not everybody's buying. It's not like Redneck Gourmet where 100 people come in a day."
Boyd said holidays like Valentine's Day typically mean increased sales for the gallery.
"Holidays are big to us like they are to (Morgan)," he said. "There are a lot of people coming into town to look."
But Boyd, who lives near downtown, said his family especially enjoyed seeing the Christmas set for "Jumanji 2" come together.
"I was born in Newnan, and I live here now, so it's exciting to me," he said. "My family went and watched them blow snow, and we saw a lot of people coming down and checking things out."
The gallery has stayed open on Friday and Saturday nights in January and February to take advantage of any increased foot traffic.
"There's a lot going on in downtown Newnan, and that's exactly what we want," Boyd said. "I want people to come in and look at good art, and I want people to come back. I know some people have not had a good experience, but we've really enjoyed it."
He has dealt with the same production companies as everyone else, Boyd said, and there can be vast differences.
"It's like winning the lottery," he said. "If they use your space, it's great. If they not, oh well. Some of them are very professional and some are not. These people (from the latest filming projects) are the ones we want here."
Many people involved in "Jumanji 2" were in town eight hours a day, supporting the local economy during the filming period, Boyd said.
"They drank coffee every day at Leaf & Bean, and they ate at every restaurant in town," he said. "And Newnan is a tourist town. I think having people coming into town to see them filming movies downtown is a good thing."
Jason Kanner, who owns Ace Beer Growlers, said in an earlier interview with The Times-Herald that he believes some downtown business owners aren't being compensated because they aren't speaking up, and he urged them to take a more active role in city government to ensure they are being heard.
Brantley agreed.
"I always feel like there's a compromise or an alternative way to do things," she said. "There are so many things to consider, like filming on streets that don't have as much traffic, or shuttles. "
And although she said she wishes city officials had reached out to business owners before issuing a moratorium – "It would have been nice to have had that conversation," she said – she understands there are kinks to be worked out.
"Even if we can just get a liaison or someone who speaks out for us during this process, I think it will be worth it," she said. "Then I feel like we will have a voice and a say."