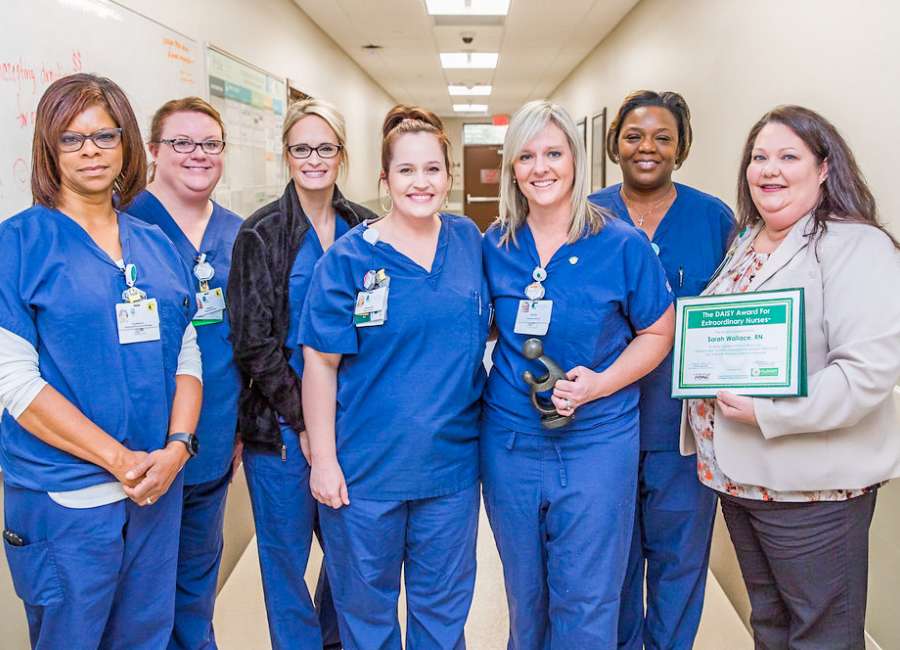 Two Cancer Treatment Centers of America nurses, Kelley Mitchell and Sara Wallace, are recipients of the prestigious DAISY award.
DAISY, which stands for Diseases Attacking the Immune System, is a national award that recognizes extraordinary nurses who go above and beyond to provide care to patients and show compassion to a patient's family, according to www.daisyfoundation.org .
Winners of the DAISY award can be nominated by their colleagues or patients.
Kelley Mitchell
Mitchell, who has been a nurse for 37 years, said she fell in love with nursing once she enrolled in a certified nursing assistant program.
Nominated by a patient, Mitchell is a staff nurse at Cancer Treatment Centers of America in Newnan. She said she once considered a career in education and thought about attending the police academy, but ultimately decided on nursing.  
She said most of her background is in pediatric and ICU nursing. She has been at CTCA in Newnan since 2009, when she started working in the facility's emergency room.
"You name it, I've done it," Mitchell said.
Mitchell said she enjoys working at CTCA because she gets a chance to get to know her patients. She said she understands the patients and their needs, especially since her father and brother both lost their battles with cancer.
"My father had the most compassionate nurses and doctors," she said. "I hope for the rest of my career, I can always make patients feel as special and cared about as my own father. Everyone has been affected by the evil 'Big C.'"
Mitchell said it's very easy to get attached to the patients, which makes her job difficult at times.
"You develop a close relationship,"she said. "You see them going downhill and then you see the people who come out of it."
Mitchell said she was very surprised to hear she won the award.
"Nursing every day is an award," she said. "But when I read what it was and who sent it – it's something I do for a lot of patients. I am ecstatic the patients took the time to recognize me."
Mitchell said she will be a nurse at CTCA, "as long as they will have me."
She encourages future nurses to get experience at the bedside first to get a firm foundation.
Sara Wallace
Wallace has been a nurse for 11 years, six of those at CTCA. For the last four years, she has worked in pre-op, surgery and recovery.
Wallace said she became a nurse because she knew she wanted to help people. She was in Bible college before enrolling in nursing school.
"My dad was physical therapist and I saw the interaction he had with his patients," Wallace said. "You really get to impact people, usually when they're going through a hard time. You can be bright light during a dark time."
Wallace said she was shocked when she found out about the award.
"It's a huge honor," Wallace said. "A lot of people get nominated, but to actually receive one – I was  blown away. I work with a lot of great nurses."
Wallace said she enjoys nursing at CTCA because she gets to build relationships with her patients. She said it is pleasant to see how how optimistic the patients can be.
"I used to work at Piedmont in ICU and I didn't deal with cancer patients," she said. " I thought I knew what it was going to be like. I  knew it affected everyone, but it's hard to see the kids who deal with it and it became really hard when I became a mom. No one is immortal. You can do all the right things and still get cancer. I've gained such a dose of perspective working here. The patients are so thankful for all that you do."
If she wasn't a nurse, Wallace said, she would probably be a therapist or a counselor.
Wallace and her husband, Chad, run a nonprofit – Team Blue Line – which helps raise funds for the families of law enforcement officers killed in the line of duty.
Wallace said the nonprofit helps her get "re-energized."