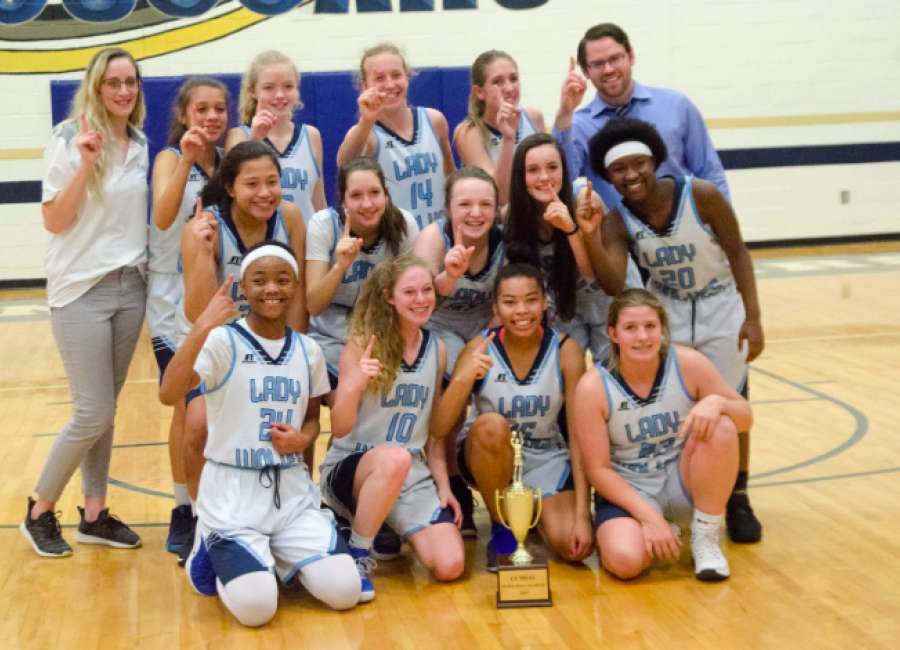 By Chris Goltermann
The biggest statement toward the dominance of Lee's girls basketball team during the 2018-19 Coweta County Middle School Atheltic League season came after putting the finishing touches on a 37-16 victory over Arnall.
And it wasn't exactly a compliment.
"That was probably the worst game we played all year," said head coach Josh Bishop.
It was delivered with more honesty — and a winning smile of course — than criticism from the beloved Lee Middle Spanish teacher.  The finish in the championship game at Evans wasn't as much 'muy mal' among adjectivos as it was 'poco rigoroso.'
"It's a great group of girls," he added. "We've really dominated this year."
To the casual bystander who hadn't seen a single game during the CCMSAL schedule, Lee's effort was quite impressive, especially on the defensive end where the Lady Timberwolves held Arnall scoreless for an eight-minute span of the first half before going to the break with a commanding 17-4 advantage.
Despite allowing the first points of the game, Lee capped off an undefeated season with nine straight, grabbing a 7-2 lead at the end of the first, and settling in defensively.
A lineup with standouts from the fall in softball and volleyball stayed aggressive, jumping in front of Arnall's long passes while spread out on the perimeter, turning them into points in transition.
The Lady Timberwolves recorded at least three steals in the opening six minutes, all from different players.
Leading scorer Sanua Growe was both a catalyst and a beneficiary of the caused turnovers en route to a 21-point performance.
Growe had seven points in the second quarter before scoring two more baskets in the third, one of which off a steal as Lee's lead reached its peak at 27-8 while forcing an Arnall timeout in the closing minute of the quarter.
Emma Elrod, Grace McGill and Kip Heggood equally took turns recording steals and assists to finish with at least a pair in each category.
Relegated to outside shots, Arnall's girls didn't quit, scoring six of the first eight points of the fourth quarter. Taylor Seffrin converted two of three free throws after getting knocked down on a three-point attempt.
Natiyah Parker then connected from three-point range, and the Lady Knights were suddenly within a 12-point deficit.
But a four-minute surge hit empty after Parker hit one of two free throws with just over three minutes to play to finish off her team-high nine points.
Lee rattled off the final 11 points of the game in much the same fashion as it started its route to a league title while making its first trip to the finals since 2016.
Heggood added seven points for the Lady Timberwolves while McGill and Elrod combined for seven more, five of which from McGill, who was still going at 100-percent seconds before the buzzer after making a steal and heading straight for the basket as the final seconds ticked off.
It was the third consecutive year that a different champion was crowned, following Smokey Road in 2017 and Madras in 2018.
Ava Freeman and Jaliyah Lugo also scored for Lee, whose roster also included team members Maddie Stanley, Ava Freeman, Hannah Smith, Chanira Isaac, Lauren Dozier, Anja Govednik and Maya Coleman.
Also scoring two points each for Arnall were Niasia Teagle and Debbie Jackson, while Haley Swindle converted a free throw. Team members for the Lady Knights this season also included Jabrea Fowler, Katie McClain, Izzy Tressler, Jessie Wolfe and Debbie Jackson.
Lady Timberwolves 37, Lady Knights 16
Arnall    2    2      6       6    —    16
Lee        7    10    10    10    —    37
Arnall 16
Taylor Seffrin 2, Niasia Teagle 2, Haley Swindle 1, Debbie Jackson 2, Natiyah Parker 9
Lee 37
Sanua Growe 21, Kip Heggood 7, Grace McGill 5, Emma Elrod 2,  Ava Freeman 1, Jaliyah Lugo 1.