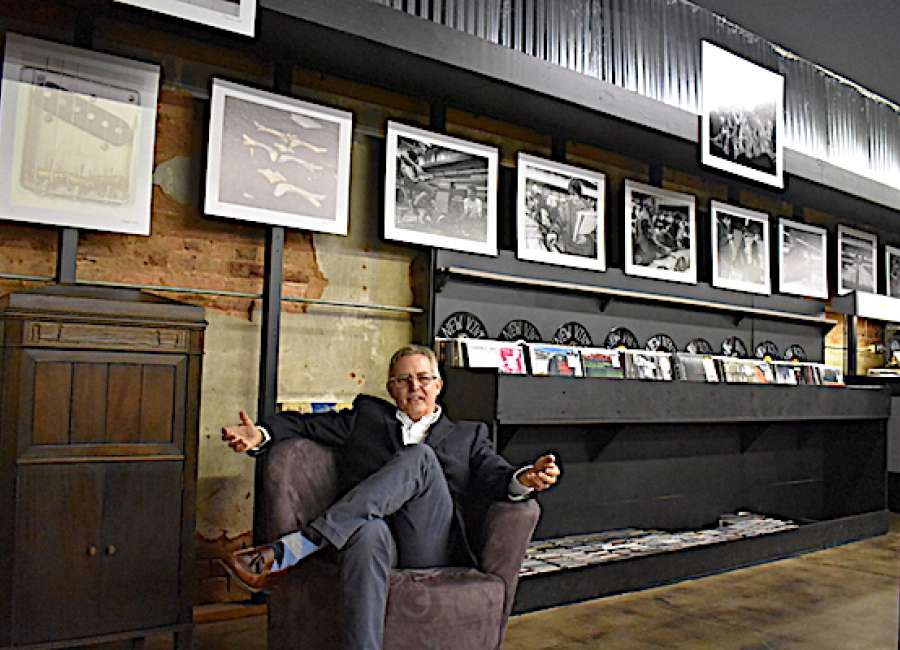 A small boy with a skateboard. A guitarist and a vocalist. Music lovers, craftsmen, equipment. A film crew with an agenda on a fretful April day.

These are moments captured by Carlton Roberts in a digital photography exhibit chronicling a year of activity at Vinylyte Records/Brown's Guitar Mill in downtown Newnan. "24 Frames: A Year in the Life of a Musical Space" – on display through Feb. 17 – is the first exhibit for the retired newspaperman.
Roberts said he stumbled into the project in December 2017, when he pulled open the door of what he thought was a bookstore and instead walked into a musician's dream.
"I see records on one side of me and a dozen guitars on the other," said Roberts, who was new in town and said he was looking to make a purchase at Scott's Bookstore, not realizing the store had closed down years before or that its former location now houses a music store.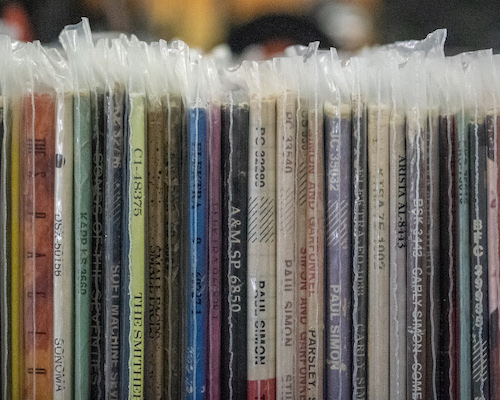 "Being the most oblivious photographer I know, I didn't look at the Vinylyte Records and Brown's Guitar Mill signs at eye level in the front window before I opened the door," he said. 
Roberts first explored the record section and then moved further into the store. He found a well-worn stage and peered through a window onto a workshop with a wall covered in hollowed-out guitar bodies.
"The deeper I got in the store, the more interested I was," he said. "I'd seen record stores and I'd seen guitar stores, but not together and not like this."
His shutter finger started itching, a not-unfamiliar sensation. Roberts, a native of Jesup, graduated from the Grady School of Journalism at the University of Georgia in 1977. His first photo was of a cow.
"During college, I was in a work-study program writing press releases for the College of Agriculture's Experiment Station Editor's Office," Roberts said. "Somebody needed a picture of a cow."
Because the staff photographer had no time and Roberts had no experience, the photographer adjusted the settings on a 35 mm film camera, showed Roberts how to focus and sent him off on assignment.
"He told me I was now a photographer," Roberts said. "I took his word for it."
Roberts spent the first six years of his career as a weekly newspaper editor, and his duties required him to spend time in the field with his a camera slung over his shoulder.
"Taking pictures was survival," he said. "Friday night high school football games are a great place to learn about shooting in bad light when you don't have a chance to do them over if the film is bad."
After moving on to the Athens Banner-Herald and the Athens Daily News – which at that time employed teams of photographers – Roberts learned how to edit photos as well.
"Being forced to choose one of dozens of shots of the same event or person is harder than taking the pictures," he said.
They were skills that underpinned the developing plan he had for documenting the comings and goings of the hopping music store on the corner of South Court Square and LaGrange Street. He just had to convince the owners.
"All I could think was I'm a new guy in a new town, walking into to someone's space, wanting to spend the next year moving amongst people I didn't know, taking pictures," Roberts said.
He stepped out of the store, then hesitated.
"It became clear to me if I didn't go back inside and find words to propose this project to the owner, I'd never find the courage to do it again," he said.
Roberts walked back into the store and introduced himself to luthier Jon Brown of Brown's Mill Guitars. Later, he met Vinylyte Records owner Jesse Yates. Both were on board with his proposition to spend a year documenting what happened in the store each week.
There would be no social media posts. Roberts would pose nothing, move nothing to take a photograph. He would ask nothing of a person he wished to photograph except their permission.
"Nobody said no," he said.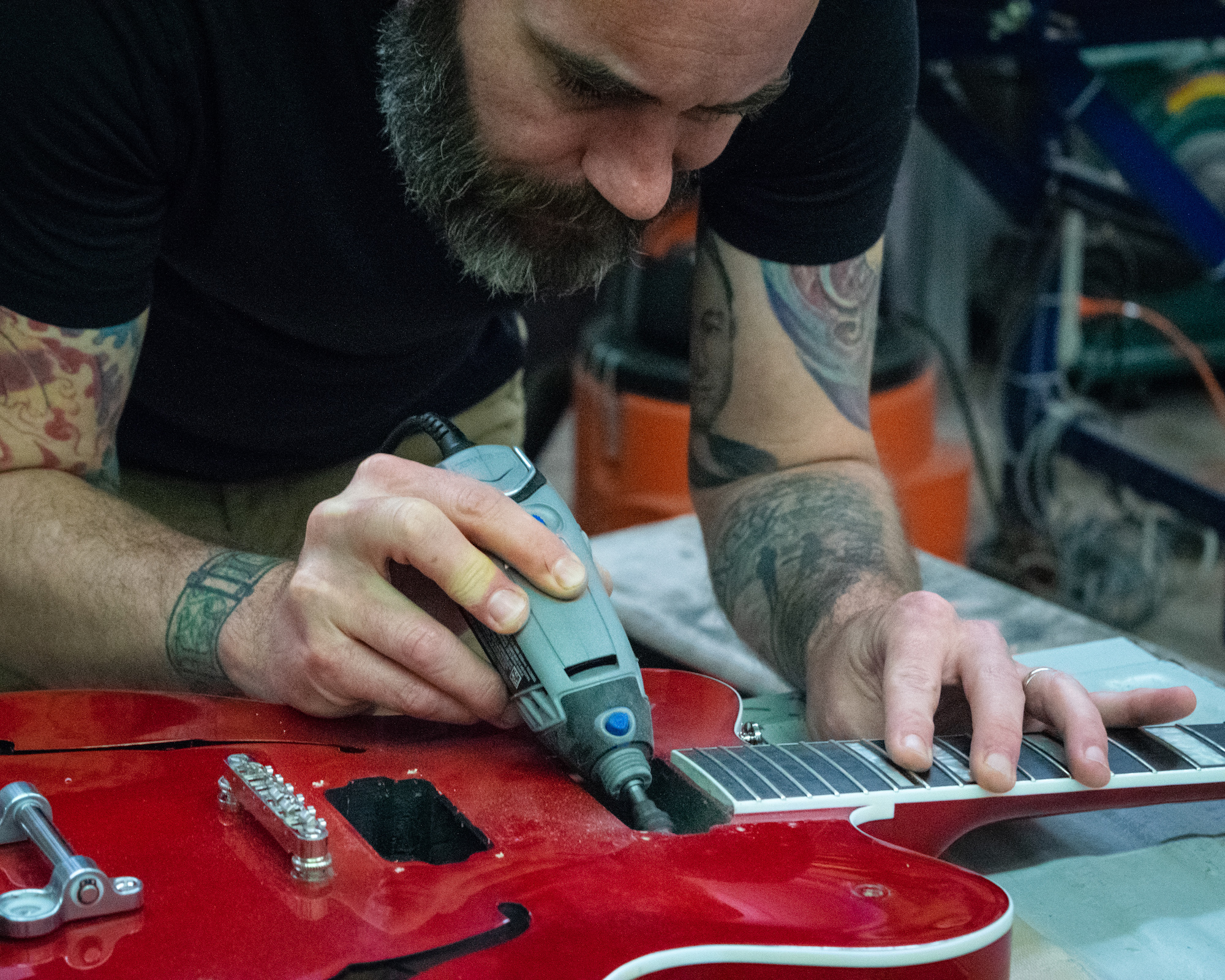 Although he considered using a film camera, Roberts ultimately decided to put together the project using digital images instead.
"I would have done it all with a film camera, but I can't see to focus through an analog viewfinder any more," he said. "I pointed my digital camera at something that felt significant, hoped the autofocus worked and pushed the button. I honestly didn't know what I had taken until I came home and edited the photographs."
Digital doesn't necessarily mean easy, when cheap storage and continuous shots can mean an exponentially higher frame count than film cameras, and each shot still has to be edited individually. Roberts said he averaged 300 frames per weekly shoot.
"It took me the rest of the week to edit the 10 I wanted to keep," he said.
By the end of the project, Roberts had collected about 5,000 digital images. There was space in the store for just 24.
"It was a 'be careful what you wish for' moment," he said.
While Roberts said he felt compelled to capture guitars and records as abstract objects in his photography, the people who love them became the real story of the store.
"The best pictures unfolded in the moments when the pull of what they were doing – playing, picking through stacks of vinyl – became stronger than a stranger with a camera," said Roberts, who carried each week's work on his iPad and offered them to his subjects when they returned to the store. "Those moments were pure kindness and trust. I hope I've done them justice."
A few weeks into the project, Roberts jokingly remarked to Yates that photographers can be an invasive species.
"I didn't mean it as a warning, but maybe it should have been," he said.
On April 21, 2018, Vinylyte celebrated National Record Store Day as usual by opening early and offering special, limited-edition merchandise. It was one of a very few stores open that day in downtown Newnan, which by midday was overrun with law enforcement, media and thousands of residents and groups protesting a neo-Nazi rally in Greenville Street Park.
A film crew interviewed Yates, asking him what he would do if a neo-Nazi came into the record store. Roberts said the answer caught the interviewers – who appeared to be expecting an angry response – off guard.
"Jesse said, 'I'd ask them what kind of music they liked,'" he said.
Roberts captured the moment as it unfolded, and a photo shot during that interview with Yates and his wife, Lacey, is featured in the exhibit. It's the kind of photograph that bolsters Roberts' lifelong love of the printed image, he said.
"Photographs capture a sliver of existence and fix a place in time exactly like it was and always will be each time you look at it," he said. "You can pick up a picture and hold time in your hand."
Printed images are especially precious to someone who's lost irreplaceable digital files, as Roberts has.
"All the digital photographs I took of surrounding events on and after Sept. 11, 2001, while living in Manhattan were lost in 2003 when my computer crashed and deleted them," he said.
Now that the exhibit is up, Roberts said he has made some interesting observations as he watches people study his work.
"I see them studying the details and I realize, even with all the cell phone cameras around, most people have never interacted with photographs the size of those displayed," he said.
Roberts said he is both proud his work on "24 Frames" and thankful for the experience.
"There are times when I glance up and look at the whole of the work and think back to how the project started," he said. "The individual pictures all have stories. The records, the guitars, the people who were so kind and entrusting in me all have stories. My hope is the art is worthy of the time to celebrate what's in it.
"I've heard writers say we all have a book in us waiting to be written," Roberts said. "If a picture is worth a thousand words, I've written mine."