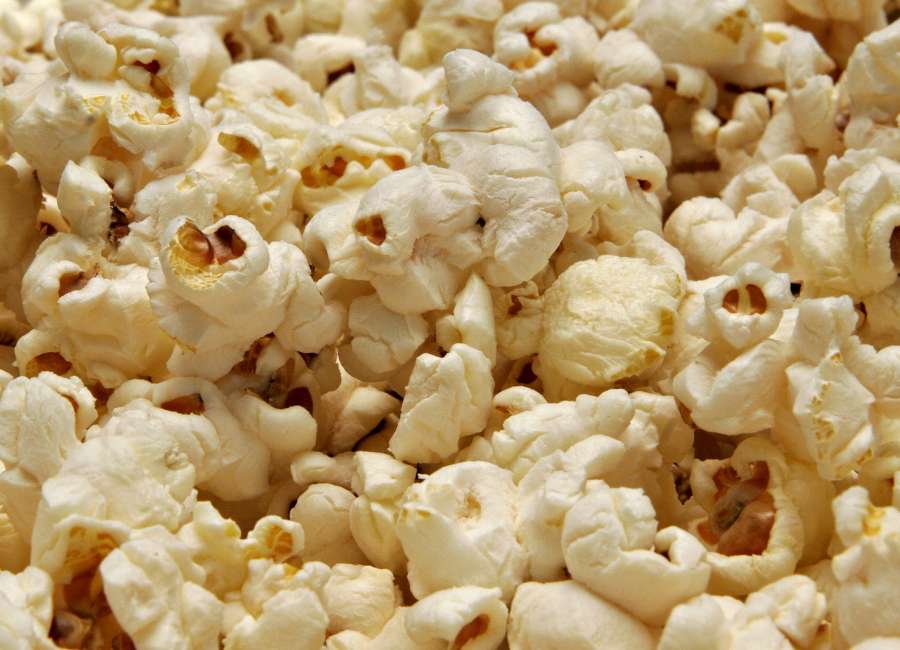 National Popcorn Day was Jan. 19, and to celebrate, here are some quirky popcorn recipes to try at home.
According to popcorn.org, the snack can provide 70 percent of a person's recommended daily intake of whole grain.
Perfect Popcorn
Ingredients:
3 tablespoons peanut oil
3 ounces popcorn kernels, approximately 1/2 cup
1/2 teaspoon popcorn salt
3 tablespoons unsalted butter
Recipe:
Place the oil, popcorn and salt in a large, 6-quart, metal mixing bowl. Cover with heavy-duty aluminum foil and poke 10 slits in the top with a knife.
Place the bowl over medium heat and shake constantly using a pair of tongs to hold the bowl. Continue shaking until the popcorn finishes popping, approximately 3 minutes.
Remove the bowl from the heat and carefully remove the foil. Stir in any salt that is on the side of the bowl.
Melt the butter in the microwave. Slowly drizzle over the popcorn, while spinning the bowl. Serve immediately.
(Recipe courtesy: foodnetwork.com)
Maple-Bacon Popcorn
Ingredients:
12 slices bacon (about 8 ounces)
vegetable oil, as needed
3/4 cup popcorn kernels
4 tablespoons (1/2 stick) unsalted butter
3 tablespoons pure maple syrup
Kosher salt
Recipe:
Cook the bacon in a large nonstick skillet over medium heat until crisp. Drain on paper towels, then crumble finely. Pour the fat from the skillet into a spouted measuring cup. Add vegetable oil as needed to make 1/4 cup fat; if there is more than 1/4 cup bacon fat, pour off the extra. Set the skillet aside.
Pour the bacon fat into a stockpot (12-quart or larger) over medium heat. Add a few popcorn kernels; when they begin to sizzle, add the remaining kernels and shake to coat in the oil. Cover the pot and cook, shaking frequently, until the popping has almost stopped (a pop every second or two), about 5 minutes. Remove the pot from the heat and keep covered.
In the skillet used for the bacon, melt the butter and maple syrup over medium-low heat, stirring to loosen any browned bits on the bottom of the skillet. Stir in the crumbled bacon and then pour the mixture over the popcorn; toss well to coat all of the kernels. Season with salt and toss again. Serve immediately.
(Recipe courtesy: foodnetwork.com)
Beach Party Popcorn
Ingredients:
1/3 cup melted butter
1 teaspoon soy sauce
1-2 drops hot pepper sauce
2 quarts popped popcorn
2 cups seasoned assorted snacks
1/2 package (0.56 oz.) bacon-onion dip mix
Recipe:
Add soy sauce and hot pepper sauce to 1/3 cup melted butter.
Put popped popcorn and seasoned assorted snacks in a large bowl.
Pour butter/soy mixture over popped popcorn and snacks; toss.
Sprinkle with bacon-onion dip mix; toss again.
Spread mixture on a jelly roll pan (15 1/2 by 10 1/2 by 1 inch) and bake in a 350-degree Fahrenheit for oven 8-10 minutes, stirring once.
(Recipe courtesy: popcorn.org)
Beef Jerky Chili Popcorn
Ingredients:
8 cups unsalted, unbuttered popped popcorn
1 1/2 cups grated Cheddar cheese
1/4 cup butter
1/2 tsp chili powder
1/4 tsp each garlic powder and paprika
1/4 tsp salt
1/2 cup chopped beef jerky
Recipe:
Preheat oven to 300°F. Line large, rimmed baking sheet with parchment paper or foil; spread popcorn evenly on baking sheet. Sprinkle cheese over top.
In small pan set over medium heat, melt butter; stir in chili powder, garlic powder, paprika and salt. Bring to light boil; remove from heat.
Drizzle hot butter mixture over popcorn; sprinkle with beef jerky. Bake, stirring occasionally, for about 30 minutes or until popcorn is dry and crisp. Toss gently; transfer to shallow serving bowl.
(Recipe courtesy: popcorn.org)
Apricot Cherry Popcorn Squares
Ingredients:
10 cups air-popped popcorn
3/4 cup dried cherries
3/4 cup sugar
1/2 cup + 2 tbsp. water
1/2 cup sugar-free apricot preserves
1/4 cup light corn syrup
1/2 teaspoon lemon juice
Recipe:
Combine popcorn and cherries in large bowl.
Combine sugar, water, preserves, corn syrup, and lemon juice in a small saucepan; bring to a boil and cook, stirring constantly, until sugar dissolves.
Cook until mixture forms thick, "ropy" threads that drip from the spoon.
Pour slowly over popped popcorn and mix thoroughly.
Spray 9 x 13-inch baking dish with cooking spray.
Press mixture into baking dish and cool completely before serving.
(Recipe courtesy: popcorn.org)