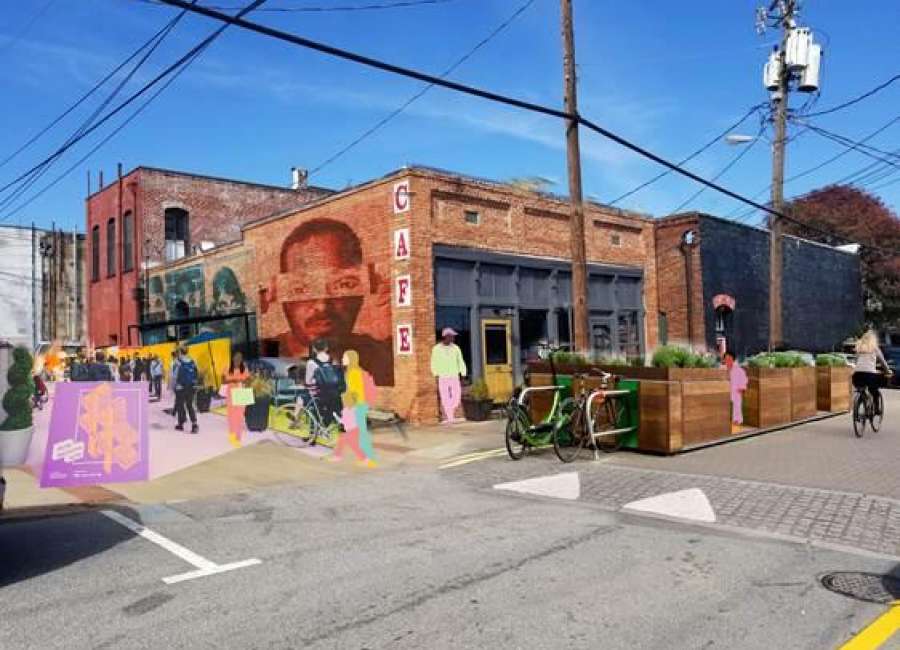 The Newnan Downtown Development Authority is continuing its look at placemaking in 2019 – examining options for reworking spaces downtown and creating opportunities for activity and relaxation.

A report on placemaking has been done by Team Better Block. Team Better Block has offices in Brooklyn, N.Y. and Dallas, Texas, and is described on the company's website as "a transportation and placemaking focused public outreach firm that temporarily re-engineers auto-dominated, blighted and underused urban areas into vibrant centers."
The Team Better Block report outlined short-term, medium-term and long-term goals. Many of the suggested projects would be temporary – a "parklet" taking up a few parking spaces along a sidewalk, a bocce or pickleball area on a vacant lot, an art-and-music event in an alley, trees in one area of town wrapped in colorful fabric.
"It doesn't have to be permanent," said Courtney Harcourt, Main Street Newnan director.
One of the easiest projects would be "chair bombing" – placing chairs in a public space to create a new node for people to sit, read and rest in the downtown area. Other suggestions include creative directional signage and crosswalks with colorful designs.
Team Better Block's proposal recommends establishing four districts in the downtown area. Events might focus on one district for a time and then introduce events in a new district next.
A long-term proposal would create a public plaza in empty warehouse space in the downtown area.
Another long-term suggestion would make Greenville-Jefferson and LaGrange-Jackson two-way streets through the downtown area.
"One thing we frequently hear about the downtown is two-way streets," Harcourt said.
Harcourt said efforts are being made to consider intersections in outlying areas, the coming new access to Interstate 85 and the planned LINC network of trails for biking and walking. Some areas where the LINC is scheduled to come "are ripe for a temporary project," she said.
The Newnan Downtown Development Authority unanimously voted to accept the Team Better Block report at their meeting on Wednesday at Newnan City Hall.
"The goal of the projects is to simulate an interest in underutilized places or spaces in downtown Newnan to determine the vitality of future use. Placemaking in this context is about excitement, enthusiasm and bringing the community together to determine the best use of a space," Harcourt said.
While some projects would be undertaken by Main Street or another city agency, other groups – such as clubs, businesses or civic groups – might take on other projects.
"This document is a road map that contains a variety of projects that could be taken on by community interest groups. The Newnan Downtown Development Authority will be exploring the potential to implement components of the projects noted," Harcourt said.
Harcourt said Main Street will be glad to share information with people interested in learning more about the Team Better Block report.
Main Street can be reached at 770-253-8283.