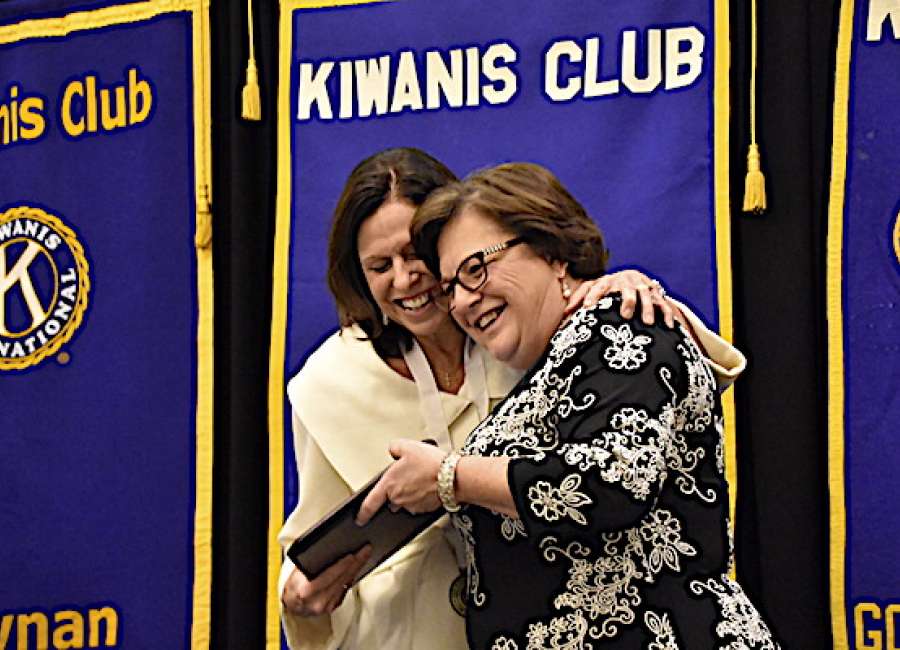 Marie Swope was named the 2019 Coweta County Citizen of the Year at a gala banquet Thursday at the Newnan Centre.

Hundreds of members of local organizations, clubs, businesses and the community came out to see who would be awarded one of Coweta County's highest honors.
The event was hosted by Nancy Walden of the Newnan Kiwanis Club. Walden said the COTY was "the Superbowl for Coweta County's volunteers, the best of the best."
"This is our 28th annual Coweta County Citizen of the Year, Coweta's most prestigious community award," Walden said. "We will honor five very outstanding leaders, who have truly made a difference in this community. All of you are worthy of this honor."
Dr. Tonya Whitlock, chair of the Newnan-Coweta Chamber of Commerce, thanked the nominees for donating their time and talent to the community.
"We celebrate all of these wonderful citizens who have made a long-lasting mark on this community," Whitlock said.
Swope said, "It is an amazing honor to be recognized for what I consider to be a duty to my community and my family."
Swope said she has learned many lessons volunteering and her life is richer because of her efforts.
"Throwing money at a challenge isn't the answer," Swope said. "You have to meet people where they are and how they are. That is the success to helping others."
After retiring from a career with Delta Airlines, Swope has dedicated her time to volunteering in the Newnan community. She has served on the board for Stepping Stones and the Samaritan Clinic and is an active member of Saint Vincent de Paul.
Swope has devoted years to tutoring both GED students and elementary school students. She also provides her time and financial support to the Boys & Girls Club of Newnan, Communities in Schools, Southeastern Assistance in Healthcare, Christian City Children's Village, the Joy Project and Angel House.
Swope received a $1,000 donation for Stepping Stones and Puddle Jumpers at the banquet.
Stepping Stones is a program that provides new mothers with information on newborn parenting skills. Puddle Jumpers is a parenting program for parents and toddlers ages 2-3.
Swope said the programs were "unsung heroes for the community."
Walden was honored by the Kiwanis Clubs of Coweta County for her dedication to the event and "always bringing enthusiasm."
The annual gala was hosted by the Newnan, Grantville, Coweta County and White Oak Golden K Kiwanis Clubs of Coweta County. Choosing from a number of nominations submitted by friends, family and fans, past Coweta County Citizens of the Year selected five Cowetans as this year's finalists – Swope, Ronny D. Jones, Melvinor J. Kendrick, Garnet Reynolds and Mark Whitlock.
The Citizen of the Year recognition program dates to 1992. Previous Citizens of the Year include Bill Williams, Scott Wilson, Joe Crain Sr., Mike Barber, Lindsey Barron, Sally Bowen, Jim Hardin, Dennis McEntire, Don Phillips, Bill Loftin, Bernie Parks, Harold Barron, Gene Tyre, Bill Headley, Willie Boyd, Bobby Welch, Robin Tornow, Don Chapman, Annie Joe Berkowitz, Blake Bass, Steve Mader and Bette Hickman.
The three most recent Citizen of the Year winners are Dr. Kay Crosby (2018). Pastor Tamarkus Cook (2017) and Bob Coggin (2016).