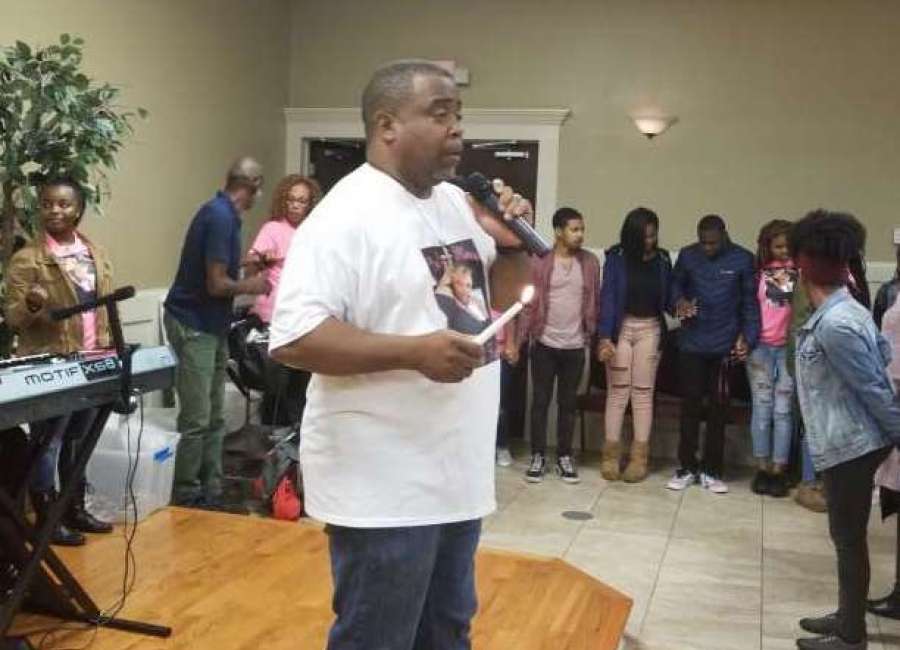 "Live as if there is no tomorrow."

Ronnie Hill, who works with the youth at Faith International Christian Center, said that was the message God asked him to bring at the vigil for Bria Foster, a 19-year-old member of the church was killed in a drive-by shooting Dec. 30.
Hill brought the central message at the vigil, held Thursday night in the fellowship hall at St. Smyrna Baptist Church.
"If it wasn't for Bria, we wouldn't be here," Hill said.
Hill had someone light a candle he held in his hand. The candle illuminates only "if I have a friend light it for me," he said. 
"We've got to believe God to the end – to the fullest," Hill said. "People are hurting, and they don't even know why."
He emphasized the need to love, forgive and try again with family and friends.
"You can't throw away your kids. You can't throw away your Mama. You can't throw away your cousin. You can't throw away your classmate," Hill said. "It doesn't take much for us to be separated from one another.
"It's time for the people and the church to come together and love no matter what," he added.
He urged the approximately 350 people at the vigil to find a church if they do not already attend one.
"God is looking for the worst of the worst," Hill said, urging everyone to reach out to those who seem headed in the wrong direction. "God is looking for nothing. God is looking for some messes He can make messages out of."
He also urged young people to hold onto their dreams. Too often, children have dreams they give up because of the negativity of others, he said.
Hill said Faith International is working on a website local young people can use to find someone who can talk with them when they need help. He said the church also is working to plan an event each month for Coweta youth.