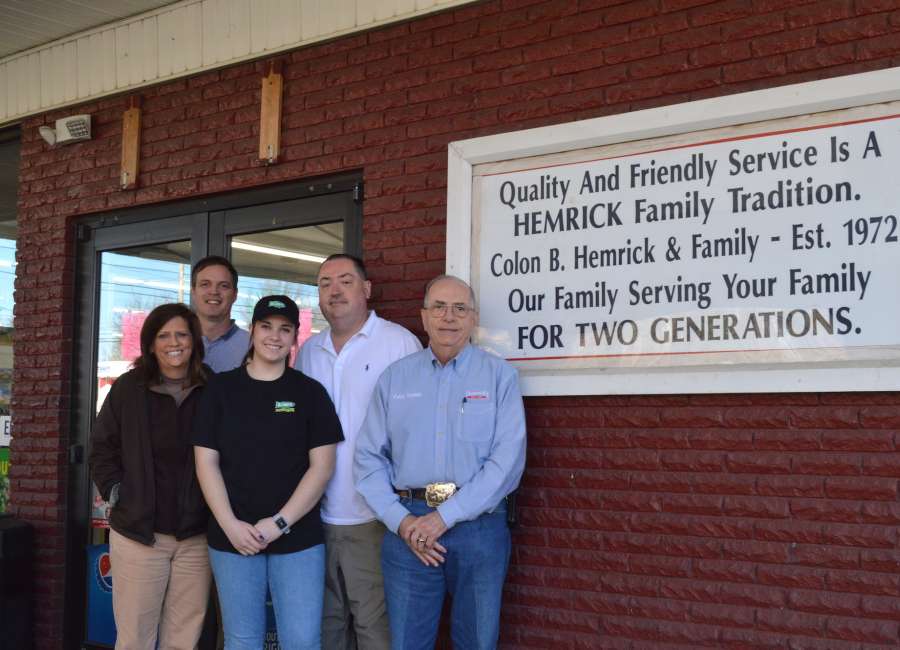 Colon Hemrick got his first taste of the grocery business at 12 years old, when he bagged groceries at the West End Super Store, located at the corner of Temple Avenue and Bonnell Street, where Buck's Tires is now.
Back then, grocery stores were smaller, not like the huge supermarkets of today, Hemrick said. He would ride his bicycle from his home on Sprayberry Road to go to work.
"I started bagging groceries, mopping floors, whatever they needed, and I worked there through high school," he said.
Hemrick started working for Kroger in Atlanta, and it wasn't long until he was in management.
Then he had the chance to buy his own store, and Hemrick's was born.
"It gets in your blood, I guess, the grocery industry," he said.
The business has come a long way since Hemrick opened his first small grocery store in 1972.
"We're not a supermarket. We're not a convenience store. It's unique in that we've got groceries, meat, produce," Hemrick said.
If you're looking to pick up an ice-cold beer, though, you're out of luck.
"We've never done lottery or alcohol… we have a lot of customers who trade with us because we don't," Hemrick said.
Large coolers of beer are such a prominent part of most convenience stores that some people said Hemrick's couldn't survive without selling it.
"We've done pretty good," Hemrick said last week, sitting in his new office with his son Craig.
Christmas is always the biggest day of the year, Hemrick said. That day, Hemrick's is the only store with a significant grocery selection that remains open.
Recently, the new Blimpie took up the only office that was in the store, and that required a good bit of construction. Two-story storage space in the back was turned into new office for Colon and Craig and Colon's sister-in-law, Debbie Argo, who handles the store's books and HR.
For customers, the biggest change is newly renovated bathrooms.
"It was time," Hemrick said of the bathroom upgrade.
Hemrick's first store was at the other end of Temple Avenue, in the triangle between Fair Street and Temple Avenue. He bought it because the store owner, Mr. Watts, was retiring.
"This store came available. I thought it was a good deal," Hemrick said.
Business was tough, to begin with.
"We liked to have starved the first few years. Me and my wife were the only employees. We couldn't afford any employees," Hemrick said.
Hemrick added gasoline in 1978 and opened a second store where Welcome Road forks off from Franklin Highway. He also started selling cars. Then he had a John Deere tractor dealership across from the Welcome Road store.
That's when he sold the first store.
In the mid-'80s, the owners of the Welcome Road building –who didn't want to sell to Hemrick – decided they wanted the store back.
So the Hemricks took a big risk and built their own store, on a huge lot – 3.5 acres – and built a 10,000-square-foot building.
"It was a pretty big gamble for what it cost back then," Hemrick said. "It took a lot of years for it to start making money. We struggled a long time, like everything else."
Hemrick installed gas pumps, and the oil company decided to put in some more.
"When they saw how much volume we did here, they had to put in more pumps. Nobody would have ever thought we would do the volume we did," Hemrick said.
The gas pumps are topped by a massive canopy that goes all the way to the front of the store, keeping customers dry during heavy rains. The canopy cost a lot of money to install but people appreciate it, Hemrick said.
Next door, he built a car dealership and some mini-warehouses. He also became a U-Haul rental business.
In the late '80s, the store began operating 24 hours. Craig's grandfather, Enver Mckenzie, worked the night shift.
"It's a different world after midnight – he loved it," Craig said of his grandfather.
Mckenzie would come in to work with a Bible in one hand and a gun in the other.
"People just called him 'the preacher,'" he said.
Along the right side of the store was a video rental shop. In 1999, Hemrick decided to remodel and put in the deli instead. It's become a huge part of Hemrick's appeal.
"They start cooking at 3 in the morning and start serving biscuits around 5. It's all homemade; they use lard in the biscuits – like your grandma used to make," Hemrick said.
Craig Hemrick said some customers eat there three times a day.
That same year, Hemrick put in the automatic car wash, and a few years later added the self-service car wash.
In 2010, Hemrick's partnered with a new wholesaler to increase the grocery selection, and now there is a meat-cutter on staff six days a week.
Hemrick said he had been thinking about adding a sandwich shop for several years, and Blimpie was the obvious choice. When Bernie and Ellie Farrington operated a Blimpie near the Kroger on Bullsboro Drive, Hemrick would pick up lunch there every single day. It's been closed for years, as has the Raymond Hill Road location.
"I didn't even know if they were still around," Hemrick said.
The shop opened Nov. 2 and has been incredibly popular, according to Craig Hemrick.
"It's been amazing," he said.
Hemrick was asked about his next big idea for the iconic store. There's still a lot of land out back, he said, so maybe they'll try some storage units.
Hemrick's is and always has been a family business. Colon's nephew, Chad Davis, is the store manager. Craig runs the Blimpie and oversees the evening shifts. Colon's sister, Betty, is a cashier. Sister-in-law Debbie runs the books, and "all the nephews, at one time, have worked here," Colon said.
And now, a third generation has started at Hemrick's. Colon's granddaughter, Mackenzie Myers, is working at Blimpie.
Hemrick's ended up on the west side of Newnan because that's where a store was available more than 40 years ago, but Hemrick said he loves being on the west side.
While other portions of Coweta have grown by leaps and bounds, "this is Newnan, on this side," he said.
"The people on this side of town, to me, they're the best customers. The most loyal people. If you treat them right, they're going to come back," he said.
The store has evolved over the years, and Hemrick has tried other businesses. But "this is the only thing we've been able to make a good living at. You stick with what brung you," he said. "It's a blessing. We've been fortunate."