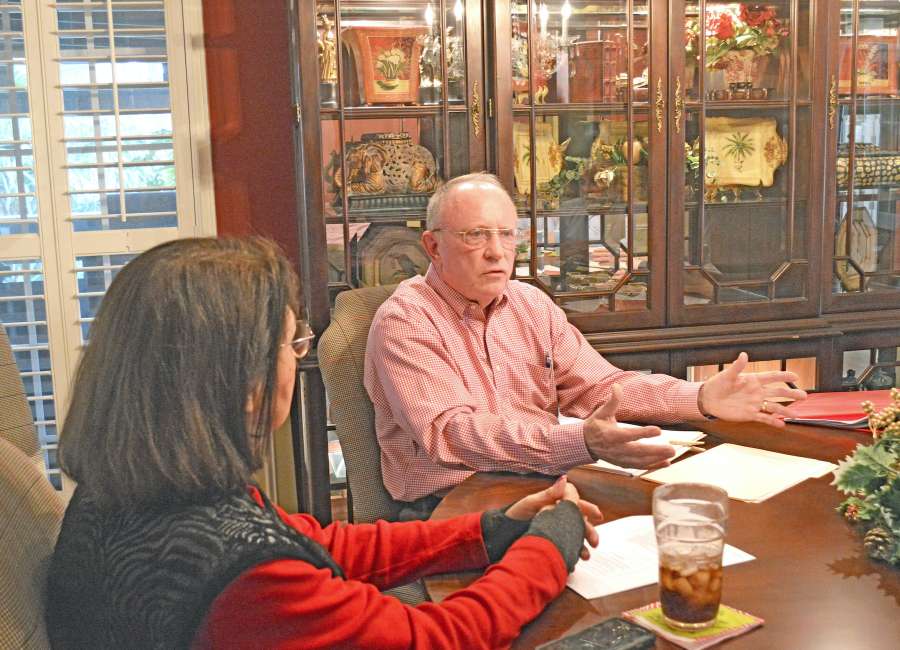 A small group of Coweta senior citizens has begun urging members of Coweta's legislative delegation to consider a more generous property tax exemption for senior citizens.
The Coweta County Board of Education voted in October, 6 to 1, to ask the local legislators to pass "local legislation" to increase the current property tax exemptions for senior citizens.
Under state law, a change in the exemption requires passage of legislation by the Georgia General Assembly and approval in a referendum by a majority of Coweta voters.
The proposal approved by the school board increases the existing exemptions from $40,000 to $60,000 for ages 65-70; from $60,000 to $85,000 for ages 71-74; and from $80,000 to $115,000 for ages 75 and older.
The original exemptions took effect in 2003 following a public push by a group of senior citizens.
The exemptions are subtracted from a home's assessed value, which is 40 percent of fair market value. On a practical basis, the proposed increase would mean that the first $150,0000 of a home's fair market value would be exempt from school property taxes for those 65 to 70, the first $212,500 of a home's value for those ages 71-74 and the first $287,500 for those ages 75 and older.
That increase, while good, barely keeps up with inflation, said Coweta County Board of Education member Linda Menk.
Menk was the sole "no" vote on the tax exemption. While Coweta's legislative delegation has traditionally had a policy of only moving on local legislation when there is a unanimous vote by the local governing body, Menk said it was never her intention to keep seniors from getting tax relief.
Instead, she said she wanted to see the school board offer a more generous exemption.
"I wasn't trying to kill anything. I was really trying to keep it alive," she said. "I just didn't feel like it went far enough, and there should have been more discussion and more analysis and more arguments presented to see if we couldn't do better."
"What the school board has done… is just to catch us up to here. It doesn't take us into 2019," said Diane Fowler. "Why do that? Why not go ahead and resolve it? Factor it into each year's budget?"
Cowetan Bob Eaton put together a spreadsheet that allows users to adjust various values and determine the impact of various types of exemptions. The spreadsheet was available on the website that the school system put up to get public input on exemption options.
Eaton said he would like to see an exemption that automatically increases each year to keep up with inflation. He's put together a proposal that would start with a 40 percent increase over the existing exemption, and then increase the exemption by 2 percent each year, rounded to the nearest thousand.
"That way we don't have to go back every two years or every five years to get this adjustment," Eaton said.
Having to adjust the exemption – with a school board vote, local legislation and a county-wide referendum – every few years to take inflation into account "wastes the school board's time, wastes our time, wastes money," Diane Fowler said.
Eaton said he went and looked at the growth of property values over the last 18 years, and it averaged out to around 2 percent per year.
With the current plan, "we'll be back in this fight again," said David Fowler.
The exemption is a particular concern because of the county-wide revaluation that is currently underway. The new property values will be in effect for the 2020 tax year.
Menk said she has heard estimates that there will be a 33 percent overall increase in valuations, and possibly higher.
But those concerns may be overblown. According to Chief Appraiser Mike Marchese with the Coweta County Tax Assessor's Office, there's no way to estimate what the results of the revaluation will be.
"We are simply gathering data at this point," Marchese said in an email. "The values, as with each and every year, will be based on the market at that time. Certainly we have been in a strong real estate market for several years. There is no way to know if 2020 will be up or down until we get through 2019."
If a home hasn't been seeing rising values for tax purposes over the past few years, "it stands to reason that such a property will likely see a larger percentage increase than a property the value of which has kept up with the market," Marchese said. However, "most people have some idea of what their property is worth."
The current project is the first "door-to-door" inspection of every property in Coweta in many years.
"It's kind of like hitting the reset button," Marchese said.
The county-wide revaluation was in the planning stages in 2008, but was delayed because of the housing crisis and recession.
Regardless of how much property values go up, every taxing authority, including the school board, is required each year to compute a "rollback" millage rate that would bring in the same amount of revenue on existing property as the previous year's millage rate brought in.
"There is no guaranteed windfall," Marchese said.
David and Diane Fowler said they would prefer to see a 100 percent homestead exemption on school property taxes for senior citizens at a certain age, whether that age is 62, 68, or something else. Cobb County has a 100 percent exemption on school taxes for those 62 and older. Cherokee County's senior tax exemption is on the first $398,800 in fair market value for those 62 and older.
Following the October vote to move forward with the exemption, board member Beth Barnett spoke about the debate over increasing the exemption and how it had become political.
She called the shift in focus from helping seniors on fixed incomes to eliminating school property tax altogether for older Cowetas entirely regrettable.
"I see this conversation and these comments as a way to start the defunding of public education," Barnett said at the meeting.
The Fowlers took issue with those comments.
"We want strong schools, because that benefits our community," said Diane Fowler.
However, David Fowler said he doesn't feel that a 100 percent exemption would adversely affect education in Coweta.
"The tax digest is going to get bigger," he said. "Their revenue stream is robust, and it's getting better."
By the time homeowners reach their mid-60s, "they've paid for two, maybe three generations of school property tax," Diane Fowler said. "When is enough, enough? Young families have increasing wages. Older members of our community don't. They have fixed incomes with diminishing returns…
"Coweta County is prosperous enough that we can afford to give our seniors the option to file for this senior exemption," she said.
Eaton presented his idea, with the 40 percent increase and 2 percent annual increase, to the school board during the public comment section of the July 2018 school board meeting.
Barker said at the time that he was compiling the various suggestions into a document. 
Menk said the idea "was never put to school board members for us to consider as an alternative."
Eaton met with some school officials this past summer to discuss his ideas, but said he never heard much back, other than his spreadsheet and contact information being used on the survey website.
Diane Fowler said she thought that the results of the survey would have been discussed in a meeting.
Dean Jackson, the school system's public information officer, presented the survey results during the board's October meeting – prior to the board's 6-1 vote to move forward with a $1.8 million exemption adjustment. There was little discussion of the content of those comments, and the board voted on the exemption proposal immediately afterward. 
"We don't feel like we're being heard by the school board," Diane Fowler said.
Coweta Superintendent Dr. Steve Barker said in an email that the exemption discussion process involved sharing all ideas that were presented with the board and the public.
"During the seven-plus months that this topic was considered, all ideas that were brought forward were provided directly to board members and to the public for input, thoughtful consideration or comment," Barker wrote.
Each school board member has the authority to bring up a topic or exemption plan for discussion, but Menk said she expected that school system staff would have performed an analysis of Eaton's plan, as well as other proposals. And she said she assumed there would be some kind of sit-down meeting where the school board members and staff talked about different options. 
But that didn't happen, she said. Instead, when the matter was put on the agenda for the school board's October meeting, "it was the same identical thing that they came up with in May," Menk said. 
And that was three scenarios, prepared by the Coweta Tax Assessor's Office, which showed the impact of raising the current exemptions by three different amounts. The scenario that was chosen was the most generous of the three.
The scenarios were discussed in depth at budget workshops in May, two months before Eaton presented his proposal. Menk was not in attendance at the workshops. 
Though the Fowlers, Eaton and Menk say they don't think the current exemption proposal is enough, they all agree it's better than nothing.
The group was asked why they didn't simply bring the idea back before the school board, instead of speaking directly with legislators. 
"I have no problem bringing a motion before the board," Menk said.
However, she said she feels that anything she supports would automatically be opposed by the other school board members.
"If I put my name on it and say I like something… I am the kiss of death," she said.
Menk said she has sent emails to each member of Coweta's legislative delegation containing the remarks she made at the December school board meeting, when she explained the reason for her no vote. In the statement, she said she thinks the exemptions should be higher, with a potential 100 percent exemption.
"The train has left the station, as far as I'm concerned, with regard to the recommendation from the school board," she said. 
Menk said she will continue to let people know that she doesn't think the modest increases will protect seniors going forward, and to let people know there are other options. 
"And if we need to go back and revisit this next year and the year after, we're going to keep doing it," she said.