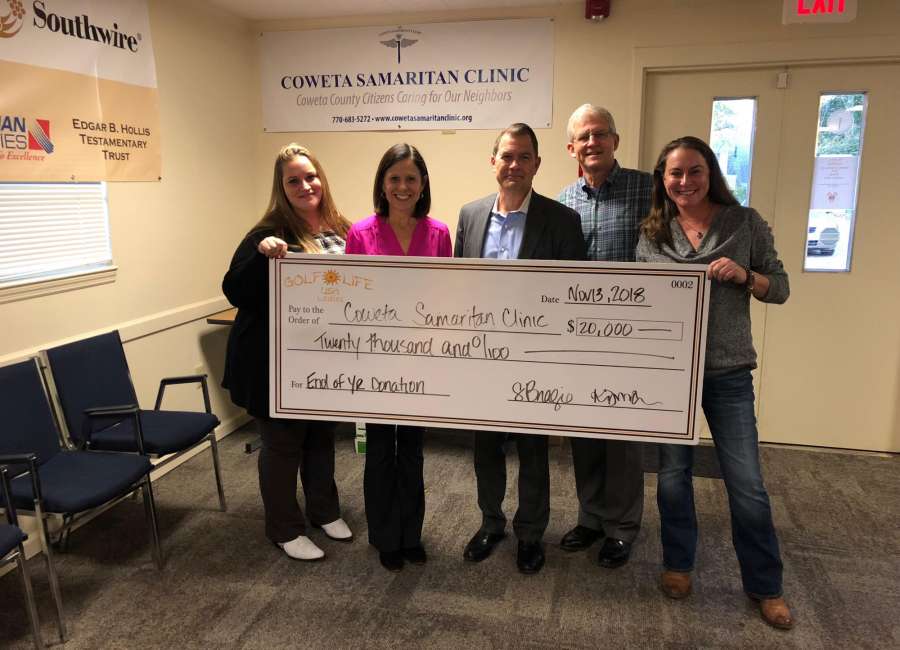 Golf Life Ladies recently donated $20,000 to the Coweta Samaritan Clinic, a local nonprofit that serves the uninsured and medically underserved in Coweta.
The donation was made in partnership with White Oak Golf Course and the Newnan-Coweta Chamber of Commerce. Golf Life Ladies just finished its fifth season of the women's golf league and uses proceeds at the end of each season to benefit a nonprofit.
This year, nonprofits were nominated and the top three nominees were invited to speak at a league meeting. After the meeting, votes were tallied up and the women chose Coweta Samaritan Clinic.
The clinic is located on Jackson Street in Newnan and began treating patients in October 2011. Since then, the clinic's patient base has grown to more than 950 individuals, and volunteer health care professionals have conducted more than 8,000 patient visits.
"All of us associated with Coweta Samaritan Clinic are grateful to the Golf Life Ladies for organizing such a wonderful charitable event," Lou Graner, executive director of the clinic said. "We appreciate all of the sponsors and all the golfers who helped the Golf Life Ladies raise a record $20,000 for the clinic. That is a tremendous gift and a great blessing to the clinic and to the patients we serve."
Samantha Brazie, co-founder of Golf Life Ladies, said the league "was pleased to represent a community of women that have the heart to give back."
"Kim Melhouse-Guerra and I are so grateful that our league cares about this community as they do. It truly takes a village.," Brazie said.
Over the past five years, Golf Life Ladies has donated more than $60,000 to the local community.
The Golf Life Ladies League is open to all women who would like to develop new, local connections while learning the game of golf. Membership in the league includes access to a private golf club, along with affordable and organized golf opportunities.
The league is not exclusive to White Oak members.
To join Golf Life Ladies, email golflifeladies@gmail.com or call Brazie at 770-820-5559.