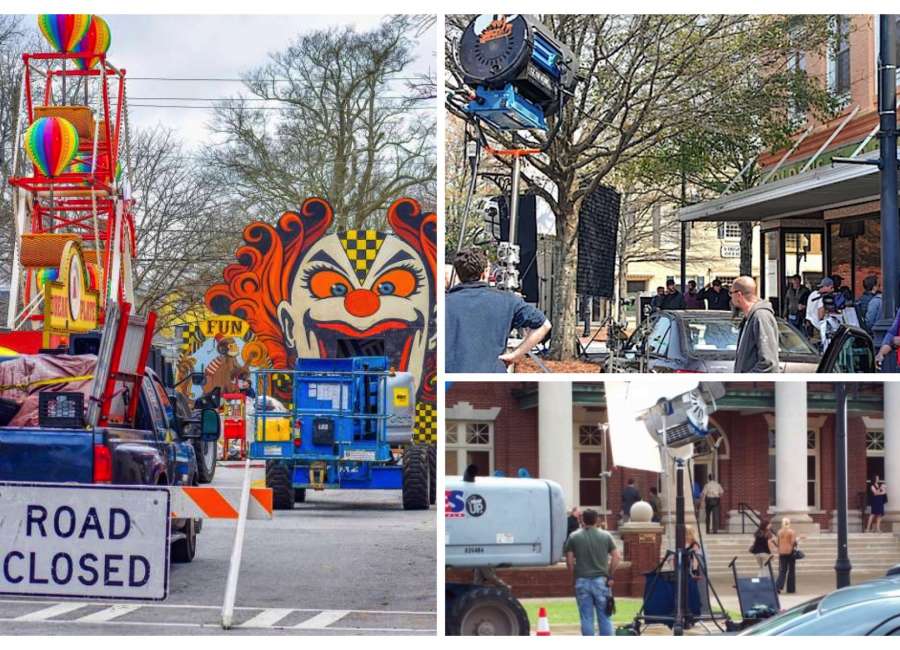 The city of Newnan has yelled "cut" on all filming projects until May.

At their last meeting, the Newnan City Council voted unanimously to suspend all new filming in downtown until the city can reassess the process of allowing production companies access to the city.
Mayor Keith Brady brought the matter before council, adding the item to the agenda Tuesday evening.
Brady said the decision would not affect the upcoming production of "Jumanji 2," which is slated to begin next month.
"Jumanji 2" - or " J19" - hopes to close two sections of W. Washington and E. Washington Streets on Feb. 4 and 5.
Crews hope to recreate the Christmas season, including snow, for the shoot. A portion of the movie will be filmed around the Newnan Square, including  19 W. Court Square and 8 E. Washington St.
"We're a film friendly town and want to remain one, but we all recognize we have an obligation to our citizens, property owners and business owners to protect their rights and the ability to carry on without inconvenience and make a profit," Brady said.
The halt on filming is exclusively set in the 9-block radius of downtown Newnan. Brady said smaller-scale filming projects would still be allowed.
"Those that need a four-person crew to walk around with a camera, that's not an inconvenience," he said. "We're not trying to shut down the industry in Newnan, we're just trying to add shape and form to what we do so it makes our job easier, along with our staff and the industry too."
The decision was made, in part, based on the frequency of larger-scale filming projects in the last several weeks, according to Assistant City Manager, Hasco Craver.
"We've seen an extraordinary amount of request for the use of public streets and sidewalks, so much that it's disrupted our everyday commerce," Craver said, "It's been quite difficult to manage under our current system, so we've stopped issuing permits so that it will allow our staff to sit down and rework it."
Craver cited the city's recent decision to place a brief moratorium on issuing new building permits until their zoning ordinance was updated.
Craver said the city hopes to create a process that addresses the types of filming requests they're seeing now.
"We have to pivot to better address those who want to take up blocks and parking spaces for a week," Craver said.
Revisions to how the city handles filming requests will be a primary topic during the city council's annual retreat in March.
"Staff will look at factors like impact, duration, number of spaces needed by filming companies," Craver said. "The frequency as well as the overall impact and duration of the impact in the past few weeks has gotten to be so extreme the system we have in play now needs retooling."
The city plans to have an updated policy by the end of April.
Recently, crews from "Brooklyn" – an HBO TV drama about law enforcement –  requested the full closure of West Washington between Brown Street and West Court Square and the southbound parking lane on Brown Street from Sunday, Jan. 13 through Sunday, Jan. 20., to recreate a street fair.
Several business owners cited their displeasure with the production, primarily regarding parking issues.
Jason Kanner, owner of Ace Beer Growlers on West Court Square said while he was fairly compensated for the inconvenience, other business owners might not be.
"I think we have a ton of people who aren't being compensated because they aren't speaking up," Kanner said. "You have to stay on them because they're not going to give away money if they don't have to."
While Kanner hopes that locals are treated fairly across the board, he urged other business owners to take a more active role in city government.
"It's not so much about the money, but it's crucial for businesses and residents to have a voice in a public forum and get involved," he said. "We have to take advantage of that or else we're dead to rights."