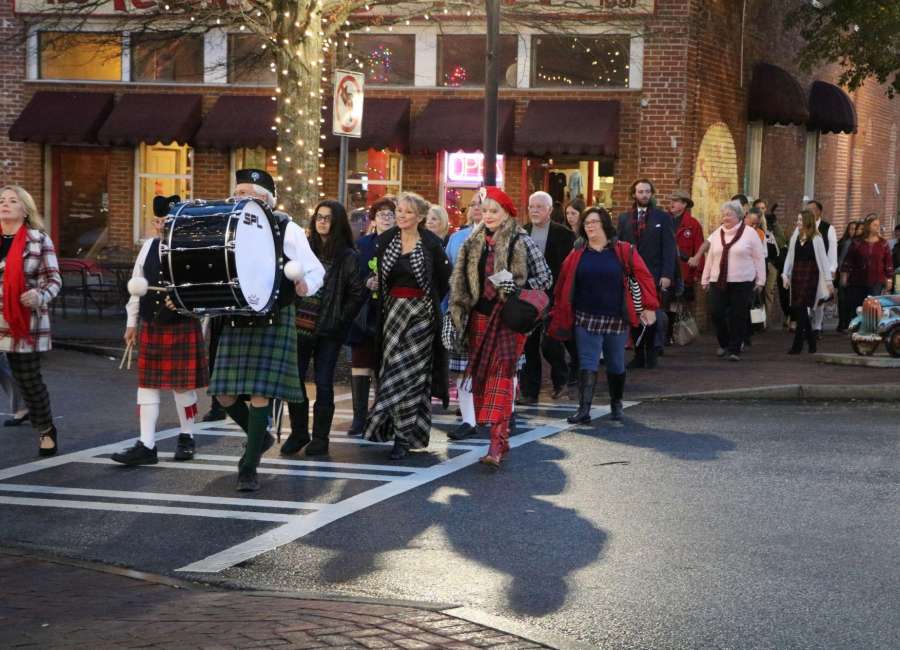 A chance meeting in 1994 is the reason why bagpipes will drone through Newnan from Jan. 31-Feb. 3 as the city and Coweta County celebrate their sister city/county relationship with Ayr and South Ayrshire, Scotland.

It will be the fourth annual Newnan Burns Weekend, a sister city celebration featuring music, dance and storytelling.
The event's name comes from the poet Robert Burns, who was born in Ayr. Burns is most-well known for the poem "Auld Lang Syne," which is commonly sung on New Year's Eve.
"He did so much with literature and poetry in such a short life," said Larissa Scott, event director for the weekend. "He really captured the sentiments of the countrymen of Scotland and they identify heavily with him and his poetry. That's why there's Robert Burns societies all over the world."
According to Larissa Scott, Burns' birthday at the end of January is celebrated all over the world.
"Because Newnan had the sister city relationship, they started doing a Burns weekend," she said.
The sister-city relationship goes back to 1994, after a chance meeting in Washington D.C. between education and business officials from Newnan and Ayr at a national education conference.
"They were just sitting in a bar together and they realized they were trying to do the same thing - expand internet access to people in both cities," said Michael Scott, a member of the Order of Tartan of the Chattahoochee Valley, a Scottish heritage organization.
"Believe it or not, internet connectivity did exist in Newnan. In fact, it began the process in the early '90s where we, a group of business partners, were working educators and training teachers to access the internet," said John Thrasher, a member of the Newnan Cultural Arts Commission. "This group from Newnan was very interested in establishing internet connectivity in schools."
According to Michael Scott, Georgia Power worked closely with Coweta County School Systems to ensure the local schools were one of the first to link up on the internet.
"And they were doing the exact same thing in Ayr," he said. "That was the birth of the sister city relationship."
"So we decided we should partner with them," Thrasher said. "Schools from Newnan-Coweta County partnered with schools in southwest Scotland in an area called Ayrshire. We had a lot of back and forth that took place and the program began in the 1995-1996 school year."
According to Thrasher, the schools were connected through high-speed internet connections that allowed regular video conferences.
"At the end of the year, we organized a study tour for Georgians to go over and visit their sister schools, businesses to visit other businesses, and elected officials meeting other elected officials," said Thrasher.
A group of 50 educators, elected officials and local business leaders traveled from Coweta County to South Ayrshire in June 1996 to meet with their Scottish counterparts.
"In 1998 we signed a sister-city/sister-county agreement with Ayr and Newnan and South Ayrshire and Coweta County," Thrasher said. "Since that time there have been a lot of school visits with students and teachers from Scotland coming over here and students and teachers from here going over there."
According to Thrasher, the state of Georgia and Coweta County have historically had strong Scottish connections.
"So we think it's appropriate that Newnan has a sister city," he said.
There are a lot of descendents of Scottish immigrants who lived in Coweta, Larissa Scott said. "You can go to Oak Hill and look at the tombstones and you'll see a lot of Scottish names represented there."
During the initial settlement of the American colonies, Scottish people came across the ocean with the English.
"Most of the Scots that came to the New World were economic refugees," said Michael Scott. "They had been persecuted by the English after the Battle of Culloden in 1746. The English took the people who rebelled and made life miserable for them."
According to Michael Scott, the English issued Acts of Clearance, a series of edicts that forced the Scots off of their lands.
"A lot of them settled in Northern Ireland and later they came to this country," said Michael Scott. "They moved on the old wagon roads, which followed the Appalachian Trail and filtered through the mountains and worked their way south to places in northwest Georgia. And that's where they settled."
Thrasher said Ayr is about 45 minutes from Glasgow, Scotland's largest city.
"It's not a little place but not a huge place," Michael Scott said of Ayr. "It's slightly smaller than Newnan in population."
Plans are in progress for a Scottish delegation to visit Newnan and the Coweta area in 2019.