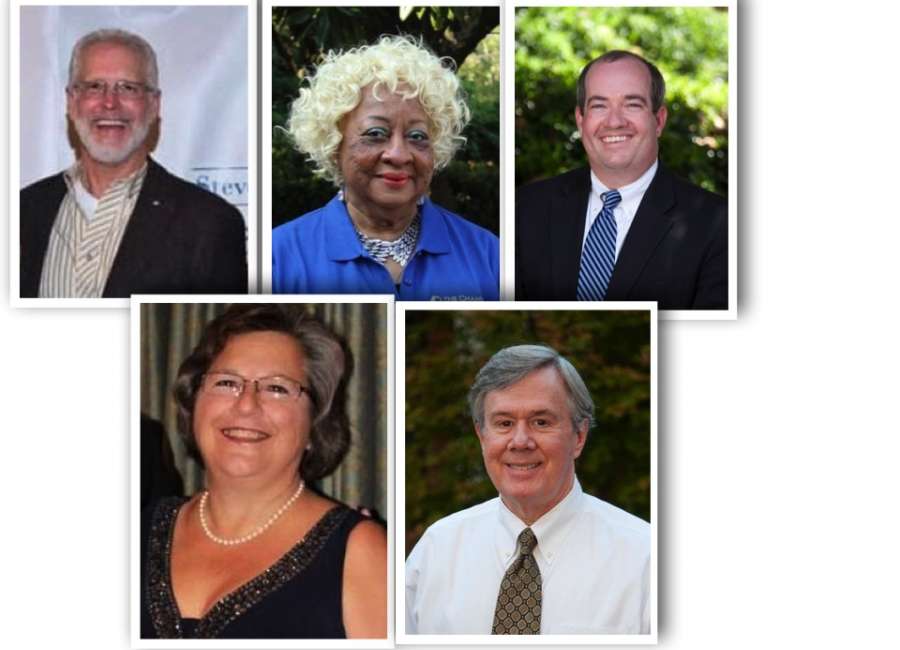 2019 Coweta County Citizen of the Year nominees have been announced.

The nominees are Ronny D. Jones, Melvinor J. Kendrick, Garnet Reynolds, Marie Swope and Mark Whitlock.
The award is designed to honor an individual with outstanding leadership and citizenship within the community, someone who has demonstrated exemplary vision, civic pride and a strong commitment to a better Coweta.
Nominations opened in November.
Ronny D. Jones
Ronny Jones is the president of RDJE, Inc., a full-service construction company located in Newnan. He currently serves on the board of directors at the Summit Family YMCA of Newnan, is a past board member of Angel's House and former president of the Georgia Utilities Contractor Association. Jones also spent many years working with Newnan-Coweta Habitat for Humanity and has received many industry awards, including Contractor of the Year and the GUCA Safety Award.
Melvinor J. Kendrick
Mel Kendrick is the director of marketing for ValueMax Car Rental and Nissan of Newnan. She has long been involved with community events in Coweta County, including chairing the first Coweta Relay For Life. Kendrick has served as a chamber ambassador for several years and, among many other things, works with the Boys and Girls Club of Newnan, Coweta Substance Abuse Prevention Coalition, Continental Societies, United Way of Coweta County and the Coweta County NAACP.
Garnet Reynolds
Garnet Reynolds is the current BB&T market president for Coweta and Troup counties. He is a board member of the Newnan-Coweta Chamber, Abby's Angels Foundation, and the Boys and Girls Club of Newnan. He also currently serves as the secretary for the Rotary Club of Newnan. Reynolds recently completed his term of serving as treasurer of Communities in Schools, an organization that helps Coweta County students graduate from high school on time.
Marie Swope
After retiring from a career with Delta Airlines, Marie Swope has dedicated her time to volunteering in the Newnan community. She has served on the board for Stepping Stones and the Samaritan Clinic and is an active member of Saint Vincent de Paul. Swope has devoted years to tutoring both GED students and elementary school students. She also provides her time and financial support to the Boys and Girls Club of Newnan, Communities in Schools, Southeastern Assistance in Healthcare, Christian City Children's Village, the Joy Project and Angel House.
Mark Whitlock
During his tenure as CEO of the Central Educational Center, Mark Whitlock has been passionate about preparing Coweta's students for a successful future, while helping to attract more skilled manufacturing jobs to the county. He has helped to establish, maintain, and grow the Georgia Consortium for Advanced and Technical Training (GA CATT) and German-style apprenticeship program. Whitlock also volunteers to educate and assist in the Coweta community.
The winner will be announced when the Kiwanis Clubs of Coweta hosts the Citizen of the Year dinner on Thursday, Jan. 31, at 6:30 p.m. at the Newnan Centre on Lower Fayetteville Road in Newnan.
Tickets are $350 for corporate tables with preferred seating, $300 for tables of 10 and $30 for individual tickets.
Tickets are available for purchase at Toyota of Newnan, Lindsey's Inc. Realtors and the Newnan-Coweta Chamber of Commerce until Jan. 17.
For more information, contact Nancy Walden at 770-596-6428.
The three most recent Citizen of the Year winners are Dr. Kay Crosby (2018), Pastor Tamarkus T. Cook (2017) and Bob Coggin (2016).
All said they were honored to receive the award and found it both humbling and motivating.
Crosby is the founder of the Coweta Samaritan Clinic, which brings quality health care and support to the uninsured and medically underserved in Coweta. Crosby serves the clinic as a volunteer physician, medical director and chairman of the board.
In addition to being named the 2018 COTY, she received a $1,000 donation for the clinic.