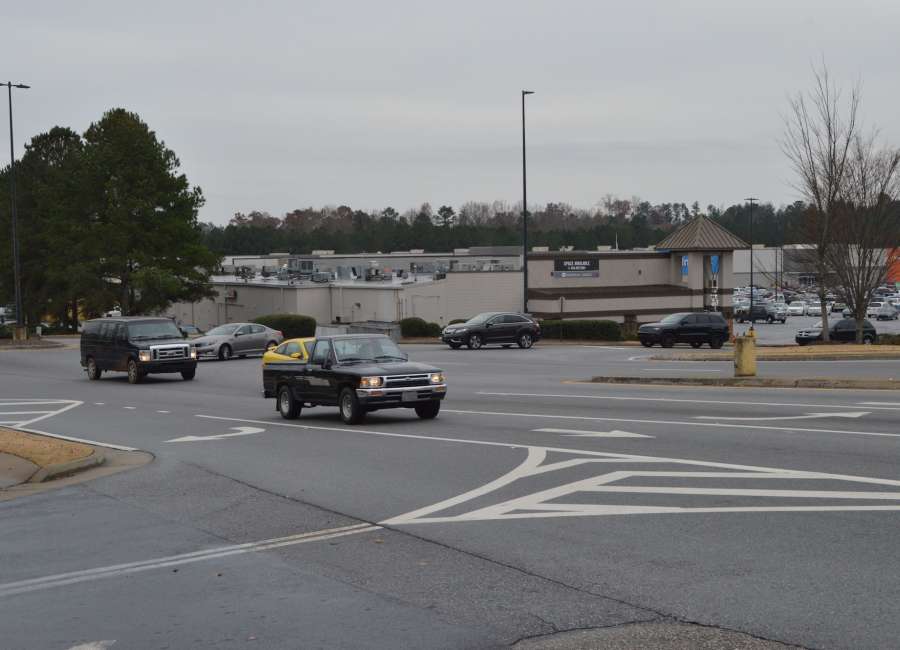 Many of Coweta County's biggest traffic problems would be addressed with a list of projects proposed to be funded with a new transportation sales tax. 
Forty-four transportation projects were discussed by the Coweta Joint Transportation Coordinating Committee last week. The projects were submitted by Coweta and its cities for inclusion on a list of projects to be funded with a proposed Transportation Special Purpose Local Option Sales Tax. 
Nearly every issue mentioned by Newnan Times-Herald readers in a recent survey would be addressed by one of the projects on the proposed list. 
The committee had intended to begin prioritizing projects for inclusion on the list at last week's meeting. However, the total project cost of the proposed projects isn't much higher than the amount of money that the TSPLOST could raise. 
Because of that, "I think all of them should go through the vetting process by the third-party consultant," Coweta County Administrator Michael Fouts told members of the committee. 
Coweta will hire a transportation consulting firm to look over the projects and give objective recommendations on whether the projects should be included on the list. 
A TSPLOST is a five-year, 1 percent sales tax that can fund transportation projects and transit operations. Coweta voters will likely decide whether or not to implement the tax in November of 2019. Between now and then, the committee and the consultants will work to fine-tune the project list. That process will include public input in the spring. 
The sales tax is expected to raise $100 million over five years, and, if approved, would start being collected in April of 2020. 
The majority of the proposed projects are expected to be completed by 2025, and most projects would be completely funded with the TSPLOST. For some of the larger, more expensive projects, federal money will be needed. In that case, TSPLOST money will be used to pay for things such as engineering, rights-of-way, and the required local match, with federal money covering most of the construction cost. 
The vast majority of the projects on the list are intersection improvements, and nearly all of those are roundabouts. The proposed roundabouts would be full-size, such as the roundabouts on Greison Trail, and not miniature roundabouts such as those on U.S. Highway 29 and at Highways 16 and 54.
The Georgia Department of Transportation has a policy of requiring intersection projects that involve state or federal highways to be evaluated for roundabouts before they can be considered for traffic lights. Many of the proposed roundabouts in the project lists are on state highways. 
Coweta's smaller cities each receive a "base allocation" of TSPLOST funds for their projects. 
Notable projects include: 
• Improving traffic flow on Ga. Highway 154 by realigning George Coggin Road and Springwater Way, and installing a roundabout. 
• Design and engineering work for a future improvement to the intersection of U.S. Highway 29 and Ga. Highway 154. The conceptual plan for that project includes moving the intersection 1,300 feet north and constructing a bridge over the railroad. Elzie Johnson Road and Coweta Industrial Parkway will be realigned as part of the project. Construction is anticipated in the 2024-2030 timeframe, with significant federal money needed.
• Intersection improvements on Poplar Road at Parks Road, Mary Freeman Road, and Goodwyn Road. A roundabout is proposed for the intersection of Poplar and Parks Road. 
• A roundabout at Parks Road and Lower Fayetteville Road. 
• Realignment and a roundabout at Elders Mill Road, Standing Rock Road and Highway 16.
• Realignment and a roundabout of Fisher, Andrew Bailey and Hammett roads.
• Moving the intersection of Canongate Road and Collinsworth Road to the east, to pull it away from the Interstate 85 ramps, with a new traffic light. 
• Realignment and a roundabout at Corinth, West Grantville, Earl North and Hannah Roads. 
• Realignment and turn lanes at Eastside School Road and Old Highway 85. 
• A roundabout at Gordon Road and Elders Mill Road. 
• A roundabout at Gordon Road and Al Roberts Road. 
• A realignment project at Old Highway 85, Lawshe Road and Highway 16. Old Highway 85 will be moved to intersect with Lawshe, and turn lanes will be added at Lawshe and Highway 16. 
• Moving the intersection of Highway 16 and Gordon Road to the east and installing a traffic light. 
• Installing traffic lights on the Newnan Crossing Bypass at Highway 16 and at Turkey Creek Road. 
• A realignment and roundabout at Witcher and Glover roads and Highway 16. One Glover Road railroad crossing will be closed as part of the project. 
• The extension of Amlajack Boulevard to connect with Coweta Industrial Parkway. 
• Right-of-way acquisition only for a roundabout at Highways 29 and 27 south of Moreland. 
• A roundabout at Highway 16 and Marion Beavers Road. 
• Improvements at Shenandoah Boulevard and Lower Fayetteville Road including a dedicated right turn lane onto Lower Fayetteville, longer left turn lanes and a signal upgrade. 
• Operational improvements, such as turn lanes, shoulder improvements and guard rails, on Lower Fayetteville from Sullivan Road to Highway 154. 
• Realignment and a roundabout at McIntosh Trail and Reese Road. 
• A roundabout at Highway 54 and Bob Smith Road. 
• A project to extend Andrews Street in downtown Newnan from Augusta Drive (where the driveway through the Newnan Police Department intersects) to the Historic Train Depot. The project is expected to cost $4.5 million, with $3.5 million of the total being right-of-way acquisition. 
• The local match for turn lanes at Greenville Street and Sewell Road. 
• The local funds for a roundabout at Greenville Street and Spence Avenue, to replace the existing traffic light. 
• Four-laning Newnan Crossing Boulevard from Lower Fayetteville to Poplar Road. Only a local match for possible future federal funds is listed in the initial TSPLOST list. 
• The local funds for a massive improvement of Bullsboro Drive from Jefferson Street at Ashley Park to Lakeside Way. The proposed project, which would need $9.8 million in federal funds under the current request, would include a new lane in both directions on Bullsboro, turn lane improvements and closing two medians – on the Bypass between Burger King and Chick-fil-A and on Newnan Crossing Boulevard near Walmart. The state has already committed to funding for an additional northbound lane from I-85 to the Bypass. 
• An intelligent transportation system in the city of Newnan. 
• An intersection improvement at LaGrange Street, Waterworks Road and Boone Drive at Newnan High School, with turn lanes. Plans for an upgraded traffic light at that intersection are already in the works. 
• Local matching funds for an intersection project at Jackson/Jefferson/Clark streets. Under the proposal, Clark Street would be widened to allow two-way traffic onto Jefferson Street (Bullsboro) eliminating the need for traffic on Clark or Jackson to come into downtown and make a u-turn before heading toward Bullsboro. 
• Local funds for a massive widening project on Lower Fayetteville Road. The joint city/county project would require some $48 million in federal funds to four-lane Lower Fayetteville from Greison Trail to Sullivan Road. 
• Funding for 1.4 miles of the LINC greenway trail, for $2.3 million. Funding for completing the entire LINC trail would be $15 million in TSPLOST, but Newnan City Manager Cleatus Phillips said the city was only asking for the $2.3 million. 
• A new back entrance to SummerGrove that would come out on Poplar Road. The new entrance would align with Pate Road. 
• A roundabout at Jefferson Street and Sprayberry Road. 
• Local money for a proposed bridge over Interstate 85 that would allow an extension of Summerlin Boulevard through new development along the Newnan Crossing Boulevard. The new road would intersect with Newnan Crossing Bypass. 
• Local money for a realignment project of Temple Avenue, Fair Street and Richard Allen Drive. 
• Operational funding of $1.1 million for the existing Coweta Transit program. 
• Engineering and design work for the future I-85 interchange at Amlajack Boulevard. The design work would include the Madras Parkway Phase 3, Hollz Parkway extension, the interchange and bridge itself.