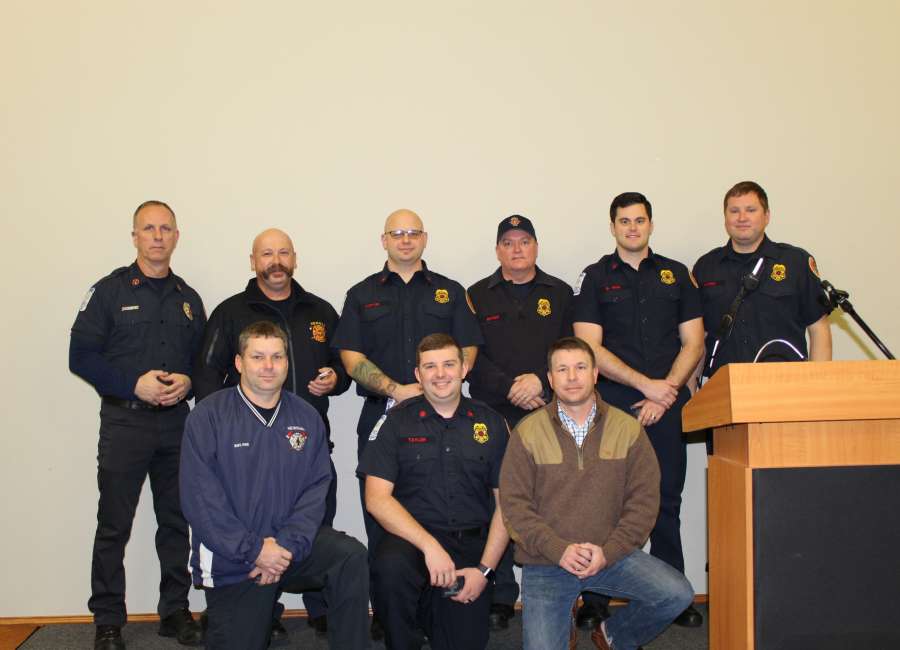 Some of Newnan's finest firefighters have new hardware to place on their mantles and bookshelves this week.
The Newnan Fire Department held their annual awards breakfast Wednesday in the historic Carnegie Library.
It's a tradition that brings the entire NFD staff together and honors firefighters who went above and beyond the call of duty throughout the year.
Some of those firefighters included Nic Burgess, Shane Grizzard and Dennis Boone. The three men won Firefighter of the Year awards.
Newnan firefighters work a 24-hour shift, with two days off. Burgess, Boone and Grizzard work on different shifts.
"It's humbling," Grizzard said. "There's a lot of guys in the department that deserve this award.  
Grizzard has been a firefighter with the city of Newnan for 21 years.
According to Brown, all the rookies look up to Grizzard. It's a role he relishes, Grizzard admitted.
"I try to mentor them," he said. "I give them all the 'ins' and 'outs' of the department and help them get settled."
Firefighter of the Year award recipient Boone said he was surprised when Brown called out his name.
Boone has worked for the Newnan Fire Department for 20 years.
"I never had a job I truly enjoyed before working here," he said. "I enjoy working with my fellow firefighters and getting to know the guys and their families."
Fellow award-winner Burgess agreed.
"It's great when we can all get together," he said. "I enjoy working here because it is very family-oriented and the fire department is a big brotherhood."
Burgess has only worked at Newnan Fire for four years, but he made history for the department last March when he graduated from the Georgia Smoke Divers program. Burgess was one of 24 firefighters from around the country to graduate, he said.
But he was still surprised to win NFD's Firefighter of the Year award.
"It's a great honor to receive this award," Burgess said.  
Fourteen NFD firefighters received Life Saver awards for saving at least one person's life during the year.
Those recipients included: FF Ryan Brodowski, FF Chase Taylor, FF Chris Eimer, FF Dusty Clements, FF Drew Holloway, Lt. Jamie Pike, FF David Rowe, Lt. Allen Dement, FF Dennis Boone, FF Joe Loftin, FF Kevin Parten, FF Brent Veal, FF Todd Mahoney and FF Ed Bryant.
Newnan Fire Chief Stephen Brown said he's proud of his entire staff.
"I like to recognize the firefighters, and it gives us all a chance to fellowship together," he said. "It's rare for all of us to sit down, eat and talk with each other."
Brown said 2019 looks bright for the Newnan Fire Department.
They'll receive a new fire engine, hire at least six employees and open the new fire station at 3 Farmer Commercial Park Drive located off Millard Farmer Industrial Boulevard.