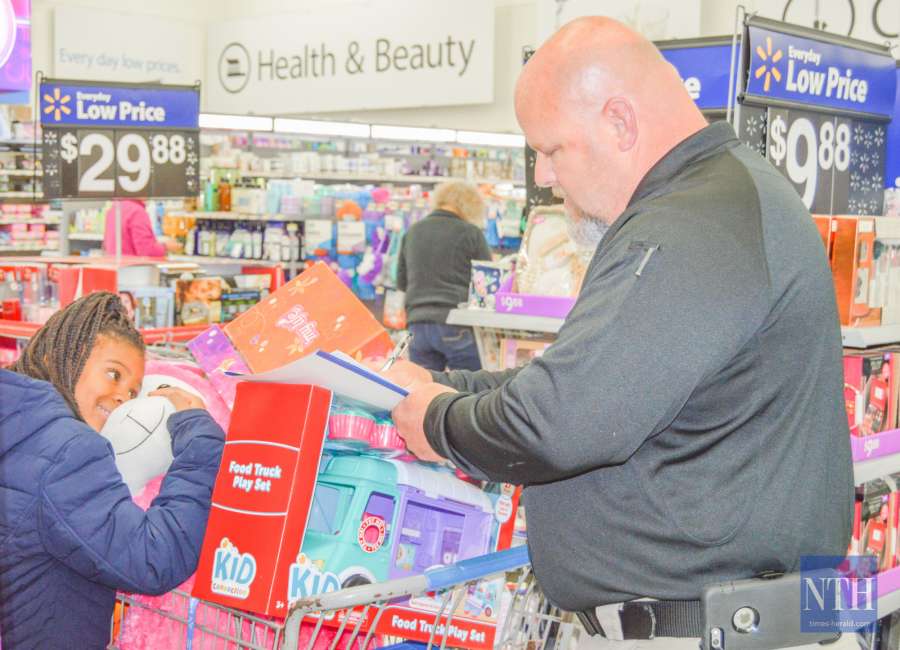 Some of Santa's helpers were out in force Saturday morning – only these elves were dressed in blue and arrived via a patrol car motorcade complete with lights and sirens.

The "elves," also known as the Newnan Police Department, escorted 48 children to a big breakfast at O'Charley's restaurant before heading to Walmart on Highway 34 for a holiday shopping spree.
The officers and their unofficial police partners participated in NPD's third annual "Christmas with a Cop" campaign.
There was no secret which part of the day the kids – and officers – liked best as they grabbed buggies and raced into the store.
"Shopping – and then maybe riding in the police car," said Tamaya Taylor, 9, with a smile on her face.
She and Lt. Tate Washington gravitated towards the stuffed animal section where Taylor found just what she was looking for - a giant stuffed llama.
"That's going to be the first thing you play with when you get home, isn't it?" Washington asked Taylor with a grin on his face.
"Yes," she said as she leaned over to hug the stuffed animal that barely fit into the shopping cart.
The children weren't the only ones enjoying the moment.
"Just to see the smiles on their faces and the hugs that they give us is worth it," Deputy Chief Mark Cooper said. "We look forward to this day every year."
"This reminds us that it's better to give than receive," Chief Buster Meadows added. "A lot of children would not get anything at all or very little on Christmas. We want to make sure they have something waiting for them under the tree."
According to Cooper, officers work with the Coweta County School System to identify children whose families may have fallen on hard times.  
The police department holds fundraisers and uses monetary donations to fund the annual event. They then equally divide the money and give officers a prepaid gift card to take the kids Christmas shopping.
Nothing is off-limits. Children can shop for toys – and clothes and shoes.
This year, the Newnan Walmart partnered up with NPD and set up a "Toy Shop" that included rows of toys. The two organizations also flew in Santa Claus for the day to visit with the children.
"This is awesome," said Walmart store manager Tanner Kramer. "It makes my day knowing these kids will have a great Christmas."
The children's relatives were overwhelmed by the show of support.
Shannon Beasley walked around the store with her younger brother Charles Turner, 11, and Inv. Vic McPhie.
"I think it's great that all these police officers come together and host events like this for the children and the community. You don't see that very often, but this has been great. I love it," Beasley said.
"We want these kids to know we're their friends all the time, not just at Christmas. But we hope they have a very Merry Christmas and a Happy New Year," Meadows said.