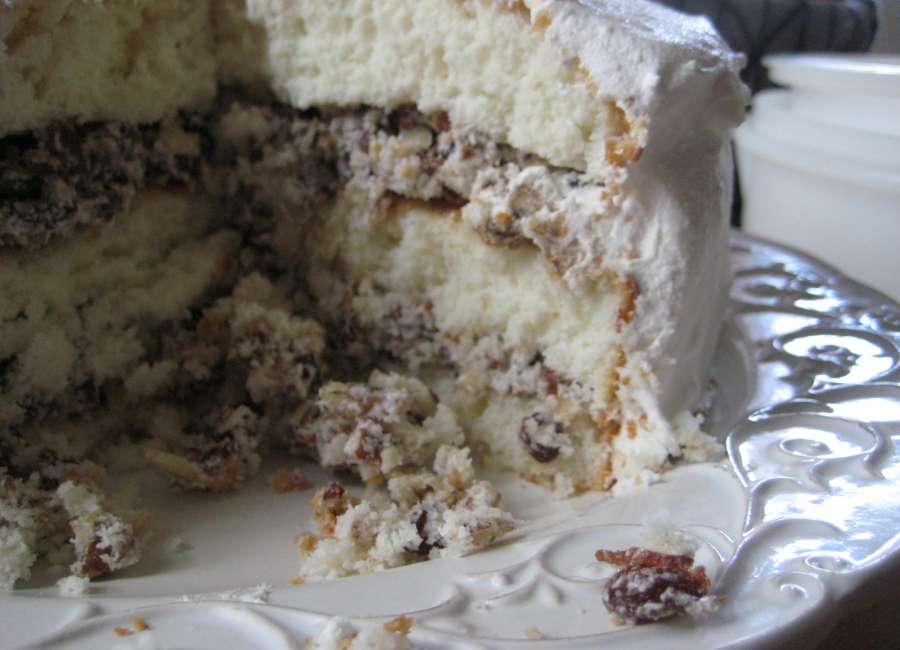 Legend says Alicia Rhett Mayberry served a slice of Lady Baltimore cake to novelist Owen Wister – inspiring him to call one of his most famous novels, "Lady Baltimore."

In his novel, Wister wrote about the fluffy confection: "Oh, my goodness! Did you ever taste it? It's all soft, and it's in layers, and it has nuts—but I can't write any more about it; my mouth waters too much."
Alicia Mayberry was the sister of Edmund Moore Rhett, whose daughter, Alicia Rhett, became a well-known portraitist after having played one film role, that of India Wilkes in "Gone With the Wind."
Alicia Rhett will be remembered at a tea at the Lone Oak Community Center in February, but you can make a Lady Baltimore cake anytime.
Lady Baltimore Cake
Ingredients
1 cup butter, softened
1 1/4 cups white sugar
1 1/2 teaspoons vanilla extract
3 cups all-purpose flour
1 tablespoon baking powder
1/2 teaspoon salt
1 cup milk
6 egg whites
1/2 cup white sugar
1 recipe Lady Baltimore Frosting
1/2 cup raisins, coarsely chopped
1/3 cup chopped pecans
1/3 cup chopped candied cherries
2 teaspoons vanilla extract
Directions
Preheat oven to 350 degrees F (175 degrees C). Grease and flour three 9-inch round layer pans.
In a large bowl, cream butter or margarine, 1 1/4 cups sugar and 1 1/2 teaspoons vanilla together well. Beat until light and fluffy.
Stir flour, baking powder and salt together in another bowl. Add flour mixture to butter mixture in 3 parts alternating with milk in 2 parts, beginning and ending with flour.
Using clean beaters, beat egg whites in mixing bowl until soft peaks form. Add 1/2 cup sugar gradually while beating until stiff. Fold whipped egg whites into batter. Pour into prepared pans.
Bake for 25 to 30 minutes, until an inserted wooden pick comes out clean. Cool.
To Make Filling: Stir 2 cups Lady Baltimore Frosting, raisins, nuts, cherries, and 2 teaspoons vanilla or sherry all together. Use as filling to spread between layers. Spread remaining frosting on tops and sides of cake.
Lady Baltimore Frosting
Ingredients
2 cups white sugar
1/3 cup water
1/4 cup corn syrup
1/8 teaspoon salt
4 egg whites
1/4 teaspoon cream of tartar
1 teaspoon vanilla extract
Directions
In medium saucepan, measure in sugar, water, corn syrup and salt over medium heat. Stir to dissolve. Cook to soft ball stage, 240 degrees F (115 degrees C), without stirring. It should fall from spoon in a thin thread.
Beat egg whites and cream of tartar until stiff peaks form; do this shortly before syrup has reached the soft ball stage. When ready, pour syrup in a thin stream over stiff egg whites, being careful to beat continuously the whole time. Add vanilla and beat until the right spreading consistency is achieved.
allrecipes.com