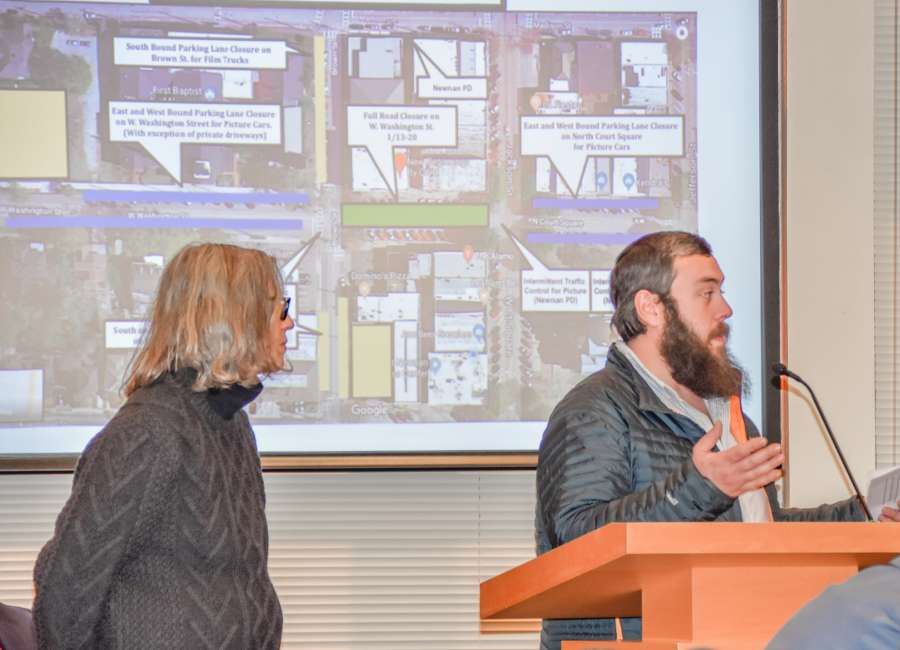 An HBO series hoping to use downtown Newnan as a backdrop may have to rescale its original plan.

Tuesday evening, representatives from the "Brooklyn" television series spoke to the Newnan City Council to request the closure of West Washington Street between Brown Street and North Court Square from Sunday, January 13 through Sunday, January 20.

The production also requested to use intermittent traffic control at two intersections and to close additional parking lanes on Brown Street, W. Washington and North Court Square on January 16 and 18.

The crew hopes to create a street fair on West Washington for the TV drama about law enforcement.  

While approximately eight businesses on West Washington Street would be directly affected by the closure, productions like these typically affect the day-to-day operations of most downtown businesses, according to some.

Deena Almon, owner of A and D Hair Designs, said she doesn't have a problem with the production and shut down of her street, as long as her customers have ample parking. She estimates roughly 40 people are in and out of her salon every day.

"We want for them to assure us we can be compensated," she said. "We're willing to work with them. We just want good communication and to know what we can expect."

Jason Kanner operates the nearby Ace Beer Growlers and said he's concerned the issue of compensation is handled after approval has been granted for production – instead of before.

"For it me, it's all very vague," he said. "Once approval is given, it's up to business owners to negotiate with the production companies. There's nothing concrete or finite for what they can offer per day.  They say they're not sure, that they need to have budget meetings. That's all well and good, but once that stamp is given, they've got approval to do what they want, regardless if we get compensated or not."
Kelly Morrison, location manager, recently met with city personnel at the Newnan Police Department to discuss set up plans, parking issues, and how they will address the businesses affected by the production.
Morrison spoke to council and acknowledged the concerns of owners, but said her company cannot go into contracts with business owners until they have the city's permission to move ahead.
She said the production team has been in town for over a week, meeting and talking with business owners.

"Just because you give us permission to be here, I don't have permission to work unless I get approval from these businesses," Morrison told the council.

The scope of the production was the primary concern among council and city staff, especially in a city where parking is already a hot-button issue.
City Manager Cleatus Phillips said the proposal is one of the largest he's seen for Newnan.

"I don't recall any production over the last 10 years with this level of involvement for parking," he said.

The production company requested parking lane closures on the North Court Square, portions of Brown Street, and east and westbound lane closures on West Washington for several days.  

Phillips stressed his responsibility as city manager lies in ensuring the success of business owners and residents.

"If one merchant isn't satisfied, can I pull the permit?" he asked. "Just what is the barrier?"

Morrison cited the team's recent stint in Decatur which required similar closures on East Court Square and East Ponce.
The series is "episodic," which means production has to be completed within a 12-day period. Moving dates wouldn't be a possibility, according to Morrison.

"We need 100 percent participation, but we haven't had a chance to go into contract," she said. "My goal is to weave a welcome mat and have positive participation."

Council approved the filming, but only if the production company removes the requirements for parking closures on North Court Square and possibly parts of Brown Street.
Morrison said she currently has an arrangement set up with First Baptist Church to utilize its parking lot.

"Talking to the merchants and getting them on board in a written fashion as quickly as possible will help us tremendously," said Mayor Keith Brady.