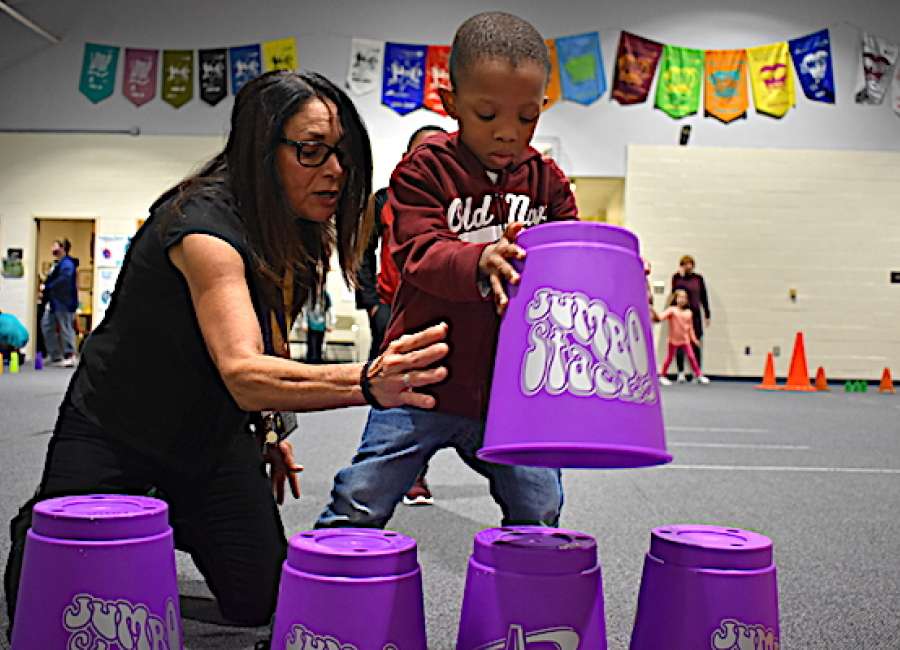 Students at Western Elementary School could end up in the Guinness Book of World Records, if they stack their cups right.

On Thursday, students mixed it up in the school gym with sport stacking activities, games, races and fitness stacking as they joined more than 635,000 people around the world in an attempt to break the world record for "Most People Sport Stacking at Multiple Locations in One Day."
as part of the World Sport Stacking Association's annual STACK UP! event. Each year since 2006, the WSSA has attempted to set a new record. The organization submits a formal application to attempt the record on Guinness World Records Day, inviting schools and groups from around the world to participate.
"All day long, we're having PE classes come in, and they're all doing some form of stacking," said Western's PE teacher, Mary Savage. "They're either doing large cups or small cups, or running and stacking. We have extra kids coming in here and there with permission, too."
Savage organized the Western event after incorporating "sport stacking" into her physical education classes. In addition to improving hand-eye and bilateral coordination and engaging both brain hemispheres by practicing cup stacking, students can benefit physically through relays, races and other fitness-based activities that incorporate cup stacking.
"We do two weeks of cup stacking, and everyone in kindergarten through fifth grade learns to cup stack," said Savage. "The kids have learned so much, and it has increased their level of coordination and balance. It's also just respect and love for a new thing. Several of them are wanting to start this (competitively). It's all kinds of new opportunities."
The current record is 622,809 people stacking in one day. Western committed to 75 students stacking for 30 minutes each – 2,250 minutes – during the school day. However, Savage said the school's final result was 190 participants for a total of 7,565 minutes.
After all participants send in their verified numbers after the event, Guinness will validate the event. If the record is broken, Western Elementary School will be listed in the Guinness Book of World Records along with the other participants.