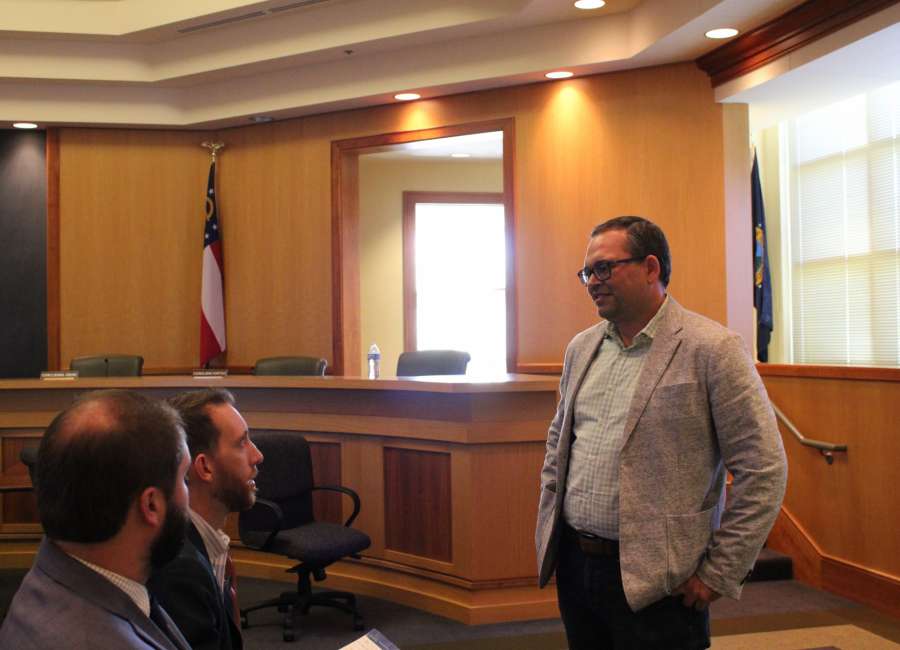 By JEFFREY CULLEN-DEAN
jeffrey@newnan.com
An urban planning company visited Newnan to talk about placemaking and possibly doing a project in town.
Andrew Howard, co-founder and director of Team Better Block (TBB), of Dallas, Texas, described placemaking as turning "somewhere you want to drive through to somewhere you want to get out and enjoy."
Howard said part of their approach to placemaking is using "cultural speedbumps" to calm traffic. A mural on the ground grabs a driver's attention enough for them to slow down and look at the art rather than using noisy and unattractive speedbumps.
With their designs, TBB attempts to lower the decibel count of a city area. According to Howard, city streets are typically registered at 80 decibels, the same amount of sound as an alarm clock. 
Using placemaking techniques, TBB reduced sound levels to 40 decibels, the same amount as a quiet library, said Howard.
TBB also uses outdoor seating, parklets, public plazas and traditional landscaping to make city areas more appealing for people to congregate. Murals and colorful art are used to add vibrancy.
Howard and TBB recently installed a blue bike lane in a town in Vermont to make the lane easily identifiable in the street.
It's about "making people feel more invited to an area," Howard said. "A place you want to experience- That's the key to placemaking."
Temporary installations are used by Howard and TBB as drafts to give the citizens of an area a feel for the changes that would be made. If something doesn't work, it can be removed.
Howard discovered Newnan through newspaper articles reporting on the cleanup and beautification of privately owned alleyways in downtown Newnan. In August, Howard reached out to Courtney Harcourt, Main Street manager, about doing a project in Newnan.
"They felt like we had the local support and vision to pull one off," Harcourt said.
After the meeting on Tuesday, Harcourt gave Howard a tour of Newnan, stopping to visit areas around town. 
"We walked around and looked at several sites around Newnan. Most of the sites are not on the square. We looked where the new townhomes are going to be built (Greenville Street), Perry Street, and also the area around the university," Harcourt said. Howard "stayed downtown during the Munchkin Masquerade and watched foot traffic and studied the event," she said.
Harcourt said the next step is to create a placemaking master plan by the end of December and to form a placemaking committee.
Harcourt will submit Howard's proposed plan to the Downtown Development Authority in January where a vote to adopt or veto the plan will occur.
"He got a real feel for what they thought we were capable of handling," Harcourt said.
One formal meeting for the Newnan placemakers has been held and an application for volunteers has been posted on the Main Street Newnan website for those who want to be involved.