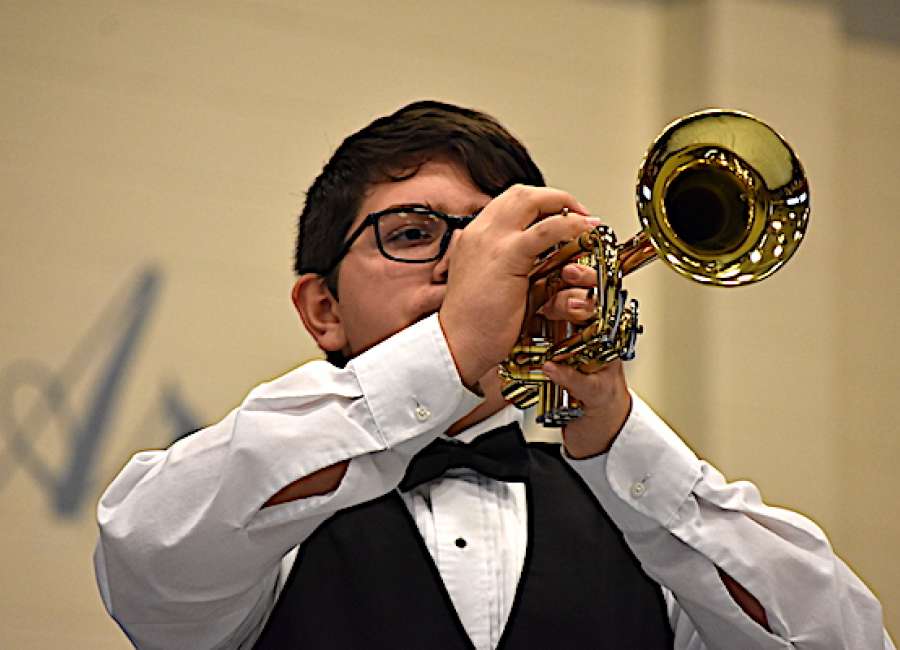 Student essayists urged their fellow students to respect the U.S. flag during Arnall Middle School's annual Veterans Day program Thursday.

Eighth-grader Laura Wilson reminded her classmates that veterans deliberately walk into treacherous situations – some of them never coming out.
"So stand up for the flag and be proud," she said, reading from her Patriot's Pen essay to a crowd that included several dozen veterans from across all branches of the military. "Next time you stand for the Pledge of Allegiance, do it to the best of your ability. If you can stand, stand up. If you can speak, speak. And if you can hold your hand over your heart, do it for the brave men and women that no longer can."
Wilson said the flag represents a country where, despite its difficulties, its people have the freedom to choose their paths.
"I wish I could say America was a place where you could go to school or to the store or to church and be assured that you would be safe," she said. "It is not. But it's trying to be. It's a place where we have a choice, and I think that's worth standing for."
Seventh-grader Jamari Santana, also reading from her Patriot's Pen essay, said the flag is more than just a piece of cloth.
"I honor the American flag because it symbolizes the changes we have made to become the country we are today," Santana said. "Through the flag, we honor all the people who have fought for freedom and the style of living we have today. If all of the people of America lose their honor and respect for the flag that is deserved, we would be shaming all the people who fought for us.
"By honoring the flag, we praise the past, acknowledge the present and plan for the future," she added.
Arnall's annual program featured a veterans procession, the presenting of the colors by the East Coweta High School ROTC, and performances by the school's chorus, directed by Robin White, and eighth-grade band, directed by Gena Wayne. Chorus soloists for "God Bless the USA" were Gabriel Lawrence and Carly Rowlinson, and "Taps" was performed by trumpet player Gabe Salinas.
Students Brianna Madden and Emily Shearer led the Pledge of Allegiance, and eighth-grader Niasia Teagle introduced the veterans in attendance at the event. Eighth-grader Bri Wells introduced the keynote speaker, Maj. Andrew Parker, a U.S. Army chaplain.
Parker encouraged students to be thankful so they can positively influence the people around them.
"Strengthen each other's character," he said. "When you learn to encourage each other you will help them be hopeful for the future. You will help them be thankful. Be a strong leader. Recognize that every young person in the building has value just because of who they are. It could radically change the atmosphere of your school.
"Great character begins with gratitude, dreaming about the future, and influencing other people to embrace the things out there in front of them," Parker added. "Enjoy the life you've been given."