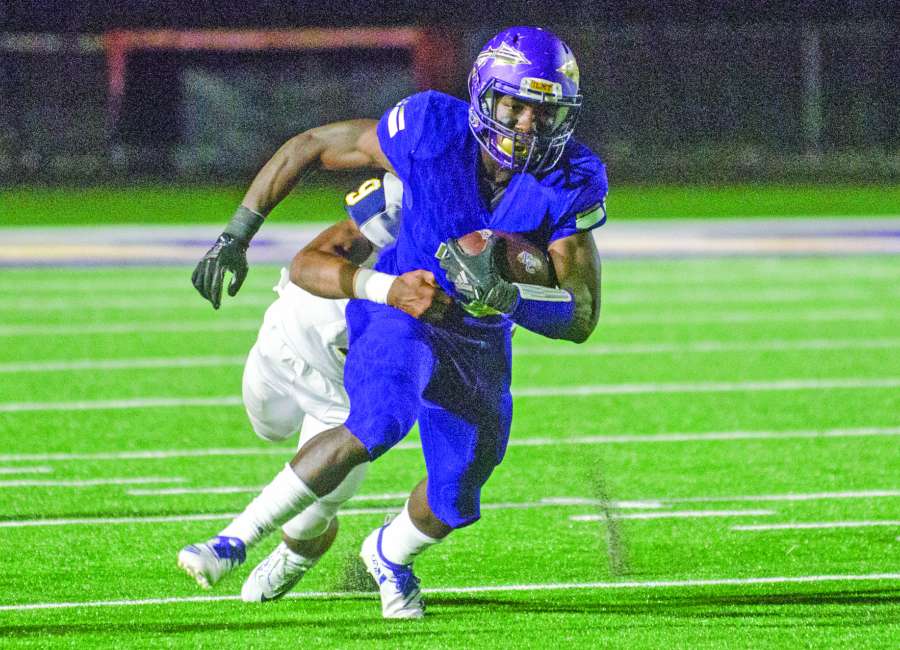 By Chris Goltermann
Cowetascore
East Coweta head football coach John Small has heard a lot more praise from outsiders about his team the past month than the six weeks previous.
Words like "turnaround," "rebound" and "comeback" have all been used as adjectives to describe the Indians' 3-6 season after three consecutive wins against Region 2-7A opponents to clinch a state playoff berth.
In the win column, the Indians follow those descriptions.
But nothing has changed for East Coweta when it comes to expectations, effort and enthusiasm for winning football games.
"I told them today, y'all are the most resilient bunch I've ever been around," Small said. "Your record is what it is, but those are some tough-minded kids.
East Coweta's record is as much indicative of the non-region schedule, which a year ago had the Indians' success peaking around a victory over a then state-ranked North Cobb team in a 4-1 start. A 1-4 finish to region play in 2017, however, was as much a call for a new approach.
In turn, East Coweta had its chances late against Westlake to open this year's 2-7A schedule before reeling off three straight wins over Wheeler, Pebblebrook and Campbell without trailing a single time.
"Our kids are playing at a different speed right now. You can see it. Their confidence level, when they go out and play, they believe in each other," Small said. "And they just have some grit about them. They're tough."
A chance at avenging last year's loss to Newnan could now bring equal rewards of a home first-round playoff game against the No. 3 seed from Region 3-7A, which will come down to the winner of Friday's game between McEachern and North Paulding, each at 2-2 in the standings.
That could set up another rematch with McEachern from an earlier 53-10 loss at Garland Shoemake Stadium that East Coweta might like to have back.
The Indians are coming off a 33-14 win over Campbell, one which East Coweta led 17-0 at halftime. Campbell made three trips inside East Coweta's 20-yard-line, including an opportunity with 1st-and-goal at the 1-yard line early in the second quarter, but came away empty handed.
Already ahead by 10 points with senior Gerald Green en route to eclipsing 1,000-yards for the season, East Coweta drove for a score in the final minute of the first half to help put the game out of reach.
"We left five seconds on the clock, and we didn't use any timeouts," Small said. "The moment's never too big for them. They respond."
The Indians sat down to watch last year's 30-28 loss to Newnan in as much a painful reminder of opportunities and costly missteps. The game featured a blocked field-goal by the Cougars' Malik Hussie that was returned for a touchdown among four lead changes early.
"Guys we got beat 30-28. They block a field goal and score. We block one, almost pick it up and score. We're driving down field to kick a field goal and I said what happens? They said, 'a personal foul.' And I said, 'Correct.'," Small recalled of the viewing. "You've got to keep your composure. You've got to stay locked in."
Despite the graduation of All-County wide-receiver Peje Harris, who was on the sidelines for Newnan's victory over Pebblebrook last week while in a redshirt year at Georgia Tech, the Cougars arguably have more weapons on offense to go with a much-improved defense than a year ago.
Sophomore quarterback Michael Maginnis (1,272 yards, 12 TDs, 5 INT) hasn't thrown an interception yet through four region games while completing 58-percent of his passes.
They included a 63-yard scoring throw to Kyle McDonald, who along with fellow seniors Woody Waters and Elijah Williams as well as newcomer Quanard Arnold have all caught touchdown passes.
"They run the ball well and the quarterback does a great job of making the throws they wanna make," Small said. "Woody and Kyle do a great job. Those are two guys you've got to keep your eyes on. They do a great job of play-action pass."
East Coweta's staff is equally wary of Newnan's running game, which despite a series of injuries that have had the starting offensive line in a flux for all but six quarters of play, have produced three running backs — sophomores Bryson Moss (550 yds, 7 TD) and Aubrey Carter (405 yds, 6 TD) as well as senior Tyriq Hussie (405 yds, 6 TDs) — that have all posted at least 400 yards and six touchdowns.
Newnan's biggest improvements this fall, however, have come on defense where coordinator Shawn Campbell and his staff trimmed the team's points allowed by 36 points through last year's nine-game stretch. A front seven, led by a group of veteran defensive linemen, have improved last year's sack total from just 3 to 24.
Junior Eric Geter (8) and senior Darius Gates (5) have 14 combined.
"Defensively, they're sound in what they do. I think they're one of the best front seven we've seen," Small said. "They do a good job and their back end is athletic and fast."
After experiencing his first East Coweta-Newnan game a year ago, Small understands how intangibles can come into play in a game that sometimes doesn't directly follow trends among statistics.
"All that stuff you can throw out the window for both sides cause this game is weird," he said. "I've only been involved in this game one time. It's a unique deal."
Five Reasons Why East Coweta Will Win
1) Home Sweet Home: It sounds both simple and misguided. But you can't help but look at a balanced four-year swing between schools where the home team has emerged victorious. There's something to be said about having the home-field advantage and to be able to come out focused from your own locker room.
2) The schedule: East Coweta went through six straight losses without experiencing panic because its players were honed in on the big picture. The Indians now see it even more clearly. Last year's team was scrambling for answers heading into Game 9 and still had its chances to defeat Newnan. That cool and calm demeanor should pay off in the most emotional game of the season.  
3) Hitting full steam on ball control: East Coweta's passing attempts have gone from 38 in the opener against Kell to just eight a week ago in a victory over Campbell. But the latter came in senior quarterback Nate Cronic's most efficient game yet, throwing for 130 yards and two scores and rushing for 262 and two more. It's the balance the Indians went into the season hoping for in a 2:1 ratio from run-to-pass and it will most likely be the best method in hoping to both keep Newnan's explosive offense off the field and wear down a front-seven from the Cougars that is equally dangerous.
4) Reason four IS No. 4, as in the uniform number of senior running back Gerald Green. The Georgia Southern commit was sitting at just 412 yards rushing and three touchdowns at the midpoint of the season while maybe getting a challenge from the Indians coaching staff to see if he could elevate his play. Green certainly has, scoring eight times and averaging over 100 yards against Region 2-7A opponents. They've included a whopping 32 carries for 272 yards and six touchdowns in a blowout win over Wheeler, proving Green is capable of carrying a team on his back when needed.
5) Who wants to make a play? Green has been the driving force, but in the last three region victories, there's been a different Indian on both sides of the ball that have helped lead the way. Last week, junior Rakiyan Moss caught four passes for 125 yards and two touchdowns. Against Pebblebrook, Dantarious "Snook" Chunn had two receiving scores, and prior to that win, senior Brayden Carey went bonkers against Wheeler with six catches for 148 of a 152-yard receiving total.  On defense, sophomore Willie Rice (7, Wheeler), senior Alex Derico (14, Pebblebrook, 9 Campbell) and senior Deven Holmes (9, Campbell) have led the team in tackles the past three weeks, with senior linebacker Taylor McCawley posting a team-high 86 hits.
FINAL: INDIANS 24, COUGARS 21