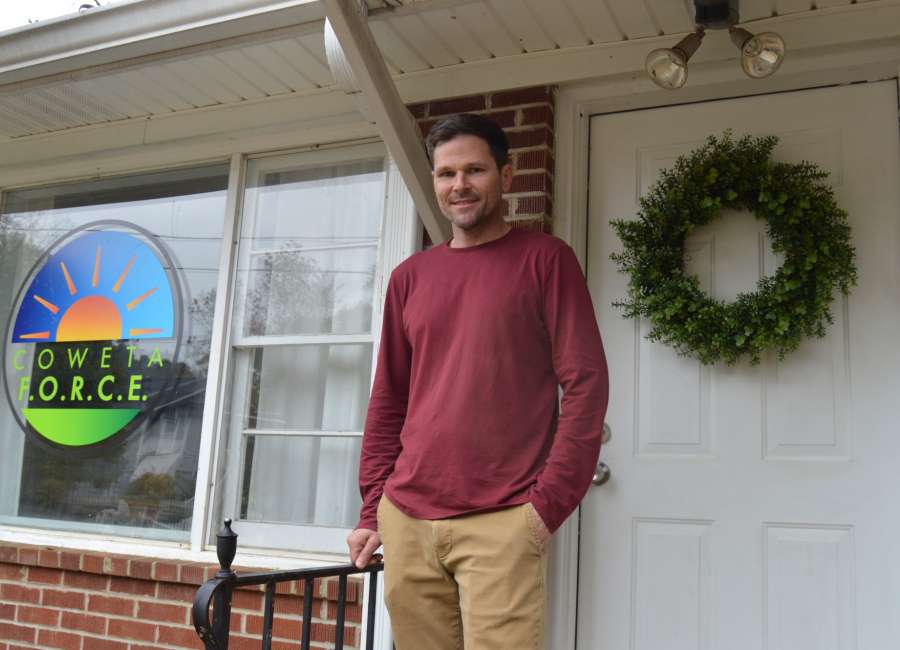 There's a new place in Newnan helping people stay on the road to recovery from drug and alcohol abuse.
Coweta F.O.R.C.E., which stands for Friends of Recovery for Community Empowerment, opened its new resource center at 8 Elm Street in October to better serve clients in the area.
"We want to make Coweta County more friendly to people in recovery," said executive director Hank Arnold. "That doesn't mean we're going to invite people in from outside the county, but help folks right here at home."
Arnold stressed the new building will be a resource and education center for people in long-term recovery and for families with loved ones affected by substance abuse.
"We wanted to create a space where people will be welcomed. As an organization, Coweta FORCE wants to help long-term recovering addicts sustain wellness, whether that means helping them find a stable job or furthering their education," Arnold explained. "We're partnering with other local organizations to help support and empower these people. We'll help you, but we won't do the work for you."
Arnold stressed the new facility will not provide treatment or sober living housing.
Instead, addicts can talk to certified recovery coaches and peer support counselors to explore their options and find services available to them that will fit their needs and long-term goals.
Eventually, Coweta FORCE will provide transportation services to recovery meetings and hold yoga and meditation sessions with certified instructors who are also long-term recovering addicts.
There will also be a budget and employment specialist on staff to help people build resumes, look for jobs and handle their finances, Arnold said.  
"It seems simple and basic, but if you don't have those skills it will be hard to navigate the world, especially for someone in recovery," he said. "Recovery isn't just about not picking up drugs or alcohol again, but it's figuring out life after addiction."
Arnold is familiar with addiction and recovery. He is now 9 years clean after struggling for years with addiction and being in and out of prison.
He has a message for all addicts in the community.
"You don't have to be defined by your past. You can actually use it to strengthen yourself," Arnold said. "Recovery is defined by the individual. You have to do the work, but you also get to take the credit … we want to help them do just that."
Coweta FORCE will hold open sessions for recovering addicts and for the entire community within the next two months. The organization hopes to compile data on abuse and recovery issues in the county – and get feedback from residents.
Currently, the center is open Mondays, Wednesdays and Fridays from 9 a.m. to noon, and Tuesdays from 8 a.m. to 10 a.m.