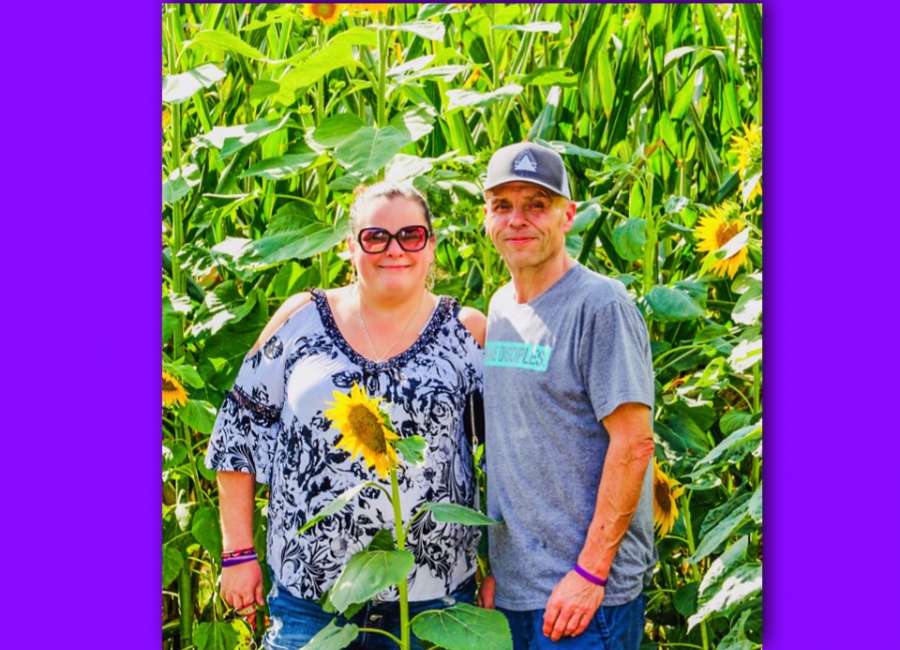 Many families in Coweta and across the country are still demanding better in the fight against pancreatic cancer.
Pancreatic cancer, even when caught early, is deadly because it is more commonly found once it has already spread to nearby organs, according to Dr. Minesh Patel, who specializes in hematology and medical oncology at Piedmont Cancer Institute.
"Unfortunately, only 15-20 percent of patients will end up undergoing pancreaticoduodenectomy – removal of the pancreas and part of the small intestine – and the five-year survival rate for early stage disease after surgery approaches 10-30 percent.
Patel said approximately 55,000 patients are diagnosed each year with pancreatic cancer, roughly 29,000 men and 26,000 women. It is the fourth leading cause of death for cancer patients, with almost 45,000 deaths annually.
In honor of World Pancreatic Cancer Day, which was Thursday, Nov. 15, Dan Nolder and his wife Jennifer spoke about the disease and how it has impacted them and the lives of many others.
Nolder and his family first shared their story with The Newnan Times-Herald last year.
In August 2016, Dan was diagnosed with pancreatic adenocarcinoma, Stage 3 pancreatic cancer. Before being formally diagnosed, Dan experienced flu-like symptoms – fatigue, abdominal pain and diarrhea.
When his illness persisted for several weeks, his wife became concerned. According to Jennifer, Dan was always in good health and rarely got sick. A doctor's appointment confirmed Jennifer's suspicion that something was wrong.
"I went to the doctor, and at that appointment the doctor told me my eyes were turning yellow because of jaundice," Dan said.
Dan was referred to a gastroenterologist for a follow-up appointment, and then was admitted to the emergency room.
"They caught the cancer because of where it was located in Dan's pancreas," Jennifer said. "It was beginning to affect the function of his liver."
Dan underwent major surgery on Sept. 1, 2016, and then began a demanding round of chemotherapy several weeks later.
"I was out of work for about three months to receive chemo," Dan said. "The treatment was very intense, and I was receiving the maximum amount of chemotherapy. I took chemo pills twice a day, and once a week I would go to Northside Cancer Institute in Atlanta."
While the disease has dramatically changed their way of life, the couple says they have been pleasantly overwhelmed by the love and support of family and friends.
"We have always felt loved, but there were just so many people who supported us and helped us once Dan was diagnosed," Jennifer said.
The support the family received following his diagnosis and treatment ranged from help from family and friends to a Newnan police officer showing up in uniform and mowing the lawn.
After several months of treatment, Dan completed chemotherapy in April 2017 and was able to return to work, but Jennifer said this year has been rough for Dan and he has had to stop working.
"He was in the hospital in April and again in July," Jennifer said. "We don't know exactly what's going on, but we know it stems from complications from pancreatic cancer."
Jennifer said despite the tough year Dan has experienced, he still maintains a great attitude.
Dan said he feels a sense of normalcy is valuable.
"It's difficult, but just keeping a positive attitude can be so beneficial during treatment," he said.
Both Dan and Jennifer agree that monitoring one's health is essential, regardless of the diagnosis.
"Go to the doctor for regular check-ups and get blood work as well as a physical. It's really important," Dan said.
"If there are symptoms that just won't go away, please go to the doctor," advises Jennifer. "If we can bring awareness and prevent this for another family… this is why we want to share Dan's story."
For more information about World Pancreatic Cancer Day, visit http://www.worldpancreaticcancerday.org .
Pancreatic Cancer Q&A
Answers provided by Dr. Minesh Patel, who specializes in hematology and medical oncology at Piedmont Cancer Institute.
– What is pancreatic cancer?
The pancreas is an organ in the abdomen needed to aid in digestion of food and regulating hormones to control blood sugar levels. Pancreatic cancer occurs when cells that make up tissue develop mutations in DNA that allow them to multiply and grow beyond the control of the body. Risk factors for developing pancreatic cancer include smoking, chronic pancreatitis, inherited conditions, and obesity.
– What are the symptoms of pancreatic cancer?
Patients can experience upper abdominal pain, jaundice, unexplained weight loss, diabetes, fatigue, and poor appetite.
– Why is the disease so hard to detect in the early stages?
Pancreatic cancer is hard to find early. Early tumors can't be seen or felt during routine physical exams. Unfortunately, pancreatic cancer usually presents once it has already metastasized. There are no consensus recommendations for average risk individuals for pancreatic cancer screening. This is because no screening test has been shown to lower the risk of dying from this cancer.
– Are there ways to treat pancreatic cancer?
Usually pancreatic cancer is treated with combinations of multimodality therapy involving chemotherapy, radiation, and surgery.
– Have there been any advancements in treating the disease?
Recent advancements in the treatment of pancreatic cancer include immunotherapy, using infusion treatments to protect the immune system from evading cancer cells. More mutation-based targeted therapy has also been a recent advancement for patients with metastatic disease.
– Are there ways to prevent pancreatic cancer?
Smoking is the biggest risk factor. Other ways to help prevent pancreatic cancer include maintaining a healthy weight, exercising regularly, limiting alcohol use, and eating a healthy diet.