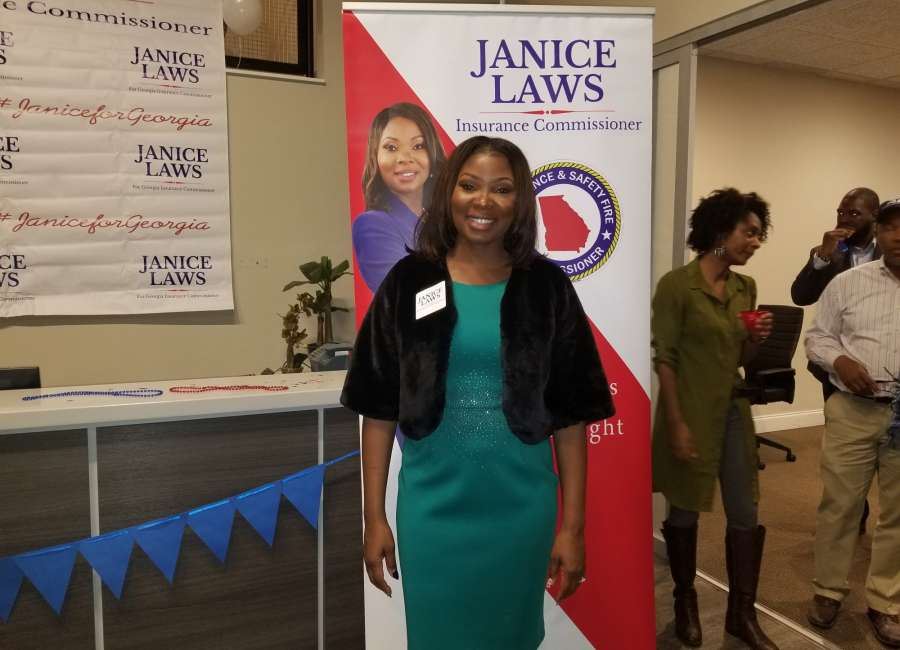 Coweta resident Janice Laws has not conceded in the race for the next Georgia insurance commissioner.

The numbers were still too close to call, according to local media outlets in the state.
Laws – who has been in the insurance industry for 16 years and has her own insurance agency – received 46.88 percent of the vote, according to the Georgia Secretary of State website as of Friday. Republican Jim Beck had 50.48 percent of the vote, while Libertarian Donnie Foster had 2.64 percent of the vote.
Georgia law requires candidates to receive more than 50 percent of the vote to avoid a runoff. Laws is one of several Democratic candidates for statewide office waiting for the final count of provisional ballots to see if their opponent meets the 50 percent-plus threshold.
She won the Democratic nomination with 62.84 percent of the vote earlier this year. Fellow Democrat Cindy Zeldin received 37.16 percent of the vote.
In Coweta, Laws received 27.85 percent of the vote.
Laws hosted an election watch party at an office on Sylvan Road in Atlanta Tuesday night.
The Democratic nominee said she is not ready to give up.
"This is a critical time in Georgia's 2018 election process," Laws said. "I am standing all the way, seeing this election process through to its official completion by Georgia's Secretary of State. And it is my honor to do so."
Laws said overall her campaign experience has been extraordinary, but it's not time to reminisce just yet.
"We are still in the process," Laws said. "Right now, I am not reflecting on the campaign or the journey. It's not the time for that right now."
On her Facebook page Thursday, Laws said, "Georgia's Insurance Commissioner race remains too close to call...You voted and we're counting every vote. Your vote counts. Stay with us. No retreat. No surrender!"
In an previous Newnan-Times Herald interview, Laws said her top goal, if elected, is to revisit Senate Bill 276, which she said deregulated insurance companies, and that no rates would be deemed excessive as long as there is adequate competition. She also plans to educate consumers on driver education and safety and look at many different issues affecting insurance premiums, including litigation. She also said she wants to put some focus on health insurance and the many uninsured Georgians.
Anthony Hicks, campaign volunteer, said he wanted to work with Laws' campaign because of her platform.
"She was a real person, who understood real issues of everyday people," Hicks said. "It was a pleasure working with her."
The Georgia Insurance and Safety Fire Commissioner is responsible for regulating insurance companies and ensuring fire safety in the state. The commissioner's purview includes the state fire marshal's office and the consumer services division which helps Georgians who have issues with their insurance companies. The commissioner is elected to four-year terms in federal midterm election years. Candidates must have been a citizen of the United States for 10 years, a legal resident of Georgia for four years and be at least 25 years old.
Laws has lived in Georgia for 16 years and has made Newnan her home for the last 13 years.  A native of Jamaica, she said she came to the United States as a teenager with her family to pursue the American dream. She attended Monroe College in New York and studied business administration at Shorter University College of Adult and Professional Studies.
Laws said if she won the election, she would have to forfeit her insurance licenses and her agency.
Other state races could also be impacted by late vote tallies. Several of the state races are close, especially those that have a Libertarian candidate.
Current numbers on the Secretary of State's office indicated there will likely be at least two statewide runoffs on Dec. 4 – between John Barrow and Brad Raffensperger for Secretary of State and between Chuck Eaton and Lindy Miller for the District 3 post on the Georgia Public Service Commission.
Democratic gubernatorial candidate Stacey Abrams is waiting on provisional ballots across the state to be counted to determine if there will be a runoff in the governor's race.
Last month, Laws' profile was featured in Essence Magazine, a news, fashion, beauty and lifestyle publication.