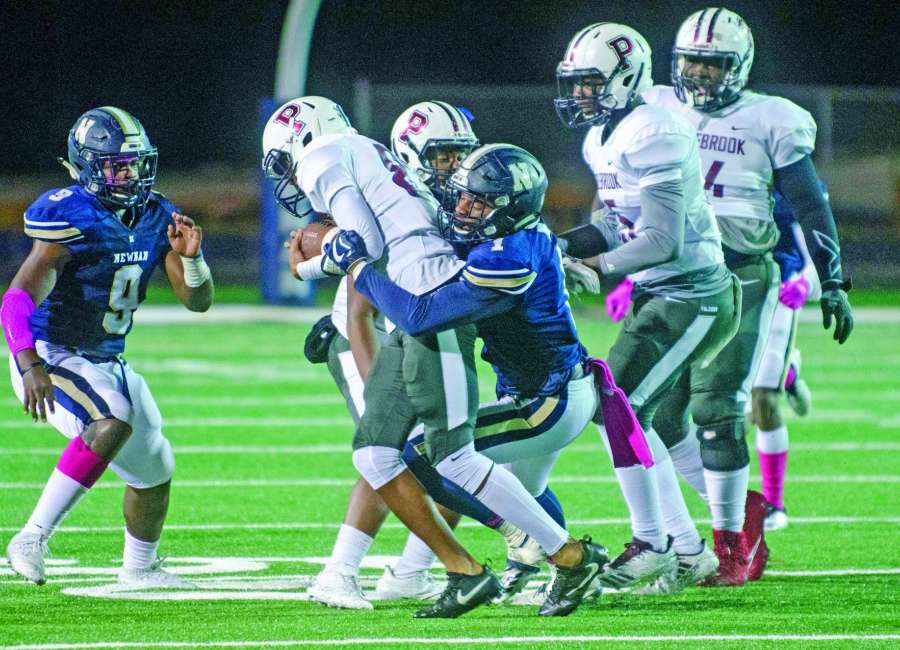 By Chris Goltermann
CowetaScore
Newnan's dominating 21-2 victory over Pebblebrook on Senior Night was another step in a steady upward climb for a Cougars team this fall that has eclipsed last year's win total.
But they haven't reached the summit just yet.
A second straight victory over rival East Coweta on Friday at Garland Shoemake Stadium would certainly supplant Newnan's bragging rights for the first time since winning consecutive games over the Indians in 2009 and 2010.
It also would guarantee second place and a home game in the first round of the Class 7A state playoffs after opening the postseason on the road last year.
The Cougars improved to 5-4 and 3-1 in Region 2 by smothering Pebblebrook's struggling offense and controlling the clock for much of the victory at home after taking a 14-2 lead into halftime.
"We've just to make sure we keep on getting better and I think we did that last week. We did a lot of good things," head coach Chip Walker said. "A lot of young guys again stepped up last week. We were able to control the game for most of the second half. I think they may have only had like 16 plays."
It's a gameplan that would be to Newnan's advantage again this week when making the trip to Garland Shoemake Stadium. The Cougars have dominated the first half of all three of its region victories, but face an East Coweta lineup that has followed much the same path.
In turn, after swapping victories each of the last four years, Walker sees a matchup with a lot of similarities between the two rivals.
"I don't think it's one of those deals where somebody can just show up and win. Cause they're a good football team. You take the region and all the common opponents and we've beaten common opponents," he said. "It's probably an evenly matched game.
Newnan has relied on balance in continued efforts to build off last year's four-win season.
The Cougars have lowered their points allowed by 36 points — a little more than a full game's worth in 2017 — and have effectively created a balance on offense. Sophomore quarterback Michael Maginnis has quickly settled into a starter's role, entering this week with 1,272 yards and a 55-percent completion rate.
Along with 12 touchdowns, including a 63-yard strike in stride to senior receiver Kyle McDonald in last week's win, Maginnis has gone without an interception throughout region play.
"We've got some ability to be able to take what defenses give us and move the ball, whether it be to get in two tight[ends] with a fullback and a halfback and run right at you or to get five wideouts in the gun and throw it," Walker said. "We feel like we have the personnel to do both those things."
Newnan's done it by patching together an offensive line that has been in a state of flux due to injuries. The end result has provided some invaluable depth.
"We're still offensive lineman short from being able to have our entire offense and we've only played six quarters [this season] with them," Walker said. "A couple things that it tells you about us is one, it says a lot about the guys who have stepped in to play and done a good job. Two, we're continuing to build reps and experience for down the road."
East Coweta's running game has been among the most consistent among region opponents, averaging 213 yards on the ground the past four weeks. The Indians have gained 250 or more in two of their three victories, with senior Gerald Green posting nine touchdowns against 2-7A teams.
Green isn't the only weapon that has caught Newnan's attention heading into Friday's showdown.
East Coweta has three receivers with over 10 receptions, led by senior Brayden Carey (24 catches, 510 yds, 2 TD), who is committed to Yale. Rakiyan Moss (19 catches, 242 yds) is coming off a season-best four catches in last week's win over Campbell, including his first two touchdown receptions of the season.
Meanwhile, Indians senior Dantarius "Snook" Chunn is averaging over 22 yards-per-catch to go with a team-high three interceptions on defense. Senior Nathan Cronic has posted three of his top-four passing efforts among quarterback ratings during East Coweta's current winning streak.
"It starts with Gerald. He's a Division I running back, but they've got a lot of weapons around him," Walker said of Green. "Snook and Carey, both those two guys are explosive athletes. But you've got to be careful of Moss kid, who is a good player. They've got other backs and the quarterback has played real good lately. Their offensive line is well coached and comes off the football."
Newnan's explosive offense remains dangerous, but will be facing an East Coweta defense that has tightened the reins in its three region wins. The Indians have had a different leading tackler each week while led by senior linebacker Taylor McCawley's 86 tackles.
"Defensively, they may not have the so-called 'star power,' but they have good athletes like McCawley at linebacker," Walker said.
Much like last year's 30-28 victory at Drake Stadium, Friday's win could be decided by a handful of plays. A year ago, both teams blocked field goals, but the Cougars took full advantage with a 60-plus yard return to grab a lead for good.
While driving for an insurance score late in the game, however, East Coweta made a goal line stand and then put together a march that eventually fizzled on a personal foul call.
"The biggest thing is when you get a chance, to take advantage of it," Walker said. "If you get a chance to make a play, you can't leave points on the board."
Five Reasons Why
NEWNAN Wins
1) Pick your poison: The Cougars have succeed in creating a balance offensively while averaging just under 150 yards a game and rushing for over 170. Individually it follows with three running backs that have taken turns carrying the load in Newnan's ground game, along with a receiving corps led by three seniors that have caught two or more touchdown passes this year. At times through nine games, opponents have tried to hone in on just one aspect of the offense and gotten burned for it.
2) Front and center: Both lines of scrimmage for Newnan have had a chance to shine this season. After a string of offensive injuries, the Cougars have at least a pair of rushing scores in all four region games this season. On the other side of the ball, Newnan's defensive line has been arguably its most valuable unit after improving from just three sacks in 2017 to 24 this year.
3) Takeaways: In its four region games, the Cougars' defense has nine takeaways including three fumble recoveries last week while helping shut out Pebblebrook's offense in a 21-2 victory. Senior Ricky Boozer has come up with an interception and two fumble recoveries over Newnan's last two games, one of which helped set up the Cougars' first score against the Falcons.  
4) Special year: While both teams enter Friday's game with similarities among special teams so far, Newnan senior Rad Wyrick has been a perfect 35-for-35 on PATs for the Cougars. Along with six touchbacks and eight punts that have been downed inside opposing 20-yard lines, his re-emergence at the team's starter at both kicker and punter could pay dividends when opportunity calls.
5) Special talent: Younger brother Wills had his moments this summer at the Little League World Series with Peachtree City's run to Williamsport. But Newnan sophomore quarterback Michael Maginnis has a chance to take center stage on Friday in a defining game for his budding varsity career. Maginnis enters the showdown with East Coweta having posted 1,272 yards passing and 12 touchdowns, but more importantly having avoided an interception so far in region play. He has made at least one 20-yard completion throughout all nine games so far, with scoring throws of 70, 60 and another 63-yard strike in last week's home win against Pebblebrook.
FINAL: COUGARS 38, INDIANS 35