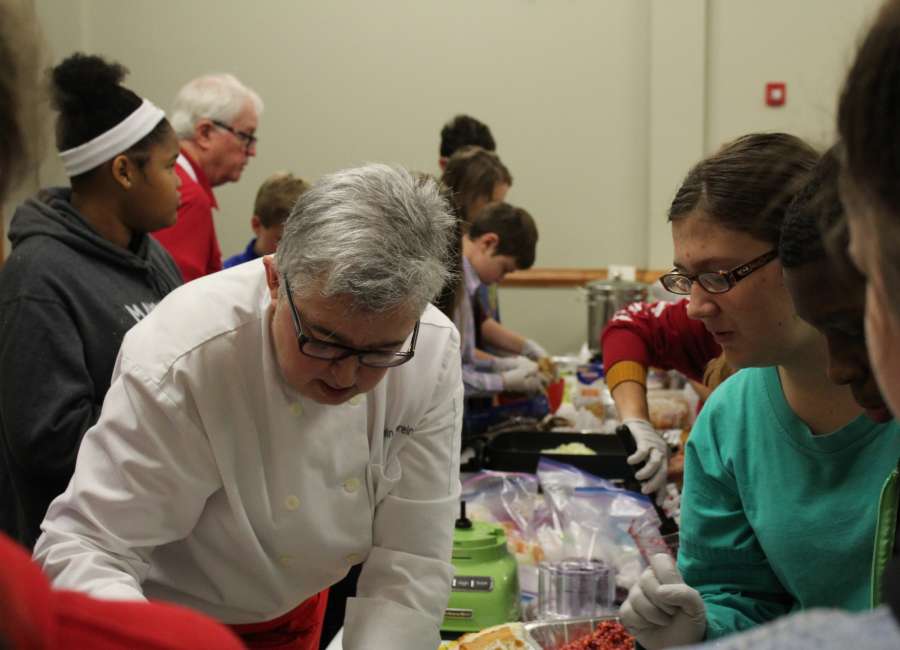 By JEFFREY CULLEN-DEAN

jeffrey@newnan.com
Teenagers walked into the Carnegie Library in Newnan Tuesday to learn cooking skills from Chef Carlin Breinig.
"Teens like to eat," the chef said. "The library doesn't have a lot of programs for teens, but they like food."
The sold-out class focused on teaching young adults simple Thanksgiving recipes as well as basic cooking skills. At the end, the students got to eat the food they made. 
"I want them to see it's not hard," Breinig said. "We're in a conference room at the library – they can do this at home."
Breinig said the students are more likely to eat food or try different things if they cook it themselves.
Through the class, the students made whipped cream for a pumpkin trifle, mashed potatoes with leeks, cornbread dressing with chicken and cranberry relish.
Young adult programming is new at Carnegie Library, said Elizabeth Ruppel, YA program coordinator.
"I think more young adults are wanting to learn more skills," Ruppel explained.
Breinig has taught cooking classes at the library for its summer reading programs, but, according to Ruppel, this is the first time for the YA program.
Holding a leek up for the students to see, Breinig explained to the students what ingredients they were going to be using. 
"Leeks are a lot like green onions," she said before setting the vegetable on the the table and demonstrating proper knife safety and cutting techniques.
A few students arrived late, and Breinig's "lovely assistant," and husband, Bartee Lamar, guided them to their seats.
"She's amazing with these kids," Lamar said.
Breinig helps teach school cafeteria workers cooking skills, healthy cuisine for kids and knife skills at the Institute of Child Nutrition, located at the University of Mississippi.
"I like feeding kids," Breinig said.
The students put on gloves and divided into groups along a long table, each group working on a different part of the meal. One student worked on making sure the potatoes were boiled, tasting for correct seasoning.
When the food was finished, Breinig and Lamar served the students the food they helped make. The class concluded with the students discussing how different parts of the meal were prepared.