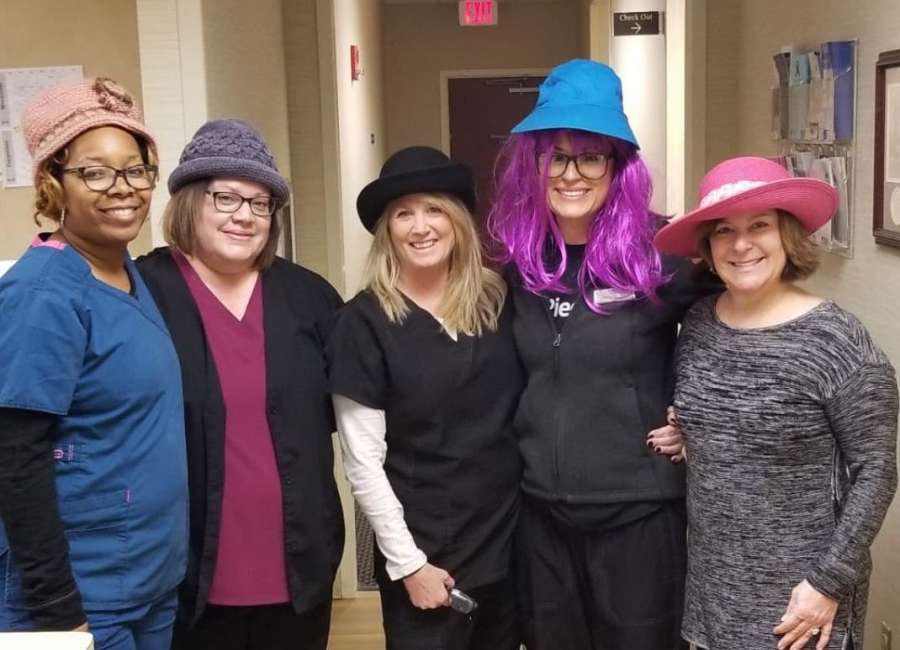 Becky Holt knows what it's like to be bald.
The Fayetteville actress and mother of two children lost all her hair in 2016 after being diagnosed with stage 2 triple negative ductal carcinoma in situ breast cancer.
"I didn't love wigs, and I was trying different hats and things like that," she said. "I thought about having a party for myself called 'Caps for Chemo,' so I posted it on Facebook. I received more than 100 caps and hats. I picked the ones that I really liked and donated the others to the hospital."
Holt is currently in remission but still giving back to her community – especially cancer patients going through chemotherapy treatments.
She started another "Caps for Chemo" collection earlier this month by asking friends on Facebook to donate new, gently used or handmade wigs, scarves, caps and hats.
"I like to give back to my community… that's just me," she said.  
Holt said she received more than 100 donations within a few weeks.   
"For me, losing my hair wasn't a big deal. I just wanted to survive. But for some people, it's a huge deal," Holt said. "Now, it's getting cold outside. Some cancer patients don't have any hair anywhere, which makes them feel worse during the winter. You always feel cold, and hospitals aren't exactly the warmest places, either."
According to Holt, wigs can be expensive for cancer patients and are not covered by health insurance.
"You can go buy a cheap wig, but they're hot and itchy," she said. "A decent looking wig can cost a lot. I paid $450 for mine. Patients can have a halo wig made out of their own hair before it falls out, but they still have to wear a hat on top of it."
According to Dr. Jonathan Bender, an oncologist and chief medical director of the Piedmont Cancer Institute in Fayette County, hair loss is a common occurrence for patients going through chemotherapy treatments.
However, Bender said there have been some technological advancements preventing chemotherapy-induced hair loss, such as the "DigniCap."
"Women can wear it while getting chemotherapy," he explained. "The machine regulates the patient's head to 32 degrees and prevents some hair loss, but not total hair loss."
Devices similar to DigniCap are typically not covered by health insurance and can be expensive for patients paying out-of-pocket, Bender added.
Those reasons make donations like Becky's "Caps For Chemo" campaign that more special, he said.
"We've had people drop off things, like Becky's hats or other care packages that really make a difference for our patients," Bender said. "Some women choose to wear a wig or a scarf. But it can be hard for them to find just the right hat to wear."
Holt decided to make cancer patients at the Piedmont Cancer Institute more stylish and comfortable earlier this week. She handed out the hats she collected to patients receiving treatments.
"Patients sit for hours getting their chemotherapy treatments, and it's not any fun. But getting a cap and having someone sit there to talk to is cool," she said. "It just makes someone's day."
Holt said she received a lot of hats for women, but very few caps for men.
She said she wants to do another "Caps for chemo" collection, hoping to get a better selection for men, plus blankets for patients to wrap themselves in while they receive treatment.  
"People can make blankets, buy or donate gently used ones. Every donation makes a difference to cancer patients. It just makes it more comfortable for them," she said.