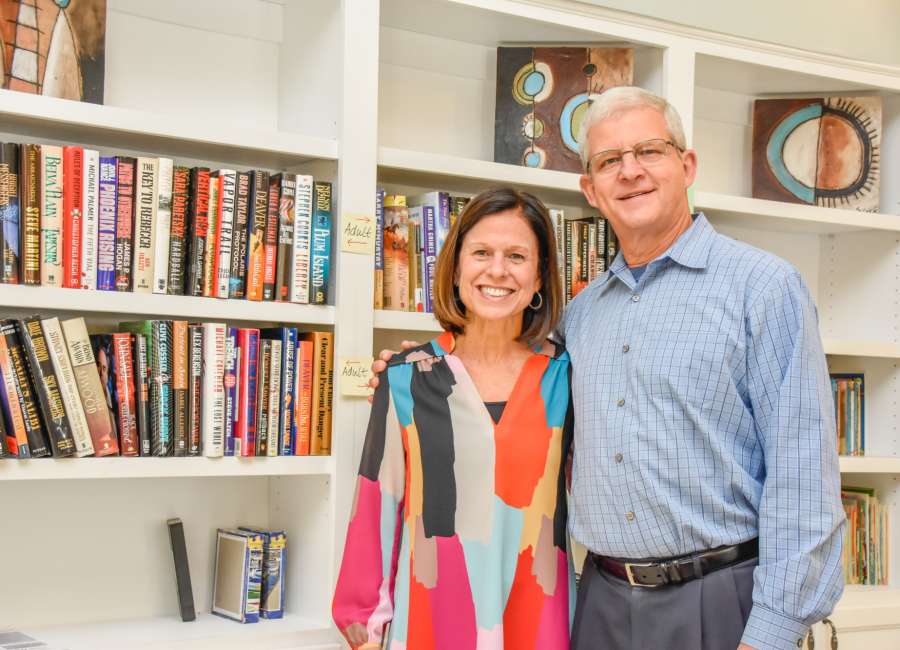 After seven years at the helm of the Coweta Samaritan Clinic, Executive Director Lou Graner recently announced his plans to retire in March 2019. 
Since opening their doors in 2011, The Coweta Samaritan Clinic has served as the primary medical home for more than 1,450 uninsured Coweta residents.
During that time, volunteer medical providers and paid staff have conducted more than 18,700 patient visits, all free of charge to the patients.

Charitable donations have helped fund an expense budget that has grown from $154,000 in 2011 to $746,000 this year. More than 100 volunteers currently support the clinic's paid staff in running the clinic and treating patients. Several more medical specialists treat patients in their own offices.

Dr. Kay Crosby, chairwoman and medical director of the clinic, said Graner's fundraising efforts have allowed her and medical providers the ability to focus directly on helping patients.

"My gifts are taking care of patients, so we needed a financial guru, and he was the answer to our prayers," Crosby said. "It's a divinely inspired leadership group."
Graner spent over a decade in the for-profit sector in the accounting and finance field before transferring to Children's Healthcare of Atlanta.

"I found fundraising to be very rewarding so I continued my career at the Atlanta Union Mission," Graner said. "But we were living in Newnan the entire time, and I hadn't really given back to our community."

Meanwhile, Crosby was laying the groundwork for the clinic after a chance encounter with a Hispanic woman with diabetes during a free health screening.

"I was trying to figure out where to send her, but I realized she had no place to go," Crosby recalled. "It got me thinking about it, and I felt the calling to jump in."

For two years, a small group began meeting in Crosby's kitchen each week to figure out how to bring a free clinic to Coweta. Graner connected with Crosby, and a board was developed. Soon the clinic became a reality.

"It really opened our eyes to the generosity of our community, and Lou was there from the beginning," Crosby said.

The next seven years would be an eye-opening experience.
"We've learned free clinics are dependent on how the community supports them," Graner said.

"We intentionally opened it in a limited way," Graner recalled. "But Kay took the brunt with the complexity of the patients, including four with Hep C and several who needed surgical attention. We learned quickly how to pick up a phone to ask for help and people said yes."

In almost any conversation regarding the Samaritan Clinic, both Graner and Crosby are quick to deflect any accolades directed towards them.

"We're simply an access point for our patients to receive such a wealth of services because of the generosity of those beyond this place," Graner said. "Because of them, our patients get great care."

For admission, a patient has to be a resident of Coweta County, uninsured and be living below 200 percent of the poverty level.
Crosby said the clinic has seen 1,450 unique patients over the last seven years and estimated those uninsured who would meet their clinic's criteria is around 10,000 residents.
Patients now have access to nutritionists, diabetic teaching, counselors, dermatologists, cardiology, OBGYN volunteers, endocrinology and primary care providers in the evenings.
Those in need of dental attention can now visit Central Education Center where more than a dozen volunteers participate in the West Georgia Technical College dental assistant program.

"(CEC CEO) Mark Whitlock saw the opportunity for students get the experience, alongside a dentist who could hire them," Crosby said. "It was a six-figure savings and another example of the way things have been divinely woven for the clinic."

The clinic has also taken advantage of low-cost medicine programs and free medicines. Graner said more than 35 drugs companies are supplying clinic patients and more than 2,000 prescriptions have been provided. The total market value would be just under $2 million.

"We've had 20 patients seen for Hep C and cured, including some of those who came the first day," Graner said.

But as he prepares for retirement, Graner said he's focusing on leaving the clinic in the best shape possible for his successor.

"I'll be 65 in April, so I want to step back a little to take stock and give some attention to those things you can't when you're working full time and see where the spirit leads me," Graner said.

Both Graner and Crosby will assist in the search for the right person to take the helm when he leaves. With an annual budget approaching $800,000, the committee is searching for someone with the passion to continue the mission.

Graner said he's most grateful for the chance to work in an organization where every need has been met divinely.

"There's no question about God's hand in this place," Graner said. "I don't think in terms of being proud, but I'm so grateful for the people we have. There's so much good being done. What I've gained from this is a real sense of humility, and this place will teach you not to be judgmental because you're usually wrong.
"We don't have a real understanding of the obstacles our patients face in so many aspects of their lives," he continued. "You can't use your frame of reference to understand because it's nowhere near theirs. I've been blessed and grown while serving in this environment."