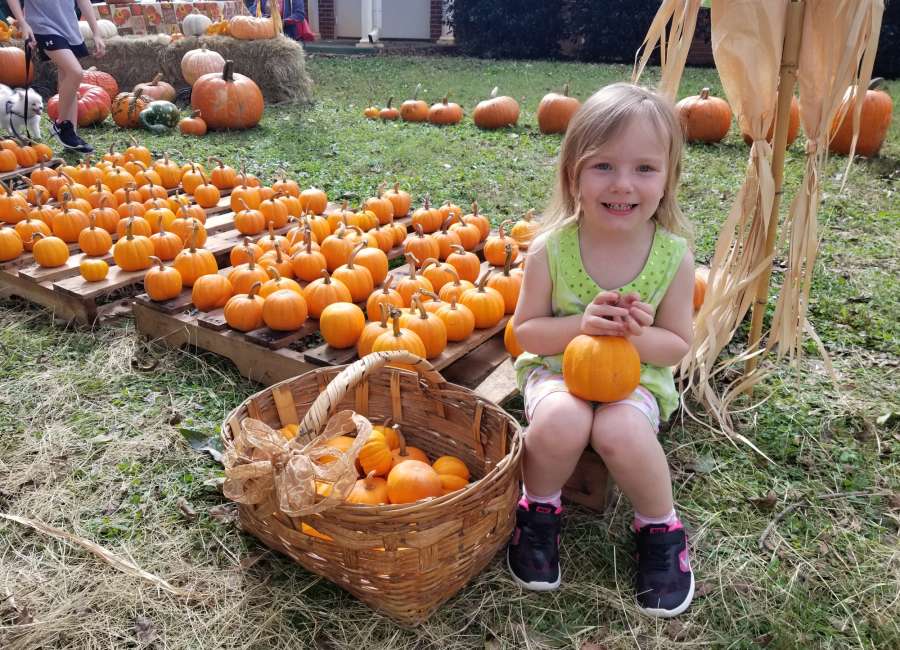 Caroline Goodall, 3, looked around the Pumpkin Patch at Moreland United Methodist Church.

After a few minutes, she picked up a small orange orb – the perfect pumpkin. The Moreland Pumpkin Patch is open from noon to 8 p.m. weekdays, from 10 a.m. to 8 p.m. Saturdays and from 1-6 p.m. Sundays until Halloween.
Church members volunteer each day, and sales of the pumpkins fund outreach projects.
"People come right after school. Grandparents pick up kids and bring them by," said Roberta Prince.
There also will be a Fall Festival at the Pumpkin Patch Sunday, Oct. 28, from 3-6 p.m. The patch itself offers lots of fun – cutouts where children can put their faces for fun photos and a sign that allows pumpkin perusers to measure how tall they are.
The patch is comprised of pumpkins on pallets and hay bales. Goodall joined some other children in racing through the path while adults looked for pumpkins.
Children from nearby Moreland Elementary School visit the Pumpkin Patch many afternoons – bringing a dollar to buy a small pumpkin. Retired educator Bill Wilbert tells the groups of schoolchildren a story.
"They have a grand old time at the patch," Prince said.
There are plenty of traditional orange pumpkins in the patch, but there are other colors – a pinky-peach variety, some that are almost red, a deep green and a couple of variegated types. Odd gourds are also around to add to all autumn decorating options.
Volunteer Laurie Shea said about 1,500 pumpkins were brought to the church lawn, which faces Highway 29/27A. There were about 740 "big boys" and lots of smaller pumpkins, she said.
This marks the 11th year for the project. 
Needs that have been funded with Pumpkin Patch money in the past have ranged from helping a family with food and clothing, to helping with a project at Moreland Elementary School.
The pumpkins and gourds come from an Indian reservation in New Mexico. Even when Halloween has come and gone, Moreland Methodist's pumpkins will continue to do good.
In addition to the money that will provide help for families in need, any leftover pumpkins will be given to local farmers for chickens, cows and other farm animals to eat.